Alexander Ivashkin Memorial Concert, Queen Elizabeth Hall |

reviews, news & interviews
Alexander Ivashkin Memorial Concert, Queen Elizabeth Hall
Alexander Ivashkin Memorial Concert, Queen Elizabeth Hall
Great music from top performers and students in homage to the Russian cellist and scholar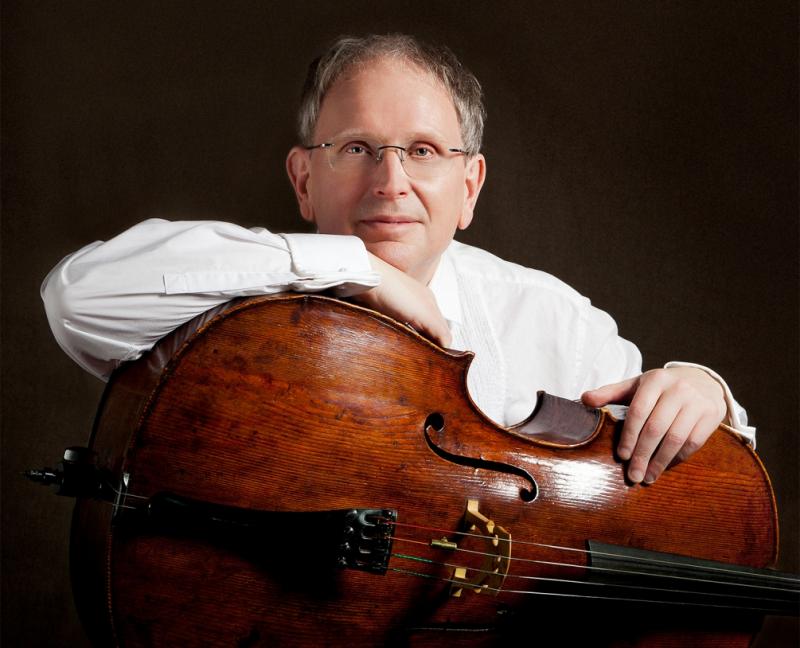 Sasha Ivashkin: inspiring artist and mentor
A memorial concert to a busy man. Alexander Ivashkin, who died last January, was a cellist, a scholar, a teacher, an authority on Russian music, and much else besides. This evening's concert faced up to the daunting challenge of commemorating the many diverse aspects of Ivashkin's career. The results were predictably wide-ranging, yet always coherent, and an impressive focus was brought to this mixed but never eclectic programme.
Credit, then, to Danny Driver. The concert was organised by the University of Goldsmiths, where Ivashkin was Professor of Music, and where Driver has succeeded him as Head of Performance Studies. One of his first tasks in the job was to programme this concert. Given the many competing demands here, it was clear that Driver's experience as a performing artist had had a guiding influence on the way the programme was structured. Russian music predominated, but didn't monopolise - Bach and Brahms also made significant appearances - and Ivashkin's own instrument, the cello, was much in evidence. Performers were mixed evenly between Ivashkin's Russian peers, his teaching colleagues at Goldsmiths and current students (the young players of the Sinfonia with conductor Roger Redgate pictured below last night by Sergey Kryuchkov).
There were many ways this concert could go, but one work was almost a given: Klingende Buchstaben, the piece for solo cello writen by Alfred Schnittke for Ivashkin based on the letters of his name. Nicolas Altstaedt's elegant but emotive performance of it was the ideal way to open the concert. When Ivashkin used to play this piece, it always seemed like an act of memorial to the composer; this evening it felt more like a memorial to both men.
The two biggest names on the programme were pianists Boris Berman and Dmitri Alexeev, and both gave spectacular performances. Berman was characteristically robust in Prokofiev's Seventh Sonata, though there was much poetry here too. The quiet interludes of the first movement were daringly outside of the tempos he had set, yet the momentum was somehow maintained. And the finale, while it is often played faster, is rarely presented with so much controlled, menacing power beneath the notes.
Alexeev performed the Brahms Op. 119 set with a similar mix of fireworks and refinement. The laconic late Brahms could seem the ideal choice for a memorial concert (that thought came to mind in the quiet interludes of the Prokofiev Seventh too), yet there was nothing maudlin about this reading, and the performance of the last movement seemed downright celebratory.
Fine performances both, and tough acts to follow. Danny Driver made one appearance, with Goldsmiths colleague Andrew Zolinsky, in two movements from Shostakovich's early Op. 6 Suite for piano duo – another bravura performance, although one where the performers had to work hard to make good music from insubstantial material. We also heard the Goldner String Quartet in the Andante Cantabile from Tchaikovsky's First String Quartet – appropriately Russian, and perhaps an appropriate expression of sorrow in what was otherwise a valedictory programme.
The student ensembles all held their own, even in the midst of world-class soloists. The Goldsmiths Chamber Choir (pictured above by Alice Andrewartha) performed a Russian Orthodox Kontakion or short hymn by Rachmaninov, their Russian pronunciation excellent, and their vocal support through the long phrases impressive too, thanks to the guidance of expert conductor Mark Shanahan. The Goldsmiths Sinfonia got off to a shaky start in the Prokofiev "Classical" Symphony, but tuning problems in the strings were soon ironed out, and although conductor Roger Redgate kept the tempos tame, the results were wholly serviceable.
TrinityGold, the cello ensemble founded by Ivashkin's wife Natalia Pavlutskaya at Trinity College and joined here by cellist and composer Peter Gregson (pictured right by Kryuchkov shaking hands with conductor Andrew Morley), performed Gabriel Prokofiev's Outta Pulsor - the connection here being that Ivashkin's last appearance with an orchestra was in the premiere of Gabriel's Cello Concerto. This cello ensemble piece is based on a work that uses tape loops to overdub the main cello line. The genealogy is clear, as we hear a single cello playing a melody while the other eight accompany with sonic effects using extended techniques repeated on looping ostinatos.
Plan A had been to conclude with the Epilogue from Schnittke's Peer Gynt, an Ivashkin speciality and the piece he would no doubt have chosen to finish the concert himself. But cellist Altstaedt had second thoughts, considering this 25-minute emotionally draining work too much for the occasion. So he went the other way, and instead came on with his cello set in Baroque configuration to play the Allemande and Sarabande from Bach's Fifth Cello Suite. Haunting, evocative, and penetrating, yet from little musical material, and with even less applied expression or tone, it turned out to be the right choice: the perfect end to a moving and very fitting tribute.
The student ensembles all held their own, even in the midst of world-class soloists
rating
Share this article