10 Questions for Conductor Peter Phillips |

reviews, news & interviews
10 Questions for Conductor Peter Phillips
10 Questions for Conductor Peter Phillips
The founder of the Tallis Scholars looks forward to the group's 2,000th concert
Monday, 07 September 2015
'We have an international reach that is unique': Peter Phillips in 2011
Peter Phillips founded the Tallis Scholars, a vocal group specializing in the sacred music of the Renaissance, in 1973 while still a student. He has been directing the ensemble ever since: it is about to perform its 2,000th concert.
The Tallis Scholars continues to unearth, and to make the case for works by neglected composers. It has also developed a style and a sound, and there is a consistency of approach, as Phillips says: "Not aiming to change the Tallis Scholars' basic sound or method of performance according to the nationality or the exact period of the different repertoires being performed, but by striving for an immutable, rock-solid sound which could be applied with equal effect across 200 years of music."
The group has also also commissioned works from composers such as John Tavener, with whom it developed a close association, and Nico Muhly. It also performs works by Arvo Pärt, and a collection was released earlier this year. (Peter Phillips, pictured below, promoting that release.)
To mark the milestone of the 2,000th concert, the group's in-house record label Gimell, which has produced over 50 recordings by the group to date, is releasing a two-disc retrospective set.
SEBASTIAN SCOTNEY: Your new release is called "Perfect Polyphony". Surely there's a point when the search for perfection can go too far?
PETER PHILLIPS: I think not on record. you don't want to have any glitches, anything that interrupts enjoyment. We hope to get the notes right and we hope to sing them in tune, but that's just the basic instrument. What we do is to create an instrument which, when live in concert, can come alive.
This spring you were touring North America at the same time as no fewer than four other UK vocal groups. What makes the Tallis Scholars stand out from the pack?
What distinguishes us from most of the other groups is that we have an international reach that is unique, both in concerts and in selling discs. Of the 2,000 concerts we're about to celebrate, only 600 have been in the UK, so two thirds were abroad. We tour North America including Canada and Mexico twice a year. The next tour there will be our 67th. (The Tallis Scholars at Lincoln Center in 2013, pictured below by Kevin Yatarola).
Part of your story is that you were early into the CD business, and that helped you to prosper in the boom years...
That's right, we were there right at the beginning of digital. We placed the second order for CDs in 1984 with Nimbus (the BBC placed the first). We have an independent label that's been going a long time. 1980 is the technical "founding date" and we have been doing that independent thing ever since.
The late Eighties and early Nineties was when there was really money in it. That was an interesting stage. Philips Polygram paid a huge sum of money for us to form an early music label within their overall label. But it was already unwinding while we were making the original deal. They were very slow to see what was happening around them. By the time it was all signed and sealed, it was already falling fast. I was meeting their representatives all over the world, and the Americans in particular were trying hard to make some money out of a fading, failing market, but every time we got in touch with them after a public presentation, the staff had gone. They carried on getting replaced until the whole thing fell apart.
What's your take on the current marketplace, and the economics of issuing recordings now?
What is the next phase? Does anyone know? There's no money in it, or rather there's some, but it's tiny money compared to what it was, and there is no prospect of it improving. It really is a case of hanging on by the skin of our teeth. It can't go on for ever like this. People aren't buying discs, that's what it is. We've been lucky in having a few projects that have done well. The old Spem in Alium recording has done well...
Other groups in classical music seem to be permanently on the prowl for private funding?
We don't get any. We haven't really tried. It's a strange thing: we charge what it costs, which means we have to keep [expenditure] to a minimum. Others have put together boards of directors whose job it is to raise money for them, we've never done that because we haven't needed to. It's a tremendous nuisance to have to do it. I am thinking about courses I run, where outside funding may be the only way, but the courses are a quite separate line of endeavour.
We've never asked anyone for money, we keep afloat by doing a lot of concerts every year. We did 99 in the 40th anniversary year of 2013, and we will have done 86 this year and it's not even a special year. We must give more concerts than any of the other groups, surely...
What about public subsidy? You have written in the Spectator: "The day may yet dawn when singing a cappella music in a stylish way is recognised to be as culturally desirable as performing symphonies."
Nobody [in early music] gets money from the government. We have had money from the British Council on a fairly regular basis. They have helped us to get places. We were in China [with their support] recently.
You have been a columnist and critic for the Spectator for a good while. Does that sit comfortably with the rest of what you do?
They keep asking me to do it, and in the end you are only ever as good as your last piece. I have come close to trouble – and clung on... anyway so far, so good.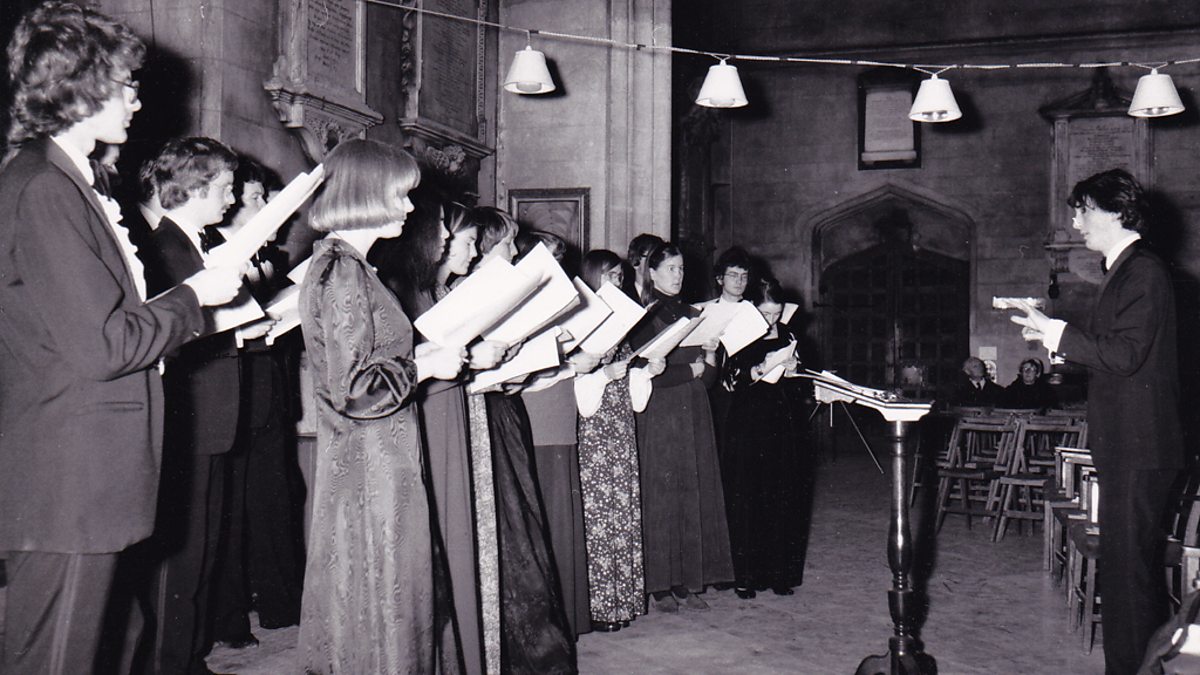 You have a Fellowship at Merton College in Oxford. What was the background to that?
The fellowship at Merton is an active role: I'm Bodley Fellow, it's called, and still Director of Music. I go in and do my thing, once a term. I started the choir. The then warden (Jessica Rawson) and I put the thing together. I got friendly with her and said: "Here is this amazing chapel, the best in Oxford, an ancient foundation with plenty of money... why is there no choir here?" And she said it just wasn't thought of when this college was established in 1264. All the colleges that have choir schools are a bit later than that. New College was 14th century, Magdalen in the 1450s. Magdalen chapel is even based on Merton, with that T-shape. (The Tallis Scholars in Magdalen Chapel, Oxford, 1977.)
You were appointed Chevalier des Arts et Lettres in France in 2005...
The Chevalier des Arts et Lettres was to do with Josquin. They think Josquin is a French composer: anyway, the citation is for promoting French culture throughout the world, and if you accept Josquin as a French composer, that's certainly what we've done.
And sales of your recordings had a major boost in 2012 from the EL James Fifty Shades of Grey books. Have you read them? And is this the reason why the box for the new release Perfect Polyphony is grey?
I haven't read the book. Sorry. I only know what's in them from radio interviews (laughs). I did meet EL James though, she was terrific, I thanked her, told her, "Thank you. We've made a bit of money out of this".
The colour... I hadn't thought of that (laughs). No, I don't think it was on purpose, but perhaps it was the photographer's sense of humour that I'd missed.
We hope to get the notes right and we hope to sing them in tune, but that's just the basic instrument
Explore topics
Share this article