Seraphina Madsen: Aurora review - the tarot won't save us |

reviews, news & interviews
Seraphina Madsen: Aurora review - the tarot won't save us
Seraphina Madsen: Aurora review - the tarot won't save us
Homage to the history of the dark arts and the witchy women who realised them
Madsen's occult underworld shows us what to truly fear
"There is another world… a way of perceiving that is chaotic and awesome and terrifying," announces Seraphina Madsen's cigarillo-smoking, telepathic cat.
Lecturing a teenage coven on the art of sorcery and how to tap into the powers of the "Unseen world", Tu Tu (also known as "The Master", in just one of Madsen's many playful nods to Mikhail Bulgakov) swings from chandeliers, drinks champagne, plays the bongos and an electro-acoustic harp, and waltzes around a Gothic Revival mansion in a diamanté collar.
Yet you'd be mistaken for thinking he's a beneficent magical moggy akin to those found in a Miyazaki or Disney film. Possessed by an otherworldly "entity", Tu Tu paws a fine line between fantastical feline and spiteful sprite; between the marvellous and the malevolent; indeed, between all that is "awesome and terrifying," like most of the creatures and characters found in Madsen's second novel, Aurora.
It is this interfusion of awe and terror that makes Aurora – and the menagerie of spirits, jinns and monstrous personae who populate it – such a whirlwind of a read. But it's not the forces and figures of the Unseen world who are the most threatening. Rather, it's those who make up the seen, "rational world" (as Tu Tu defines it) who prove to be the real monsters. Despite boasting a foul-smelling Pan worthy of a Guillermo del Toro film and a moth-like spirit reminiscent of the spectral forms found in a Remedios Varo painting, Aurora confirms that the deadliest dangers awaiting the titular heroine are all too human – well, almost.
Born to a drug-addicted mother and raised in trailer-park poverty by her Evangelical grandmother, the eponymous Aurora is exposed to the kinds of trauma that make those of the Unseen world look tame. After her lovingly protective (but deeply prejudiced) grandmother sees her dancing and conversing with a black cat (yes, the aforementioned "Master"), she panics and takes Aurora to the pastors of a mega-church. What ensues is one of the most violating experiences to which anyone could be subject: an exorcism sees the innocent Aurora strapped to a metal table, stripped naked, clawed at and dunked in an ice-filled tub of water. It is here that Madsen begins to set the darker arts and mechanics of the "rational" world – and its various religious, educational, socio-economic and political systems – against those of the "irrational", Unseen one. And it is after this violation that Aurora's life, though ostensibly on the up, begins to dramatically and, to again borrow Tu Tu's words, chaotically and terrifyingly unfold.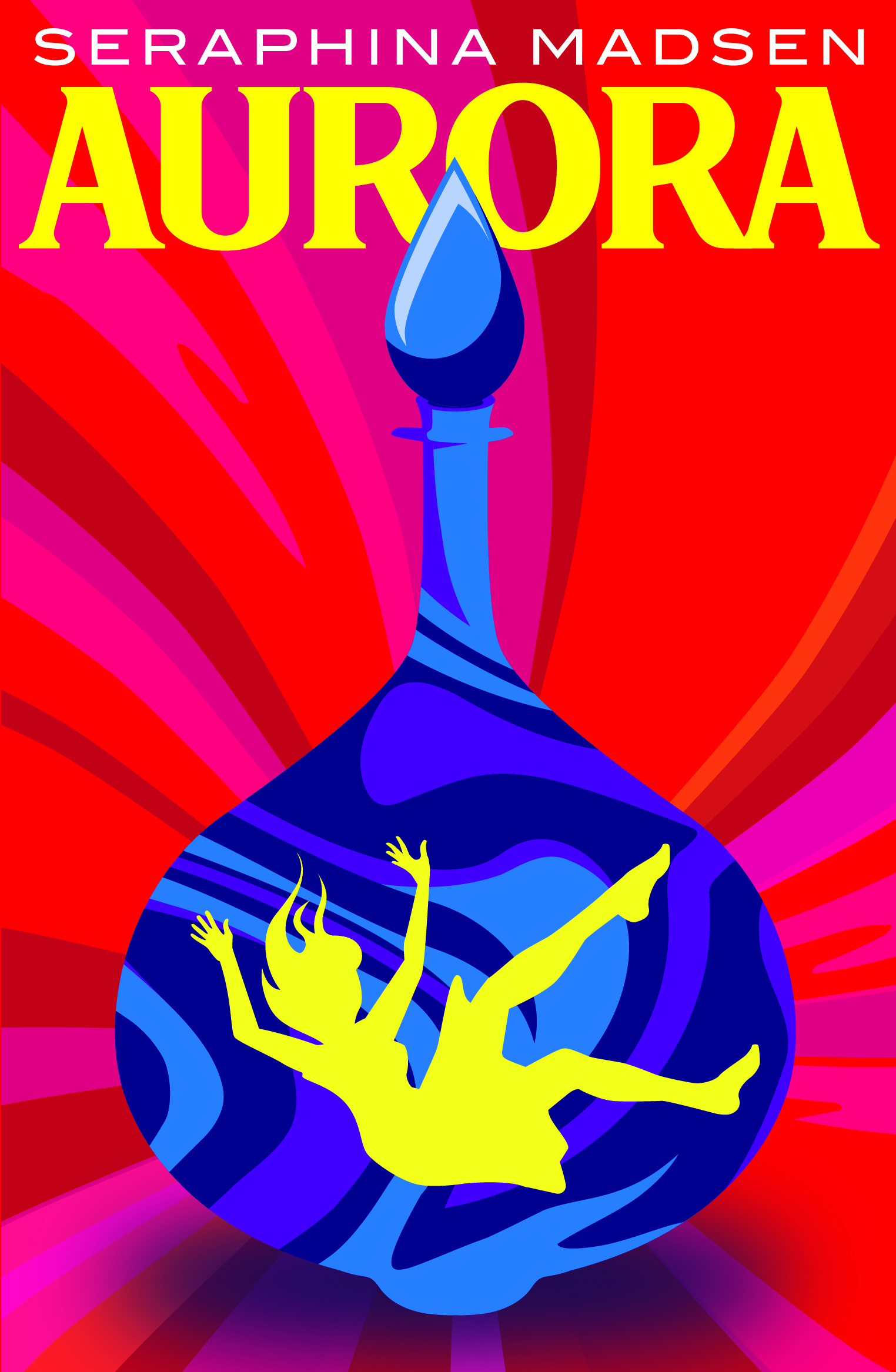 In fact, Aurora feels like a dizzying descent into hellish spheres, unseen and seen alike. While our heroine excels at school and in social settings, internally she flounders. Initially, her friendship with the teen heiress Sylvia gives her the love and connection she so desires. But Sylvia, like so many of her occult-obsessed predecessors (think the overreaching ambition of Nancy from The Craft or Sabrina Spellman from the recent Chilling Adventures series) has her own agenda, pushing for greater knowledge at the expense of everyone else's safety and labour and her rich parent's seemingly unlimited purse. Chameleonic and narcissistic, Sylvia eventually casts Aurora off as if she were last season's fashion trend: like the other Californian girls with whom they form a coven, Sylvia can afford to meddle with the Unseen realm because the bank of daddy will always cover the cost of her latest dalliance with the dark side.
Madsen interrogates the diverse power structures at play in this double trope of American teen clique and Californian coven. On the one hand: the "rational" system of capitalist hetero-patriarchy, which sees Aurora, with her lowly origins and lack of familial and financial support, cast aside and physically cashed out by the son of a corrupt mafia underboss. On the other, the supposedly alternative system of the occult and its attendant culture: the European surrealists, the American Wiccan communities and their sex magic cults, the white witches of old and new, with their ancient rites and writings – all of which the author pastiches impressively.
Yet both systems of belief and the worlds they uphold fail Aurora, betraying her into the darker clutches of man (whether pastor, prince, lover or mafia underboss). Turning to witchcraft for freedom and fellowship, empowerment and enlightenment, she and the other young women fail to understand that the real power determining their fates cannot be evaded or surpassed through occult books or decks of tarot (even if they were previously owned by Sylvia Plath). For all its inspiration, the Unseen realm will, inescapably, remain just that – invisible – when the palpable, "rational" dangers strike.
Far from throwing witchcraft and its compelling history under the bus (though this will happen to the charismatic Tu Tu), Madsen drives occult practices to their most realistic conclusion. A young woman trying to channel unseen forces – bending them to her will and advantage – is likely to discover that they are not enough to reverse the coldest, most indifferent, life-altering power of all: capitalism. Reaching out for spells and incantations, rites and rituals, results in harm and tragedy every time for Aurora and her so-called friends. Money holds both magical privilege and promise, as her grandmother knows at the beginning of the novel: she flicks through the pages of Town & Country magazine, envisaging affluence and influence for her newborn granddaughter. The girls come to share in this wisdom, understanding that the final security is not magical but financial. They are protected so long as they remain exactly what they are: the transferrable objects and capitalistic subjects the world expects them to be.
Some visual and literary representations have all too readily romanticised the capacity of the witch to outdo and outwit that of the "rational" world. Madsen's representation of the occult shares something of the cautious admiration found in Anna Biller's film, The Love Witch (2016), which sees its heroine excel at spells and the limited powers white magic grants, only to incur the sexist violence of those in and outside her coven. Ending where she began with yet another misogynistic – not mystic – battle on her hands, Biller's Samantha only ever truly finds freedom and empowerment in the fantasy of a witch. The reality, regardless of her rainbow-clad attire, is bloody, deadly and always leaves the bewitching woman out in the cold. Aurora, too, ever hopeful that magic and the inherited precedents of historical occult figures will reverse her misfortune, ends up friendless, loveless and imprisoned. Even the arcane cannot contain or contend with the age-old dominance of misogyny, especially in a capitalistic anti-feminist world.
With its flights of aberrant and daring fantasy, its cautious but impressive homage to the history of the dark arts and the witchy women who realised it, Aurora is at once a revisionist, feminist epic of the imaginative potential of the unseen and a resounding warning of the real dark forces that work against women in our world today.
Aurora by Seraphina Madsen (Dodo Ink, £9.99)