10 Questions for Alexander McCall Smith |

reviews, news & interviews
10 Questions for Alexander McCall Smith
10 Questions for Alexander McCall Smith
The creator of Mma Ramotswe's No 1 Ladies' Detective Agency on Botswana, Kindles and World Book Night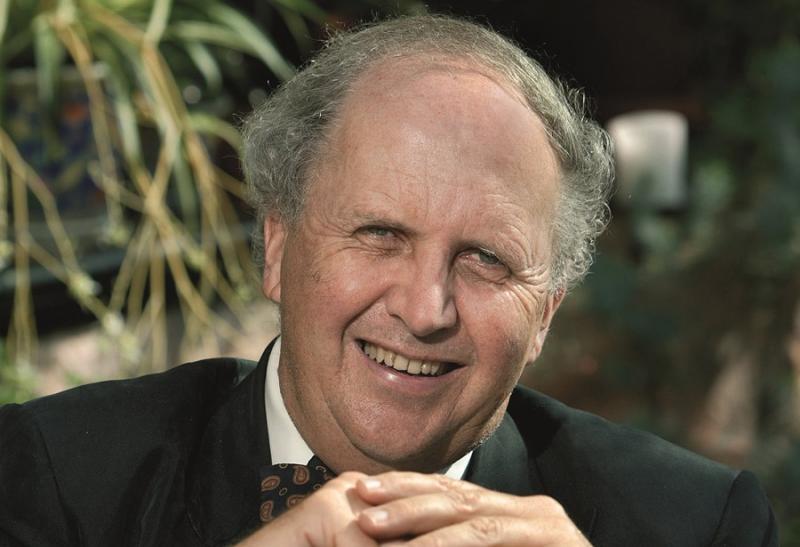 'I happen to agree with many of the things that Mma Ramotswe says'
Alexander McCall Smith is Scottish, and writes fiction, but he doesn't write "Scottish fiction" as most of us understand the term. In his world view there are no used needles and discarded condoms littering tenement stairwells, no spotty hedonists popping pills to a blue-streaked soundtrack of effing and cussing. It seems extraordinary that no other author has hit upon his extraordinarily successful formula for shifting units in bookshops all over the world.
Low on dead bodies and high on softly pedalled humour and lightly sprinkled moralising, the No 1 Ladies' Detective Agengy series of novels starring his "traditionally built" (fat) Botswanan private detective Mma Precious Ramotswe profitably roll of printing presses every year. Born in 1948, McCall Smith spent the first 17 years of his life in Bulawayo, where his father was a public prosecutor. He went to Edinburgh to study law, and apart from going back to southern Africa for two years in his early 30s (which yielded The Criminal Law of Botswana), he has lived there ever since. For many years he was a distinguished professor of medical law, in which capacity he wrote The Forensic Aspects of Sleep and Errors, Medicine and the Law, and sat on UNESCO's bio-ethics commission, and on the human genetics commission which advises government. At the other end of the spectrum of achievements, he remains founder member of the Really Terrible Orchestra (he plays bassoon).
Other series of his star Professor Von Igelfeld, an impeccably self-important Romance philologist, and Isabel Dalhousie, a moral philosopher who pokes her nose into people's affairs. But it is Mma Ramotswe who is pre-eminent in the bookshops – a 16th addition to the series called The Minor Adjustment Beauty Salon appears later this year - while the series' original title has been nominated as one of this year's books for the third annual World Book Night.
World Book Night features events all over the country, from a star-studded reading in Royal Festival Hall to the humblest local library. The idea is to achieve a mass redistribution of books, getting them into the hands of people who do not regularly read. Twenty titles are chosen each year by an independent editorial committee, and handed out to those sections of society where books don't often penetrate. The authors of the books waive their royalties, while publishers agree to pay the costs of producing the World Book Night editions.
The author of The No 1 Ladies' Detective will be appearing tonight at Edinburgh Central Library. But first he talks to theartsdesk.
I deal with the more positive and affirmative aspects of life
JASPER REES: Why is it important for authors such as yourself to get involved in World Book Night?
ALEXANDER McCALL-SMITH: I think the idea of giving books away is a marvellous thing. I'm delighted that they've chosen one of my books to be included in that. I've been involved before and I think it's just a fantastic method of reminding people about books and I'm sure that it'll have the effect of bringing back people who may have drifted away from reading habits by giving them a book. It also emphasises a very important aspect of this that we do like to share them. It's also interesting that when we read a book we like one of our first reactions is I must pass this on to somebody, I must recommend this to somebody.
What was the last book you recommended to someone else?
I recommended a book called The Nature of Order by an architect called Christopher Alexander very enthusiastically to somebody a few days ago when I was in America. I think it's a book that can change your understanding of buildings and our environment. It is a book of extraordinary importance.
Can you remember the first book you will have raved about as a child?
I think I can remember telling people how much I liked the William books. I think I was a bit of an advocate for them and I think I told other boys that these were great books to read.
What's the source of Mma Ramotswe's appeal?
I think probably that what has happened is that people have found that they like her, they like her character, and that they are fond of her as a person. I think that they respond to her kindness in a very positive way. I think that people actually feel comfortable with characters in a book whom they actually like and even if a character is very well described, if they are not as attractive that will have an effect on its reception. Here is somebody who is kind and forgiving. And they are two things that mean a great deal to people. Also it portrays a world which isn't cynical. Mma Ramotswe is direct and I think that people respond very well to that and they feel that this is an antidote to a rather cynical atmosphere that we have.
When your embarked on The No 1 Ladies' Detective Agency, was it a very strategic notion of yours to supply an alternative to hardboiled detective fiction?
Not at all. I had no agenda. I really didn't. I wrote that book because that's what I wanted to write, that's what I felt about Botswana. And so I wasn't really calculating that I would do anything in particular. I was very surprised that she had the effect that she had. Extremely surprised.
What has been her impact in Botswana?
I don't think there's a particular impact in Botswana in the sense that I wouldn't presume to tell them anything about their society that they don't already know much better than I do. Some people read them in Botswana and some have been very polite about them and said they feel they can see people they know in the books. Obviously you can't please everybody and others will feel and have certainly said to me, why am I not writing about the problems in their society? Now that's a complex issue. I do think, and it doesn't just apply to Botswana, it also applies to my Scottish books: people say, "You're dealing with a rather positive vision of the place," and I say, "Yes, I am and I think there's a role for that just as there is a role for books that look at the negative and the dysfunctional and the distressing." I think that literature should embrace all visions of the world. Some people will say to me, "Why aren't you writing about unemployment and HIV/Aids?" And my answer would be that the role of fiction does include that but it's broader than that and also that books can deal with various aspects of life and the sort of writer that I am I deal with the more positive and affirmative aspects of life. If you're talking about impact, quite a few people in Botswana have been pleased with the positive portrayal of their country and it's had quite a marked effect on their tourist trade, which is very important.
Is the lack of cynicism a way of getting away from what you have done with the rest of your life professionally? (Pictured above, Jill Scott as Mma Ramotswe in the HBO adaptation)

I don't think so. I used to be a professor of law, I am no longer a professor of law. Obvously I was concerned there with aspects of life which in many cases weren't all that pleasant. But I don't think it's a deliberate escape from that.
Is your sunny fiction simply an expression of your worldview and your personality?
Well, what I write in the books I believe in. And I think you would probably find that I happen to agree with many of the things that Mma Ramotswe says and I happen to agree with many of the things that Isabel Dalhousie says. No great surprise. I suppose my view of the world is to articulate a philosophy. I would say that I probably feel that dwelling on and surrounding oneself with gloomy or negative views of the world isn't necessarily the best approach. I think that we have very fundamental decisions to make about how we approach the world, whether we engage with the world in a way which is positive or constructive or whether we wallow in our failures and in our distress. And I think wallowing in distress is not necessarily philosophically the best approach to life, whereas I think constructive engagement with life and its challenges and an attempt to make the best of what can be in many respects a vale of tears is the more sensible philosophy of life.
Where do you stand on eBook debate? Will print survive?

I fully understand that for many people their Kindles are a very useful way of carting books around and they enjoy reading them and I think one would have to be a real luddite to be churlish about that. However I do think there are reasons why the printed book will survive. I think the book is an aesthetically appealing object. It's a very useful object. If you were sitting down trying to design a way of communicating thoughtts and you came up with the idea of the book, I think you'd probably say it's quite a good invention. So I think that the printed book is not going to disappear and I get the feeling that publishers are realising that standards of production and concentration on the aesthetic wrapping of the contents of a book are very important. I think it would be a pity if the book were lost because you can't lend eBooks, you can't have them before you to remind you as books remind you on a bookshelf of what you've enjoyed. The whole aesthetic experience is different. Also I think it would be difficult to have something like World Book Night if all that were available were eBooks. What would you do? Plug people in? World Book Night emphasises the importance of the physical quality of the book: of actually giving a book to another person, which I think underlines one of the central delights of the book.
Do you own a Kindle?
I've got a Kindle. I don't use it very much.
Is the Really Terrible Orchestra still going?
From weakness to weakness. We took the orchestra on tour to New York, which was a great success. We played on 1 April and the New Yorkers got the joke. We played our usual thing - various pieces including an excerpt from the 1812 Overture with audience participation and a slight Sound of Music bit with a sing-along.
Standing ovation, presumably?
Or rapid exit.
Alexander McCall Smith appears at Edinburgh Central Library tonight at 7pm
It would be difficult to have something like World Book Night if all that were available were eBooks. What would you do? Plug people in?
Explore topics
Share this article
Subscribe to theartsdesk.com
Thank you for continuing to read our work on theartsdesk.com. For unlimited access to every article in its entirety, including our archive of more than 10,000 pieces, we're asking for £3.95 per month or £30 per year. We feel it's a very good deal, and hope you do too.
To take an annual subscription now simply click here.
And if you're looking for that extra gift for a friend or family member, why not treat them to a theartsdesk.com gift subscription?