We Made It: Hauser & Wirth Somerset |

reviews, news & interviews
We Made It: Hauser & Wirth Somerset
We Made It: Hauser & Wirth Somerset
Gallery director Alice Workman on housing contemporary art in the threshing barn
Barnstorming: Hauser & Wirth Somerset, with, from right, Thomas Houseago's 2011 'Large Lamp I', Subodh Gupta's 2008 'Untitled', and Paul McCarthy's 2010–2011 'Ship Adrift, Ship of Fools'
Zurich, London, New York…Somerset. It may seem unlikely, but an 18th-century farm in the West Country is the new place to be for contemporary art aficionados. Last year, renovations were completed on the 10 buildings of Durslade Farm, left to fall into disrepair over decades.
Now, the world-class arts centre boasts five gallery spaces, the Roth Bar & Grill – where locally sourced produce meets bold, eclectic installations – shop, guest house, library and learning room, backed by Piet Oudolf's sumptuous 1.5-acre perennial meadow. But how did Hauser & Wirth's creators make the intuitive leap from piggery to gallery? Director Alice Workman explains.
MARIANKA SWAIN: What was the initial inspiration?
ALICE WORKMAN: Hauser & Wirth is an international gallery that originated in Zurich and has grown to include venues in London and New York. Owners Iwan and Manuela Wirth live in Somerset and have a very close connection with the community. They discovered Durslade Farm on the outskirts of Bruton and realised that its ruins and abandoned buildings would give them the opportunity to create a place where they could bring together all of their passions: art, architecture, landscape, conservation, gardening, food, education and community. (Roth Bar & Grill pictured below by Aaron Schuman)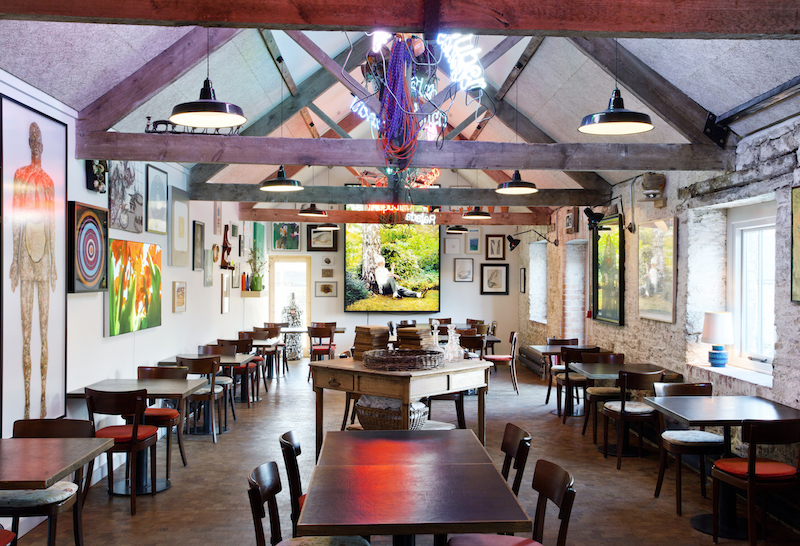 What were the biggest challenges in converting Durslade Farm?
We initially thought about conceiving a new freestanding building, but combining the new buildings with the existing ones quickly appeared as the best solution. Intervening in the Grade II-listed agricultural cluster of buildings without overtaking or breaking the existing harmony was one of the major challenges of the project. Another was the weather, as we worked right through the wettest winter on record, when much of Somerset was submerged in water.
Is there a particular design ethos that connects the different elements on site?
Working closely with officers from English Heritage, we partnered with Paris-based architectural firm Laplace to envision a cohesive restoration. Two added wings, connecting with the Cow Sheds and Piggery, create a continuous internal space and an enclosed external courtyard lined with colonnaded canopies. The courtyard is large enough for each building to retain its own identity, while uniting old and new, and is also a site for displaying outdoor works of art.
What methods did the creative team use to realise your vision?
Conserving these beautiful buildings and breathing new life into them through an exciting programme of contemporary and modern art was at the core of our vision. We selected a creative team that we had complete faith in; Piet Oudolf, our garden designer (Oudolf Field pictured below by Heather Edwards), and Luis Laplace, our architect, were the cornerstones, and we gave them the freedom to create something innovative and unique. We've been delighted with the results.
How important was it to retain Durslade's character and heritage?
We made a conscious decision to conserve Durslade Farm, retaining the integrity of the existing buildings and remaining true to their historic usage, while also sensitively adding new gallery buildings to the site. The use of simple materials reflects the farm setting: brick, sympathetic to the existing sandstone and brick walls; pre-cast concrete lintels and jambs echoing the framing of doors and windows. The existing buildings retain all of their original features and the galleries are named after their former usage, e.g. the Threshing Barn.
Does that ever conflict with presenting contemporary, international work?
The galleries have all been designed to the highest specifications for exhibiting works, including large-scale sculpture, so we haven't encountered any conflicts, and often the juxtaposition of contemporary art within a historical space is intriguing in itself. We've also been lucky in that many of the artists we've worked with have been excited at the prospect of creating site-specific works inspired by the location, including Phyllida Barlow, Zhang Enli and Pipilotti Rist. (Installation view of Rist's 2014 'Stay Stamina Stay' pictured below)
What's coming up?
In July, American artist Jenny Holzer will take over all five spaces for a major exhibition, which includes new site-specific work as well as a selection of significant pieces drawn from over three decades of her career. We have an exciting education programme running alongside it. In the autumn, we're opening a programme focused on the South-West, with an exhibition of locally based artists called Qwaypurlake, alongside one by renowned photographer Don McCullin, who lives locally.
What's your dream for the venue? Would you like to see people coming for a variety of reasons?
People are already visiting for a variety of reasons. Seeing over 120,000 visitors of all ages, from all backgrounds, walking though the doors is our proudest achievement – we really feel we're bringing contemporary art to new audiences.
What's the local response been like?
Many of our visitors are local residents who come on a regular basis. We've been overwhelmed by the support from the local community and are happy to be providing a useful resource for them. We're also pleased that the opening of Hauser & Wirth Somerset has had a positive impact on the local economy.
What advice would you offer to others who'd like to establish cultural hubs outside the capital, particularly in rural areas?
My advice would be to really get to know the local community before embarking on any project. Find out their ambitions for the area, what they do and don't want, what's already available and, crucially, work with them wherever possible. We worked with the local community from the very start, and I think that's been fundamental to our success.
Seeing over 120,000 visitors walking though the doors is our proudest achievement – we're bringing contemporary art to new audiences
Explore topics
Share this article