theartsdesk in New York: A Rooftop Ramble in the High Line Park |

reviews, news & interviews
theartsdesk in New York: A Rooftop Ramble in the High Line Park
theartsdesk in New York: A Rooftop Ramble in the High Line Park
A sophisticated artistic retreat in the heart of the city
The High Line Park on the far west side of Manhattan, built on an old elevated train track, is a unique combination of everything New Yorkers love - fabulous views, a piece of history, a traffic-free zone (no dogs, skateboards or bicycles), unusual plantings, and the chance to gawp at people and real estate. And with the recent opening of its second section, there's even more space to see and be seen in.
"That's awesome. That's the kitchen right there," says a young man, peering enthusiastically into a new apartment building situated right beside the raised walkway.
The High Line's surroundings - the new and the swish, the old and run down, the scrap-metal yards, industrial warehouses, trendy hotels and lofts - embody New York's ever-changing nature and provide a fascinating backdrop to the 1.54 mile walk from its start at Gansevoort Street between 10th and 11th Avenues (the future site of the new Whitney Museum of American Art) through the Meatpacking District and Chelsea, up through Hell's Kitchen and its end at West 30th Street (a third section, looping down the perimeter of the West Side railyards to the West Side Highway and back up to 33rd, is planned).
In just a couple of years - the first section opened in 2009 - the High Line has become a major New York attraction. In the new series of Curb Your Enthusiasm, Larry David, fresh from a Viagra-buying spree, and his manager Jeff take a stroll along it on their way uptown. Out-of-towners clamour to be taken there, even on 95-degree days (if you want less humanity, go in autumn and winter). Locals can escape their apartments and have morning coffee on one of the gorgeous broad wooden loungers which roll cleverly along the old railway tracks, surrounded by trees, plants and grasses that echo the wildness of the self-seeded landscape of its former life, and come back in the evening to watch the sunset over the Hudson River.
Although it was closed over the weekend, damage from Hurricane Irene was minimal, just a few new saplings uprooted near Gansevoort Street - another advantage to being well above flood level. The new section - West 20th to 30th streets, much closer to buildings on each side than the south section - already looks well established.
Of course the High Line itself, an elevated freight railway track, has been here since the 1930s, when it carried freight trains full of meat and other goods directly to the upper floors of meatpacking plants and factories. Before it was raised, the train track rumbled away on street level, causing accidents - the area was known as Death Avenue - though men known as West Side Cowboys rode horses in front of each train, waving a red flag to warn pedestrians.
The last train, pulling three car-loads of frozen turkeys, ran in 1980, and the line, with its massive steel girders and rivets, was left to birds, weeds, wildflowers and graffiti artists. Under Mayor Giuliani's administration, demolition was planned. Then in 1999, freelance writer Joshua David and artist Robert Hammond, both of whom lived nearby, founded Friends of the High Line to try to preserve it.
9/11 didn't scupper their plans but had the opposite effect - saving it seemed a positive step and was seen as part of the downtown regeneration initiative. Major money started to flow (Diane von Furstenberg and Barry Diller donated $15 million; Edward Norton, Glenn Close, David Bowie and Kevin Bacon were among early supporters), Bloomberg was brought on board and slowly, a park was born.
'The High Line isn't big on shade, though the new section features a miniature forest of dogwood, bottlebrush buckeye, hollies and roses'
"I love the benches," murmurs a woman close behind me. It's a sunny Sunday in August and the narrower parts of the walkway are pretty crowded, but no one's in a hurry. The best way to take in the High Line is to promenade slowly, stopping often to rest on one of the said wooden benches, tall-backed and comfortable. Sunbathers are out in earnest on the new lawn at 23rd Street: the High Line isn't big on shade, though this new section features a miniature forest of dogwood, bottlebrush buckeye, hollies and roses.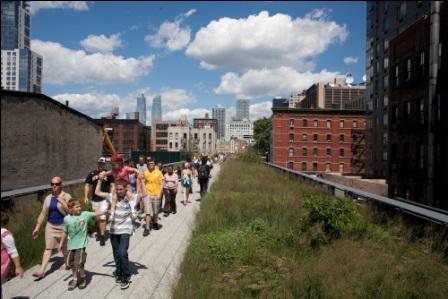 You can dip your feet in a thin layer of water around West 14th St, admire the clever way the original tracks are used, buy a hibiscus ice pop from the Newyorkina stand and take in the views - I look down a grey corridor of warehouses towards the Hudson River - and admire the plant beds on either side of the concrete planks.
There are wildflowers like asters, milkweed and coneflowers, many of them the same species that were there originally, and many grasses with names to conjure with: Shenandoah red switch grass, mosquito grass, prairie dropseed and Korean feather reed grass. Their fluffy see-through quality is a wonderful contrast to the concrete. I'm especially taken with a low-lying Appalachian sedge grass and wonder if you could grow it in England.
The plants were chosen by Dutch new-wave garden designer Piet Oudolf who concentrates on form and texture rather than colour. He favours sculptural perennials that look good when dying back as well as in summer bloom. Thistles and spiky seed heads and dried stems are allowed to stand proud rather than be cut back. Growth, renewal and the life-death cycle are watchwords: a natural splendour that might look wild but is artful and complex.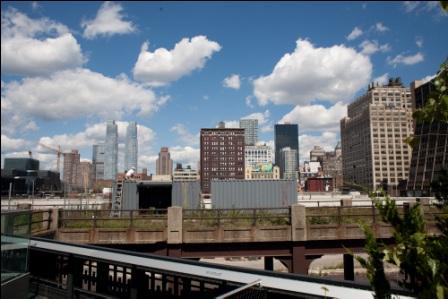 It's not just the planting that's artistic; there's art everywhere. Lean over a water fountain to take a drink and it speaks aloud to you, rather startlingly, about the joys of hydration and love. This is Digital Empathy, a sound installation by Julianne Swartz.
At West 18th Street there's a huge billboard photograph by Robert Adams of an empty country road in Nebraska. At 14th Street, Stephen Vitiello presents a multi-channel sound installation for which he has recorded bells all over New York City and beyond: bicycle bells, dinner bells, church bells, the New York stock exchange bell, all echoing through a tunnel space. At 15th Street in a covered area, a permanent exhibit called The River that Runs Both Ways by Spencer Finch features hundreds of coloured panes of glass, based on photographs of the Hudson River's surface taken once every minute from a tug boat. Earlier in the summer, there were dance performances on surrounding roofs.
Not everyone loves the High Line. "How would you feel if you lived here?" demands a notice on a too-close-for-comfort balcony near 23rd Street. "I preferred it when it was derelict," says a contrary street artist who used to climb up there, illegally, in the old days. "I don't like to see so many buildings when I walk," says a friend who prefers leafier, more traditional parks.
But it's the rooftops, the fire escapes, the New York streetscapes and vistas, combined with the black steel, the concrete and the plants, that give the High Line its sophisticated, vibrant quality. It's a dramatic statement, 25ft above ground, which lets you be part of the city yet maintain a distance
Share this article