Sin, National Gallery review - great subject, modest show |

reviews, news & interviews
Sin, National Gallery review - great subject, modest show
Sin, National Gallery review - great subject, modest show
A small gathering can't do justice to this fabulous topic
An Allegory with Venus and Cupid, 1545 by Bronzino
Sin, what a wonderful theme for a show – so wonderful, in fact, that it merits a major exhibition. The National Gallery's modest gathering of 14 pictures, mainly from the collection, can't possibly do it justice; yet it's worth a visit if only to remind oneself of the disastrous concept of original sin that weaves guilt into our very DNA by arguing that we are conceived in sin.
How did such an invidious doctrine ever take hold, I wonder?
The star of the show is Bronzino's Allegory with Venus and Cupid 1545 (main picture), one of the strangest and most heavily encoded pictures ever painted. It features a naked Venus and her son, Cupid kissing. He is usually portrayed as a chubby infant, but Bronzino's Cupid is a lusty adolescent. Venus draws an arrow from his quiver while tickling his lips with her tongue; he fondles her breast while sticking out his bum suggestively, as though also inviting homosexual sex.
Surrounding the incestuous couple is an array of symbolic characters. Father Time furiously wrestles a blue curtain from the hands of a blind figure thought to be Oblivion, who is trying to draw a veil over the sordid affair. Time wants us to remember there is a price to pay for unbridled sex and a sweet faced girl spells this out by holding a honeycomb representing temptation, in one hand, and a sting in the other. Beside her is Folly, a naked child blithely strewing rose petals over the lovers while failing to notice the thorn piercing his foot.
The clearest demonstration of the possible outcome of this tryst is a howling figure, whose swollen fingers and bleeding gums suggest the final stages of syphilis, a disease newly plaguing Italy at the time. Art historians have spent many hours deciphering this strangely compelling picture, which reminds us that paintings take time to decipher and that they often convey ambiguous or mixed messages.
Take, for instance, Adam and Eve, 1526, by Lucas Cranach the Elder (pictured above right). This exquisite picture shows a phallic serpent prompting Eve to give Adam an apple from the Tree of Knowledge. While she looks knowing, Adam scratches his head like a bemused innocent. If he yields to temptation, the pair will be evicted from the Garden of Eden to suffer the consequences of their sin. Don't get me started on the hypocrisy involved in men blaming women for their own lust. In any case, I prefer Erich Fromm's analysis of Eve's "act of disobedience" which, he says, "far from corrupting man, set him free" by opening the door to exploration, discovery and creativity. The first person to think for herself, Eve was not our downfall but our saviour.
Like so many female nudes, Cranach's lovely painting is disingenuous. It invites us to ogle Eve's lithe body while, at the same time, condemning her for displaying it. That he sees her as temptation personified is made explicit by his subsequent treatment of Venus and Cupid. Wearing only jewellery, a jaunty hat and a transparent veil, Venus leans against a tree in a pose echoing that of her Biblical sister. She could be Eve a few years on, after she has perfected the art of seduction. Beside her stands cupid, holding the honeycomb of temptation while being stung for giving in to it.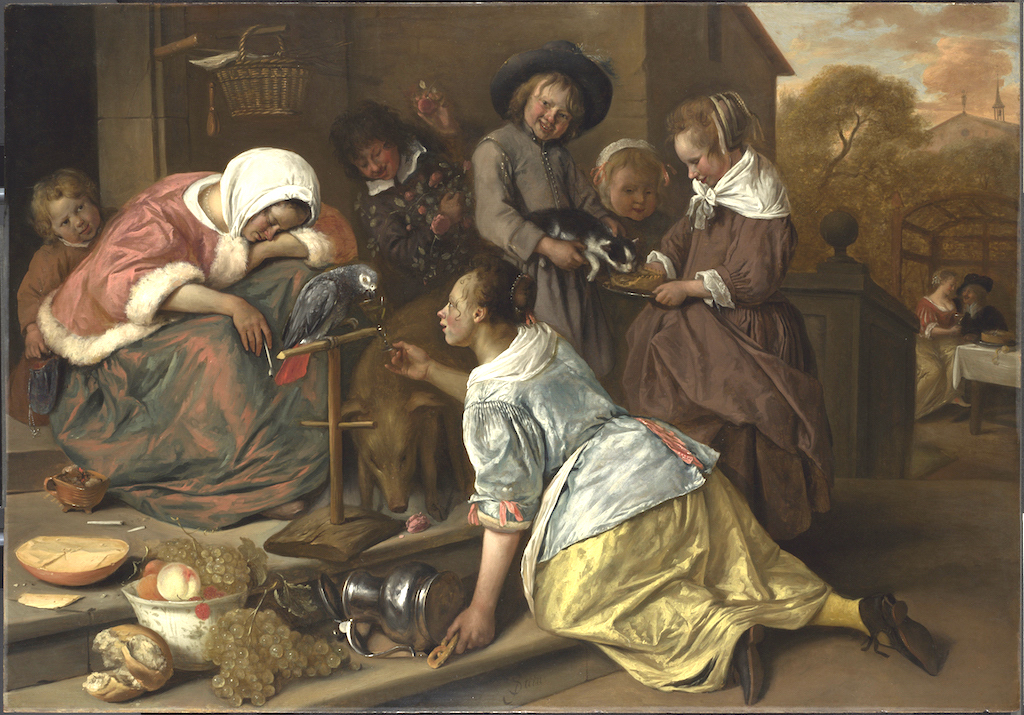 Dutch artist, Jan Steen also blames women for society's ills. In The Effects of Intemperance 1663-5 (pictured above), we see a housewife succumbing to the effects of drink and tobacco. While she snoozes, pandemonium breaks loose. One child steals her purse while the others feed the cat a pie; the maid offers the parrot a glass of wine, while a man servant throws tasty morsels to the pig. Outside, meanwhile, a woman is carousing with a client; Steen portrays the breakdown of domestic order as a catalyst for immorality and holds women responsible for the spread of this contagion.
Christ encouraged a more rational and egalitarian approach by suggesting men should take responsibility for their own actions. In Christ and the Woman taken in Adultery 1565, Pieter Bruegel the Elder depicts the moment when, confronted by a posse of Elders bent on stoning a woman for adultery, Jesus writes in the dust: "He that is without sin among you, let him first cast a stone at her." In this intense little monochrome, Bruegel shows a would-be executioner dropping his stone as he realises the implications of this remark. Those who imagine such prejudice is a thing of the past, should remember that in the Middle East they still stone women to death while letting men off Scot free. If that's not a sin, I don't know what is.
Don't get me started on the hypocrisy involved in men blaming women for their own lust
rating
Buy
Explore topics
Share this article