Salvator Rosa: Bandits, Wilderness and Magic, Dulwich Picture Gallery |

reviews, news & interviews
Salvator Rosa: Bandits, Wilderness and Magic, Dulwich Picture Gallery
Salvator Rosa: Bandits, Wilderness and Magic, Dulwich Picture Gallery
Survey of the flamboyant artist who became a cult figure in his own lifetime
Mount Vesuvius blew its top in 1631, spewing molten lava into the sea and filling the air with ash clouds that reached as far as Constantinople. The eruption and accompanying earthquakes killed 3,000 people and caused widespread devastation, all of which made a lasting impression on the 16–year-old Salvator Rosa. As an artist he was to specialise in darkly tempestuous landscapes filled with menace in which small figures are dwarfed by towering cliffs, or beset by bandits, while storm clouds gather over ruined buildings and blasted trees.
In his lifetime Rosa became a cult figure, as seemingly wild and glamorous as the brigands in his pictures. One hundred years later his canvases were to feed the imaginations of English painters like James Barry, Fuseli and John Martin, while the Gothic novelist Horace Walpole was so entranced by the Italian's romantic visions that he described the "precipices, mountains, wolves, torrents, rumblings" of the Alps as pure Salvator Rosa.
Rosa's The Death of Empedocles, 1665-70 (pictured right), is a brilliant piece of narrative drama. The ancient Greek philosopher is shown plunging into the seething inferno of Mount Etna. Legend has it that he either leapt into the void to prove his immortality, or simply lost his footing while researching this perilous place. Hundreds of years later, scientific research prompted Athanasius Kircher to study Etna, Vesuvius and Stromboli, and the lavishly illustrated book he published in 1665 probably inspired Rosa to begin this turbulent painting in the same year.
Arms and legs spread-eagled like a sky diver, the philosopher hangs momentarily suspended in the air, his bronze slipper still maintaining contact with the rocky ledge. Hair, drapery, flames, billowing smoke, clouds and rocks are all painted with staccato brush strokes that create a visual flutter as destabilising as an earth tremour. The whole scene is one of violent flux; all solid substance seems to melt or tumble, the only stable element being the slipper which, spewed out by the flames, was later to provide confirmation of the philosopher's death. Rosa fancied himself as something of a philosopher and freighted his pictures with meaning. The only certainty is death, we are meant to conclude, along with the pull of gravity that inexorably drags one down into the abyss.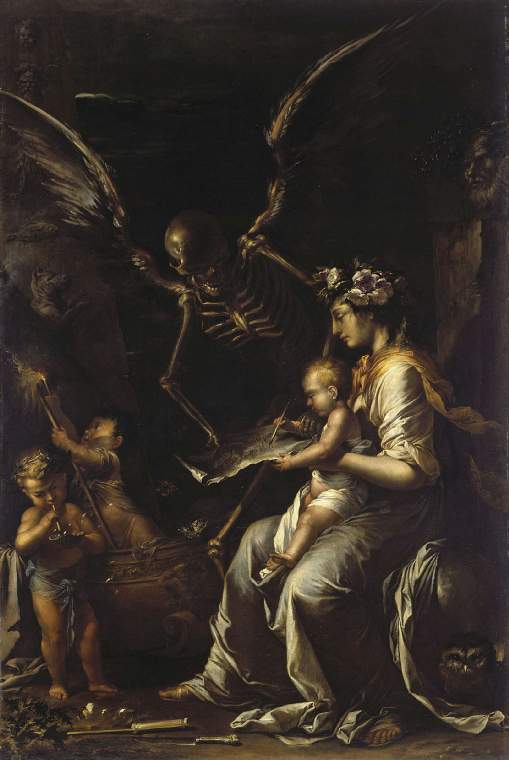 For Rosa, such gloomy thoughts were not idle fancy but hideous reality. His brother, son, nephews and nieces were all carried off by the plague that ravaged Naples in 1656, the year he painted The Frailty of Human Life (pictured left). Rather than embodying transience with fluttering brushmarks, this epic canvas employs heavy-handed rhetoric to convey its melancholy message. Fortuna, a young woman with flowers in her hair, sits on a glass sphere holding a baby. The pose resembles a Madonna and Child but although, like Christ, the child is doomed, his death offers no redemption. This is not a religious painting but a memento mori, laced with symbols of the brevity of life. A winged skeleton guides the infant's hand as he writes, "Conception, sinful; birth, a punishment; life, hard labour; death, inevitable." Butterflies, knives and two putti – one blowing bubbles, the other lighting straw – all signify the ephemeral, while an owl enigmatically ponders the scene.
To our eyes the message seems laughably over the top, but it's hard to gauge the artist's attitude to images and ideas that are now perceived as clichés. The picture was commissioned by the Pope's nephew Cardinal Chigi, whom Rosa despised and, three years later, openly satirised in Fortuna which he painted in Rome, where he had hoped to find more enlightened patrons. Casting the proverbial pearls before swine, a blonde Fortuna empties a cornucopia of riches, including emblems of power, onto an idiot throng of farm animals such as a donkey draped in a cardinal's robe, which unwittingly tramples an artist's palette and a book bearing Rosa's monogram. At the time, the artist was writing Babilonia, a satirical poem lambasting both the Chigi family and the papal court. When word got out, he was forced to write an apology but miraculously escaped prison, partly because the Pope's brother admired the painting, but also because the public gave it such a rapturous reception.
The goddess is not convincing, but the animals are beautifully observed. Rosa was a fine painter, but allegorical soups like this one, whose ingredients need to be analysed and interpreted, now seem laboured and over-determined. Appealing directly to the eye as well as the mind, pictures such as Poetry, 1641, are much easier to admire. Painted in soft ochres and dark greens, its an exquisite portrait of a young woman with a pearl earring, apparently lost in thought. She is far more believable than the three-quarter figure of Lucrezia as Poetry (pictured right), painted in the same year from the model who sat for The Frailty of Human Life. With her staring eyes and dishevelled hair, she looks more demented than inspired, while the leaves entwined in her headscarf snake around her skull like the venomous locks of the Medusa to produce an unsettling sense of madness – bees in the bonnet, as it were.
She is the companion piece to Philosophy (main picture), one of the starkest and most mesmerising pictures in the National Gallery collection. The black beret, wild hair and unswerving gaze of this idealised self-portrait proclaim the wisdom and discernment of the philosopher/artist. Dramatically silhouetted against a cool sky, the towering figure stares at us quizzically, while resting his hand on a plaque that reads "Keep silent, unless your speech is better than words." When he painted it, Rosa was still a little-known provincial, but the bravado of the pose and the claims that it makes provide a glimpse of the self-promotional flair that would spark a personality cult and the overarching ambition that, by the 1650s, would gain him success in Rome where he was to die in 1673.
The Death of Empedocles © Eastnor Castle, Herefordshire
The Frailty of Human Life © The Fitzwilliam Museum, Cambridge
Lucrezia as Poetry © Wadsworth Atheneum Museum of Art, Connecticut