Out of Focus: Photography, Saatchi Gallery |

reviews, news & interviews
Out of Focus: Photography, Saatchi Gallery
Out of Focus: Photography, Saatchi Gallery
Saatchi's eclectic taste produces one of his best shows to date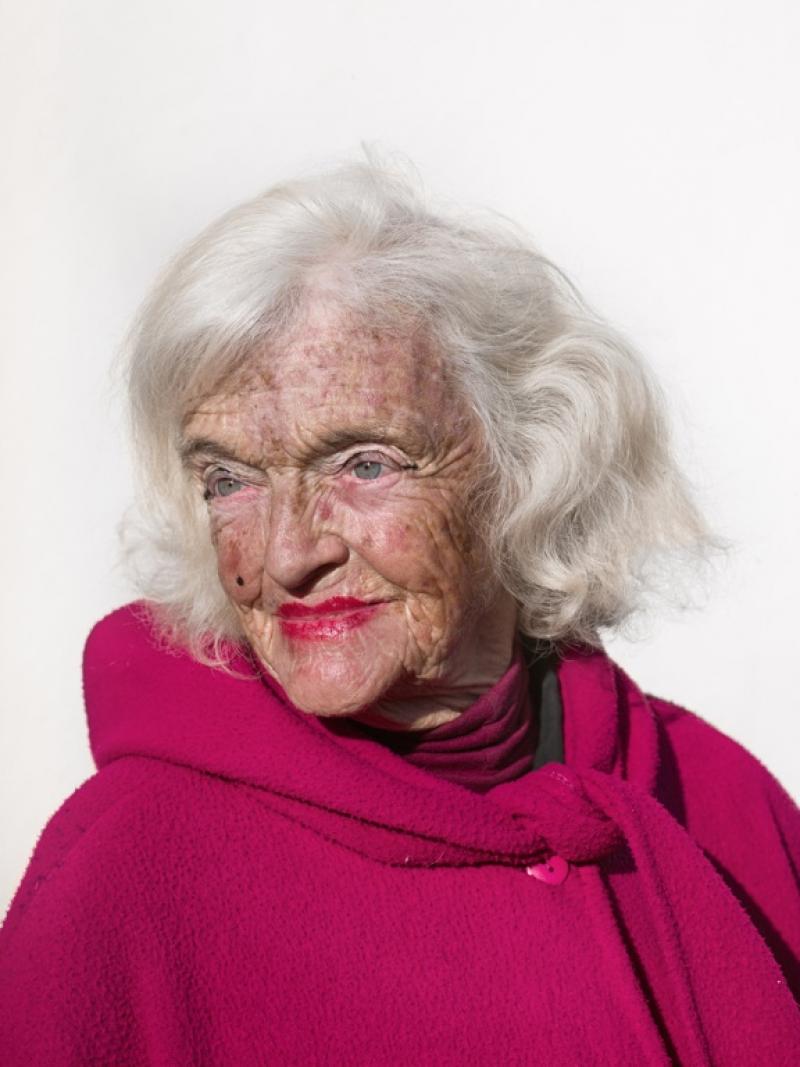 Katy Grannan: Anonymous, Los Angeles, Boulevard 11 2009
Exhibitions at the Saatchi Gallery tend to start with a bang and end with a whimper; so to avoid the experience of diminishing returns, I started upstairs – hoping to save the best until last. The stratagem worked perfectly; my final encounter was with 20 portraits by American photographer Katy Grannan, undoubtedly the star of the show, that fill the first gallery to knock-out effect.
And on the way down, I came across interesting work that would have seemed second best had I begun on the ground floor with Grannan.
Out of Focus does not pretend to be a survey of contemporary photography. Thirty-eight artists from across the globe are included, but rather than offering an overview, they simply demonstrate Charles Saatchi's eclectic taste and the huge variety of uses to which the medium is being put now the rulebook has been thrown out and anything goes.
Draped round the neck of a delicate blonde is a scarf of intestines
I remember when battle lines were being drawn; the exhibition Art as Photography: Photography as Art, which I staged at the ICA in the late 1970s, was at the forefront of what was to be a bitter struggle. The show featured the likes of Richard Long, Gilbert and George, John Hilliard and Floris Nessus who were exploring the parameters of a medium that many artists considered inferior. To stir things up, I invited commercial practitioners such as fashion photographer Terence Donovan to respond to the show and they spat venom at the outrages being perpetrated in the name of art against their beloved medium.
Donovan would loathe the work of John Stezaker (GB), who splices together the publicity shots that film stars once sent to adoring fans; two faces unite to form a monstrous hybrid whose Jekyll and Hyde plausibility is extremely beguiling even when different genders are involved.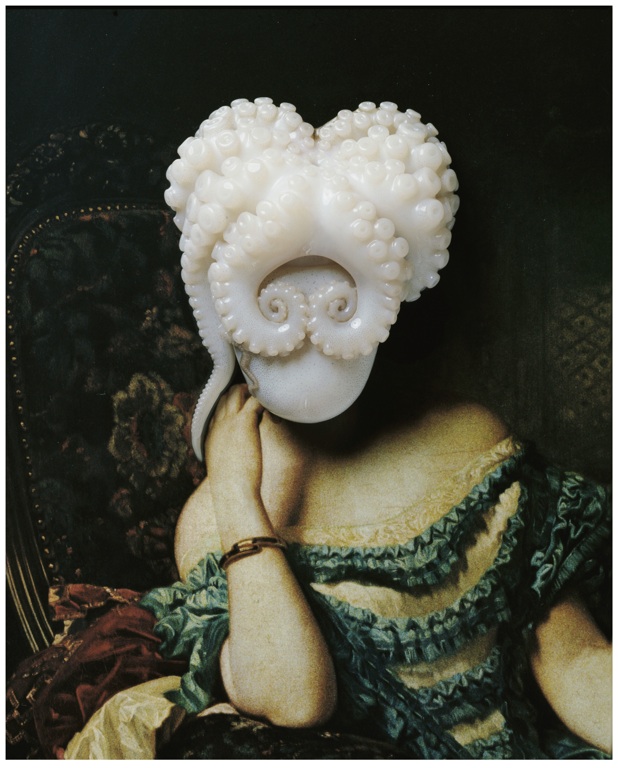 Unorthodox techniques like these were embraced as, little by little, photography was accepted as a fine art medium (pictured right: Octopus Portrait by Yumiko Utsu [Japan]); but a surprising number of contributors to Out of Focus – especially Americans such as Matt Lipps, Mariah Robertson and Meredyth Sparks – behave as though the war has yet to be won, and attacking their negatives with scissors, flames or inappropriate chemicals or draping prints across the floor are transgressive acts rather than re-runs of previous experiments.
They might argue that, at a time when digital technology is making film obsolete by producing pictures that inhabit virtual space, paying homage to the beauty and physicality of celluloid and the printed image is an important rebuttal of the new technology. It's a valid argument, yet I'm still overcome by a sense of déjà vu.
The exhibition catalogue doesn't go into detail about technique and I suspect that for most viewers it is not an issue, especially when there are many powerful images to enjoy. Andreas Gefeller (Germany) takes aerial shots of art school studios. The clobber has been cleared away to leave nothing but the sinks and radiators and, at centre stage, the paint-spattered floors. Forget the efforts of the students, Gefeller seems to suggest, these intricately patterned surfaces are the real treasures. Each picture is seemlessly stitched together on a computer from numerous prints, the joins being evident only when the radiators are distorted by Gefeller 's magical, bird's eye view perspective.
Noémie Goudal (France) explores the interface between nature and culture in images that are beautiful but melancholic. The water cascading down a woodland stream turns out to be polythene draped from strings and crumpled to replicate a babbling brook. The formal garden pictured in Promenade is a paper backdrop hung inside a corrugated iron shed. The message is depressing; the wild is contaminated and the picturesque exists only as a prop.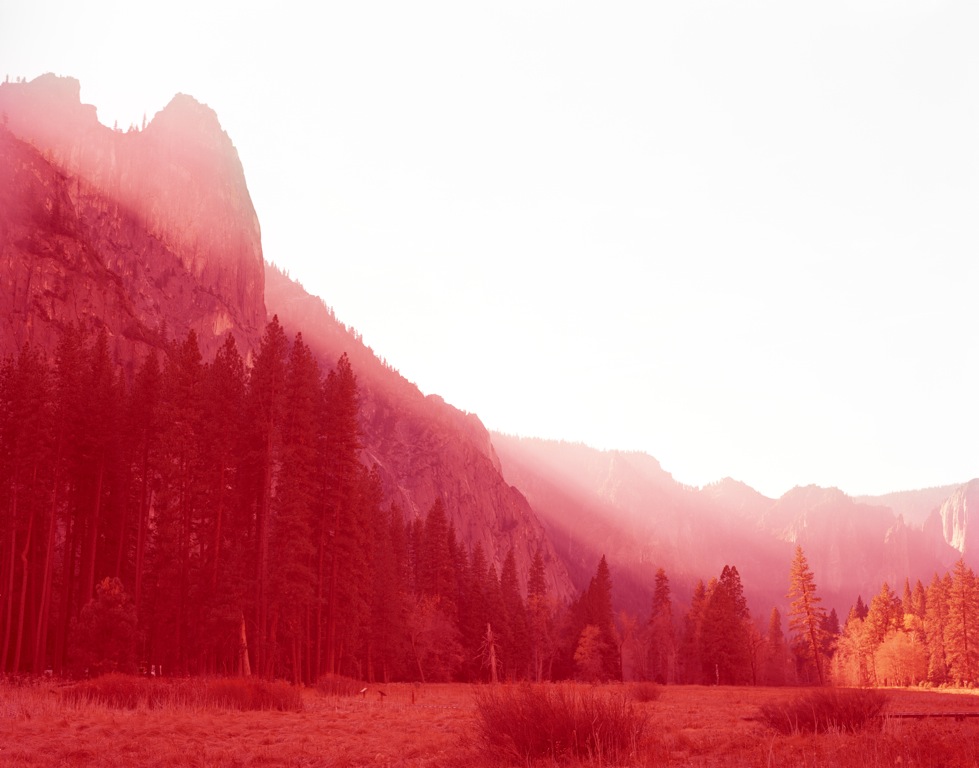 Nature is still resplendent, though, in David Benjamin Sherry's (USA) glorious landscapes (pictured above: Hyperborealis). Iconic shots of Yosemite and Yellowstone National Parks pay tribute to Ansel Adams and the mythology of the great American West. But whereas Adams specialised in the crystal clarity of black and white, Sherry's mountains, lakes and forests appear through veils of cyan, lavender, yellow or red whose artificial intensity creates a giddy sense of chemically-induced euphoria.
Ryan McGinley's (USA) landscapes are similarly unreal. In Jonas (Molten) a tiny figure crouches at the centre of what looks like a blazing inferno; orange rocks resembling flaming lava create an apparently lethal cocoon around the solitary boy who must surely be swallowed up by the elemental forces. Standing at the centre of Blue Breakdown is another diminutive figure; the cavern of blue rock is more believable than McGinley's orange maelstrom but, glowing in the subterranean gloom, the eerily white figure is less convincing. Perched high in a fir tree (pictured below) are several naked youths. They could be having a laugh, but their awkward poses bring to mind distressing scenarios such as tornados or plane crashes.
Pinar Yolacan (Turkey) dresses her models in clothing made from innards. Draped round the neck of a delicate blonde is a scarf of intestines; another wears layers of frills made from lites, while an elderly woman is festooned in animal fat. Wrinkled flesh and offal are juxtaposed in images whose beauty and dignity elicits a mixture of fascination and disgust.
Elina Brotherus (Finland) turns her camera on herself. Femme a sa Toilette pays homage to Degas's pastels of nudes, but this solitary bather frustrates our desire for titivating glimpses of a breast or thigh by curling into a tight coil and turning her back. While exposing herself to view, she simultaneously demands privacy.
Katy Grannan's series Boulevard was shot on the streets of Los Angeles and San Francisco. Her preferred time of day is noon, when the light is at its most fierce and, beneath the unrelenting glare, her subjects have the mesmerised stare of rabbits caught in the headlights. Photographing her subjects against white walls that enhance the brightness, the artist deprives them of any defining context so they appear solitary and marginal. An elderly woman (pictured below) wears a mini skirt that reveals baggy thighs and varicose veins. Another woman in a smart red jacket has taken considerable care over her appearance, but her poorly applied make-up and the beauty spot stuck on her sagging cheek merely emphasise the havoc wrought on her face by time.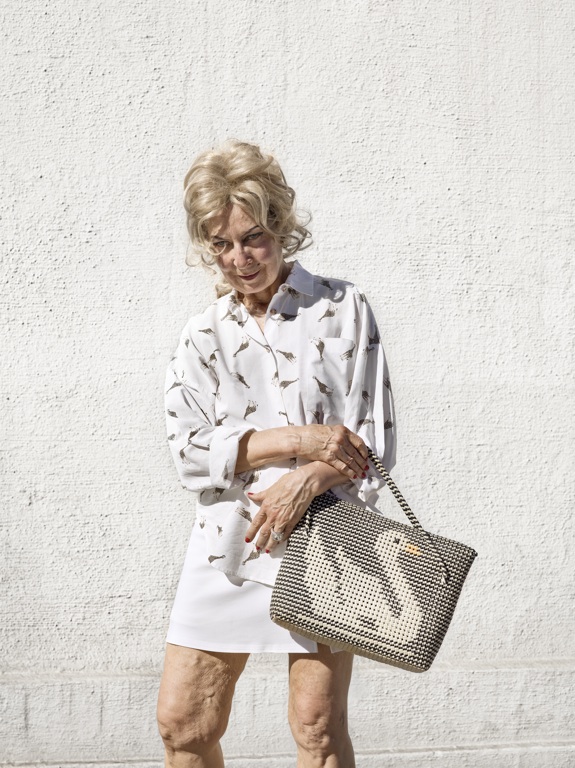 The most disturbing image is of a woman whose hair is scraped tightly back into a ponytail. Her flowery blue blouse does little to gentle her appearance, especially as her glaring eyes, furrowed brow, hollow cheeks and hard set jaw make her look furious. Close inspection reveals a four o'clock shadow hidden beneath the make-up, which explains her masculine demeanour. It comes as little surprise that Diane Arbus is an abiding influence on Grannan; her portraits seem able to reveal people's dreams and illusions and their confrontational intensity burns its way into your brain. They are by far the most memorable images in a splendid show.
Grannan's portraits seem to reveal people's dreams and illusions and their confrontational intensity burns into your brain
rating
Explore topics
Share this article