George Shaw: The Sly and Unseen Day, South London Gallery |

reviews, news & interviews
George Shaw: The Sly and Unseen Day, South London Gallery
George Shaw: The Sly and Unseen Day, South London Gallery
An impressive exhibition of paintings hark back to a lost, Larkinesque England
'Scenes from The Passion: The Cop Shop': George Shaw's paintings are both disquieting and really rather nostalgic
By anyone's standards this is an obscure year for the Turner Prize shortlist: you should consider yourself a contemporary art aficionado if you've heard of even one of the artists. And if this is indeed the case, that artist is likely to be George Shaw; in recent years his work has featured regularly in group displays at Tate Britain.
Shaw, a Coventry-born painter, was nominated for his Baltic Centre for Contemporary Art show,
The Sly and Unseen Day
. A pared-down version of this exhibition has now travelled to London, where it is beautifully and very simply hung in just one gallery space, at the
South London Gallery
.
To say that Shaw celebrates the mundane and the everyday is not quite how one might describe what he does, for a sense of celebration is hardly the pervasive mood; with the title of the exhibition taken from Tess of the d'Urbervilles, where Hardy ponders his doomed heroine's last day on earth, that mood is often one of foreboding. Yet with Shaw's meticulous attention to detail and consummate skill, these muted paintings offer a quiet, and quietly seductive, celebration of the realist tradition.
For the last 15 years the artist has painted the two square miles around the estate in which he spent his childhood. Tile Hill, in Coventry, is wholly typical of the council estates that were built in England in mass social housing projects in the Sixties and Seventies. Now they are run-down: libraries, shops and pubs are closed; graffiti and splashes of paint daub walls; subways are unlit, ominous places.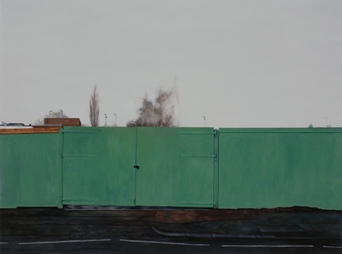 Selecting from the thousands of images he has taken over that time, Shaw has painted every nook and cranny of the place from photographs. These usually close-up, squarely aligned paintings include boarded windows, fencing (pictured right: No Return, 2009), concrete steps, a concrete tunnel entrance, a disused children's swing, minus swings. But also the serenely luscious wooded areas that surround the estate. And though evidence of life is all around, there is never a person or vehicle to be seen.
These paintings are both disquieting and really rather nostalgic. They depict a lost Larkinesque England where there's never anything to do on rainy Sundays and where buttoned-up lives of desperate loneliness are lived behind net curtains. Instead of traditional oil paint, Shaw uses Humbrol enamels, used to paint Airfix models and reminiscent of a Seventies boyhood. Its hard, sheeny surface keeps us locked out, deflects entry beyond that lacquered shell, as does Shaw's preference for painting obstructing gates, fences, shuttered windows and walls.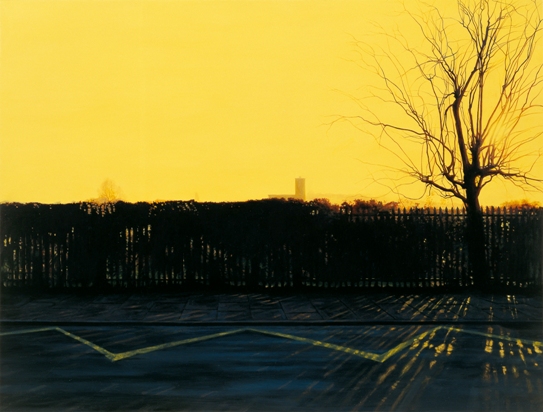 Once very modest in scale, these paintings have progressively been scaled-up in both size and ambition. The larger works here are among the strongest of the 15 on show. One of the most arresting is Ash Wednesday, 8.30am, 2004-5 (pictured left), with its sulphur-yellow sky, spindly silhouette of a lone tree against an end-to-end stretch of fence - very Hockney - and the faint, smokey traces of tower blocks in the far distance. Another is Scenes from The Passion: The Cop Shop, 1999-2000 (main picture), where two tower blocks rise up either side of a one-storey brick building (which looks more like an outhouse than a police station). The religious references, a nod to Shaw's boyhood Catholicism, underline an elegiac mood. With their sense of order and restraint, restricted palette and adherence to structure, one might even be reminded of Dutch paintings of the golden age, shed of their certainties and material satisfactions. This really is an impressive exhibition.
Though evidence of life is all around, there is never a person or vehicle to be seen
Share this article