Frieze Art Fair 2011: Emotion under the Irony |

reviews, news & interviews
Frieze Art Fair 2011: Emotion under the Irony
Frieze Art Fair 2011: Emotion under the Irony
Young galleries give Frieze the frisson it needs
Thursday, 13 October 2011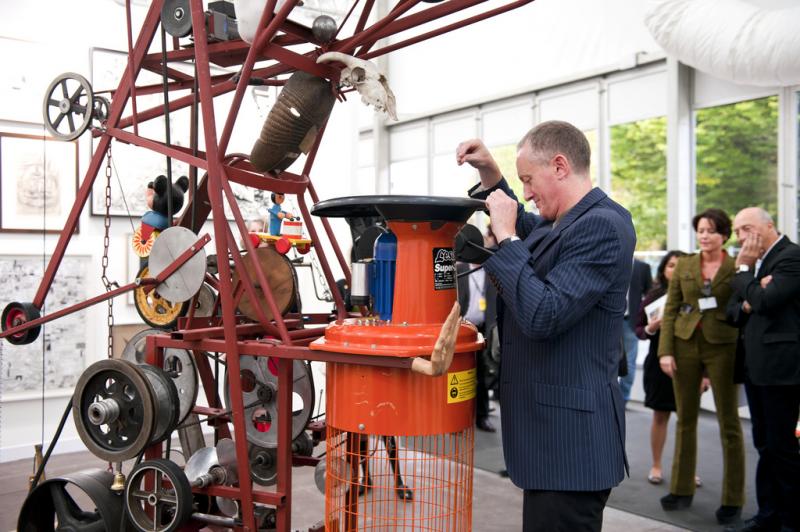 Michael Landy peers into his mulching machine
Every year the art lovers of the world assemble in London and burn themselves out during Frieze Week - the fairs, the galleries, the parties - and (if they're anything like me) they vow to take it a bit easier next year. It never happens. The entire art ecology of London takes its cue from the Frieze Art Fair: if you're going to launch something, you may as well do it now, when all the major collectors are in town.
And so art lovers and art-lover-hangers-on once again spin around town like dervishes on speed. I don't think we'd have it any other way.
Frieze itself opens today, but the VIP/press preview was yesterday afternoon. There were thousands of people in attendance, the usual crowd: long-limbed Amazonian women, short men in smart suits, grandes dames and their even grander facelifts, oligarchs, twentysomethings from east London in puffy trousers and deconstructed tuxedo jackets. The VVIP preview was yesterday morning, where the serious collectors were let loose with their shopping trolleys and pet art advisers.
Galleries are playing safe with blue-chip works and brand-name artists
There is no easy way to see Frieze - it requires commitment. You stroll up and down the long aisles in the Regent's Park marquee among the 173 global galleries, turning left for the young galleries in the Frame section or right for the bookshop, snapping up a piece here or there (assuming the financial crisis has not wrought havoc with your credit rating). The art requires proper attention, even if it is easy to forget about it in the champagne/celebrity scrum. The work is less challenging than in previous years - galleries are playing safe with blue-chip works and brand-name artists - but it is still contemporary and still (wilfully?) rather obscure.
As in recent years, the most exciting and rewarding part of Frieze was the Frame section, where 25 galleries under six years old have shows by one artist. Here, the gallerists are more than willing to talk to you about their artists, which gallerists in the main section rarely do unless you're waving a chequebook in front of them. I asked a saleswoman at Gagosian a question about Urs Fischer's hanging banana (pictured above) and she may as well have spat at my feet.
There is an excellent stretch of Frame galleries at the very far left corner of the marquee which provided some of the most stimulating work. My favourite was Turkish artist Nilbar Güres at RAMPA Gallery, Istanbul (R21). In far south-eastern Turkey, a region suffering from a Kurdish terrorism campaign, a village had its landlines cut off by the central government to prevent any terrorist communications. Along came mobile phones, which the villagers discovered they could use from the top of local hills, and Güres has photographed some of these villagers making calls and taking photos with their camera phones in the snowy isolation of the range. The photos are beautiful landscapes in their own right, but the tug of freedom, isolation and modernity which animates them is special. Several of the photos had already been sold by yesterday afternoon.
Bernardo Ortiz at Casas Riegner Gallery (R24) from Bogota obsessively deconstructs one of Kasimir Malevich's White paintings. They are ostensibly just canvases painted white, but Ortiz has done an analysis and determined exactly which shade of white exists at thousands of points in the painting, numbering each spot and recording it as "zinc white" or "titanium white". He thus breaks down an already much-discussed work into its smallest parts, questioning whether even a painting in one colour can ever be truly unified. It adds a questioning dimension to the work.
I would recommend heading to Frame first - or at least after taking in the mega-galleries like Gagosian, White Cube (whose massive Bermondsey space opened on Tuesday to an outsize crowd of at least a thousand), David Zwirner, Hauser & Wirth, Sprüth Magers and Lisson. They have big names - a great Andreas Gursky at White Cube, a deranged George Condo at Sprüth - and anchor the entire fair. They cannot afford to take risks like smaller galleries, thus the work is (relatively) conservative, but it has prestige from the artist and from the gallery.
As for the rest of the fair, there was no shortage of eye-catching works, not least the artist Michael Landy and one of his mulching machines (pictured top), a 12ft contraption with saws and dolls' heads which juddered into life when the chomping motor was turned on. Landy wanted you to offer your credit cards for chewing up. Thomas Dane Gallery (F17) won attention with Landy but kept it with some great pieces, including a massive Glenn Ligon neon called Warm Broad Glow: it is just the two words "negro sunshine" writ large in a standard font; the pale yellow glow belies the harsh irony of the sentiment. Ligon is having a retrospective at the Whitney in New York and his reputation over here is growing every day.
If you can keep it together after the photos and that letter, you're stronger than I
Nan Goldin never fails to move me and 13 photos of her friend Cookie Mueller at Matthew Marks (C10) almost brought me to tears. Goldin became good friends with Mueller in the late Seventies in the pansexual world of Provincetown and photographed her over the years - dramatic, sleazy, sweet shots. Those were the years, you will remember, when Aids struck, and it eventually took Mueller. In Goldin's accompanying letter, she writes, "I used to think I couldn't lose anyone if I photographed them enough. I put together this series of pictures of Cookie from the 13 years I knew her in order to keep her with me. In fact, they show me how much I've lost." If you can keep it together after the photos and that letter, you're stronger than I.
What I drew from this was the reassurance that as glib as some of the work at Frieze is - and let's face it, irony is the primary tool of much contemporary art - there is still a place for the serious, the profound, the moving. When confronted with the Chapman Brothers' hideous squid-faced Madonna and Child at White Cube (pictured above), you want to throw your hands up - but a closer look at Frieze redeems all the one-liners, all the scoffing.
I asked a saleswoman at Gagosian a question about Urs Fischer's hanging banana and she may as well have spat at my feet
Explore topics
Share this article