Bronze, Royal Academy |

reviews, news & interviews
Bronze, Royal Academy
Bronze, Royal Academy
An exhilarating exhibition that explores an ancient tradition and brings us bang up to date
Monday, 17 September 2012
Donatello's spine-tinglingly expressive 'Lamentation Over the Dead Christ', c1455-60
A Dancing Satyr leaps into the air, his head thrown back in ecstasy. His alabaster eyes appear like two pinpoints of illumination in the dimly lit gallery. The bronze figure, which is the first work you encounter in an exhibition spanning 5,000 years of bronze sculpture, is believed to be the work of the famous Greek sculptor Praxiteles, who was active in the second half of the fourth century BC.
Having lain on the seabed for millennia, the reveller, now with only one limb intact so that he appears suspended in balletic mid-flight, was recovered off the coast of Sicily only in 1998.
Bronze, a copper alloy mixed with tin, is renowned for its strength and ductility. Such a work as Dancing Satyr could not have been conceived in stone, having neither the strength nor flexibility to withstand the figure's supple, gravity-defying pose. This exhilarating figure performs his Dionysian dance alone, but the rest of the exhibition teems with arresting juxtapositions which follow no chronological order. Extending its reach across four continents, the works are mixed and matched thematically – human figures, animals, gods, groups, objects – allowing conversations to develop across time and geography.
What counts is the quality of work, rather than the forging of some clever curatorial exposition
And so the next work we encounter is David Smith's Portrait of a Painter, 1954, a witty assemblage by the American sculptor who normally worked in welded steel. This rudimentary figure has a painter's palette for a head and is carrying a painting box as if it were a briefcase. The subject's singularity of vision and purpose is beautifully expressed with a light and comic touch.
The twentieth century presents some wonderful and often surprising inclusions. In an expansive anthology such as this, we might expect to find Picasso's celebrated Baboon and Young (1951) (pictured below right), in which two cars, a round doubled-handled jug and a car spring are cast for the animal's head, body and tail respectively, but here we also find Willem de Kooning. The Abstract Expressionist's lesser-known foray into three-dimensions was short-lived and not particularly productive, but he did produce the late and rather marvellous Clam Digger of 1972, a clumpy, primordial being that looks as if it's just emerged from a peat bog clutching a club in one hand and what could be a body part in the other.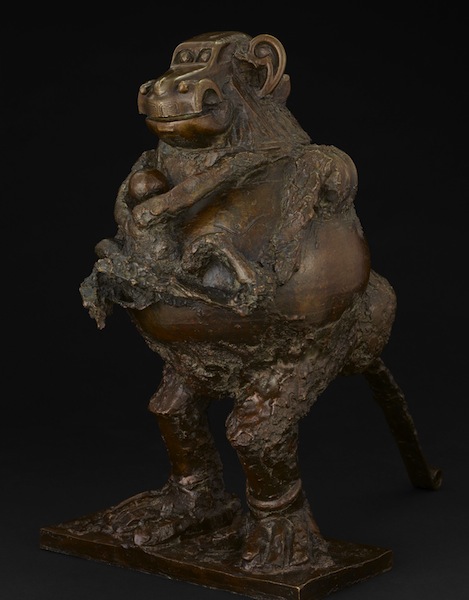 The Clam Digger's neighbour is Germaine Richier's menacing human-sized Praying Mantis (1946), a creature who might have found itself among the exhibition's animal displays, which include Louise Bourgeois's giant wall-crawling spider (pictured below left), but instead finds its right-hand companion in Rodin's startlingly realistic Age of Bronze, 1877. Like Dancing Satyr, Rodin's male nude throws his head back as if in private rapture. Meanwhile, Alberto Giacometti's The Cage (1950), finds a perfect counterpart in the attenuated form of the second-century BC Etruscan Votive Figure (Evening Shadow), a work which is more famous today for its profound influence on the modernist artist, but is arresting in its own right. As for more recent work, we're bought bang up to date with a reflective, concave plate by Anish Kapoor, made this year. In the visual echo chamber of exchanges and ideas, this piece is coolly self-contained.
As you might expect from an exhibition of bronzes, the Italian Renaissance is well served, from Donatello's small but spine-tinglingly expressive Lamentation Over the Dead Christ (c1455-60) (main image), to Giambologna's lithely skipping Mercury (1580). The latter's exquisitely detailed Turkey (1567-70) was originally made for a grotto in the gardens of the Medici Villa at Castello, outside Florence, the exotic bird having been newly introduced to sixteenth-century Europe. Its textured and highly variegated surface couldn't present a greater contrast to the supremely smooth finish of Mercury.
The traditions of Asia and Africa are also explored, with Nigeria featuring prominently as a country with a particularly strong bronze tradition. At only 95cm high, Bowman from Jebba Island in the Niger River is one of the most imposing exhibits. Swaddled in thick hunting gear and with a face deeply scarified, this fierce, squat figure manages to hold its own next to Ghiberti's monumental (eight foot nine) St Stephen (1425-29).
What counts in this exhibition is the quality of work, rather than the forging of some clever curatorial exposition or other. The juxtapositions work incredibly well, though it's harder to see the point of the inclusion of later castings of works whose original is to be found in marble (Benzi's 18th-century cast of Bernini's carved baroque masterpiece Damned Soul being a case in point). Still, never before has one had the opportunity to see so many of these master works under one roof. And so what could be a better recommendation?
Bronze at the Royal Academy until 9 December
The exhibition teems with arresting juxtapositions which follow no chronological order
Explore topics
Share this article