The wisdom and wit of Carla Lane |

reviews, news & interviews
The wisdom and wit of Carla Lane
The wisdom and wit of Carla Lane
The creator of 'The Liver Birds', 'Bread' and 'Butterflies' recalled in her own words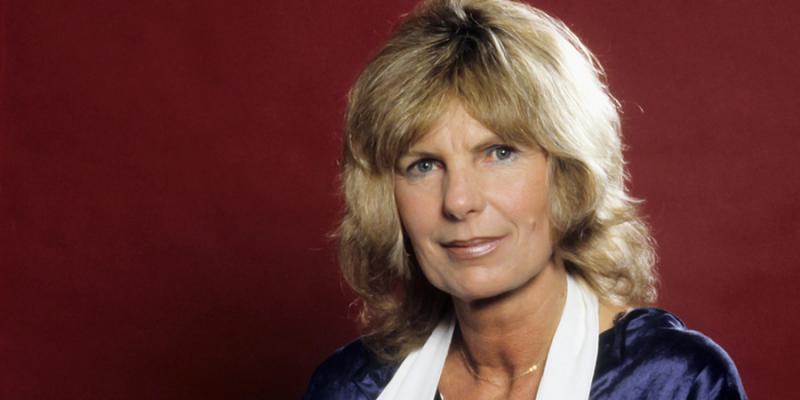 Carla Lane: 'I don't write jokes'
Carla Lane, who has died at the age of 87, was the first from Liverpool. Before Alan Bleasdale and Willy Russell, long before Jimmy McGovern, hers was the loudest Liverpudlian voice on television portraying ordinary working people's lives. From The Liver Birds to Bread, from Butterflies to Solo, her comedies covered the waterfront of womanhood: husband-hunters, divorcees, matriarchal grandmothers, unhappy wives, mistresses.
Later in her life she became at least as famous for her animal sanctuary in Sussex, situated on the grounds of a vast manor. When I visited her there in 2000, we talked in a huge dark-panelled room in the less ancient wing of the 500-year-old house while outside a menagerie of furry/winged/shelled tenants consumed her energy, her old age and the fortune she made out of television in the 1970s and 1980s. She had no regrets other than the inevitable waning of her position as the leading lady of British sitcom. Here is an assortment of autobiographical pearls she came up with that afternoon.
On becoming a writer. I've been a writer since I was seven. I won a little poetry competition. I was thick at school. I can't cook. I can't change a plug. All I love is writing and the only other knowledge I have is about animals.
On The Liver Birds. There is something of the water of the Scouser without doubt. One of the big things about a Liverpudlian is they don't know when they are being funny. When we first did The Liver Birds the girls used to laugh at the end of the line. I used to say, "You kill it stone dead." I used to have a cleaner who'd say things like, "When my ex-husband walked in, God you can tell he's educatalated, can't yer?" She didn't know she'd got anything wrong. And they use big words. She used to say, "My husband thinks I don't know what time he comes in, but I heard him in the hall all surreptitious last night." It's because of the accent and the not trying to be funny. Everybody raves about The Liver Birds. When I first started writing I wasn't allowed to mention the pill. They made me take it out. I just feel that that was my learning ground. And I cringe because I really did much nicer stuff afterwards. (Pictured below, Polly James and Nerys Hughes in The Liver Birds)
On fighting the BBC. All my career I had battled with the fact that you've got to be sad as well as funny. Often I had to battle with producers who said, "Oh my God, darling, this is not comedy." In the beginning it was awfully hard. They wanted gags and laugh a minute, and then suddenly they began to realise that it was nice to be sad and funny. I was one of the pioneers that used to say, "We can't just say we're doing comedy. Don't say that to me." Whenever there was a profound line, they were the things people remembered. It wasn't the jokes. I don't write jokes. They used to say, "But, darling, the fun is in the middle of the sentence, you must bring it to the end." I said, "But that's not how people talk. You're making it into a gag." Although I was new and didn't know a lot, I knew where I wanted to go and I didn't just want to write a laugh a minute. I had so much opposition. I always wanted to write something where everybody sat and talked but they would never let you in those days. "Oh no, darling, we can't have that." I said, "But that's what people do. You could have a whole hour of it." "No no no, she must answer the phone or open the door, or make coffee."
On Butterflies. As soon as Butterflies came out everybody came towards me because that was sad, a real live sad situation. I had a good husband, a faultless husband, and I just wanted to go. I was a very naïve 17-year-old - we all were. I did love him and we used to go ice skating together and it was very romantic and I was very happy for a while. I had my two children one after the other - I enjoyed that so much. All my friends were working as shop assistants and I used to go in with my poser pram. I suppose I just suddenly thought, there is more to life than pushing a pram around. It's a horrible dilemma. I don't know what makes you fall out of love with a person. I was drifting on a cloud when I wrote Butterflies because it was escape from The Liver Birds. I went to see the head of comedy and said, "I want to write about a married lady who falls in love." He nearly died. He went glazed. "I don't think so, darling." But I said, "I've got to do it." Ria was about a woman whose husband was faultless, and she felt guilty because she fell in love madly with someone else. I said, "They are dying breed, she is the last of them. Can I write about it before she disappears altogether?" A little while after I locked myself in a hotel room in Paddington and thought, I'm going to write this bloody thing whether they want it or not. I sent it to the BBC. A hand-delivered letter came back: "Who am I to argue with Butterflies?" But they were scared of it. I said, "They are never going to go to bed." Because in those days you couldn't do it. These days she'd be in bed in the second episode. (Pictured below: the cast of Butterflies)
On falling out of fashion. There were about four or five of us keeping the BBC afloat with our comedy, we were getting very rich and very tired and suddenly it all ended. The contracts were finished. It all suddenly went strange. Nobody wanted us. I think there was an influx of trendies. They came out with a different kind of comedy and I suppose mine seemed old-fashioned, although the themes were really modern and I touched every subject. Suddenly there was a crowd of people I didn't know any more. I used to walk in that TV Centre and we all knew each other. There was a great feeling of creativity. Producers were men in their fifties who were charming. They used to have a head of comedy who was there for us. You could walk in without an appointment, and go to the office. And they'd come to trust me. It was just lovely, and then suddenly all that went. All the yucca plants started dying. I thought, this is awful, they are not watering the plants. I went into the office where the head of comedy used to be and there was this man looking at a computer and he just went, "Hi." I thought, my God, they are all robots here. Nobody said, "Hello, Carla," because nobody knew me and I didn't know anybody. I did get about five youngsters coming up and saying, "Excuse me, are you Carla Lane?"
On fellow animal rights activist Paul McCartney. I went to the Cavern, only once, in me yellow frock. I was well aware of them. I wasn't part of it. I wasn't into all that. I don't see Paul since Linda died but he leaves me lovely little messages on the phone. He's just the nicest man I know. He's gentle, honest, sincere. Can you imagine all that of someone so famous? I used to say to him, "I don't like the human race, Paul. They disappoint me." "No, Carla, some good 'uns out there." He wouldn't let me win on that. He used to say the human race was fine. He says, "Hi Carla, this is Paul here of the McCartney type. How are you? Is everything OK?" He always ended by saying, "God bless all the little animals, and let's keep fighting for them. Rock'n'roll. Lots of love." Or he'll ring up and say, "I've got a special recipe here. You know how you're sitting on your own and have a little salad? Just do this, get your pen." He gave me the ingredients of this salad dressing. And he said, "It's absolutely fabulous and if anybody asks you where you got the recipe, tell them to piss off."
Carla Lane, 1928-2016