Cilla Black, 1943-2015 |

reviews, news & interviews
Cilla Black, 1943-2015
Cilla Black, 1943-2015
From cloakroom attendant at The Cavern club to national treasure
An institution in the making: Cilla in the Sixties
The term "beloved entertainer" might have been coined with Cilla Black in mind. Her career trajectory, from a working-class Irish Catholic background in Liverpool's Scotland Road through pop stardom under the auspices of Beatles manager Brian Epstein, and thence to mainstream TV and nearly 20 years as hostess of LWT's Blind Date and Surprise Surprise, was a classic fable of determined self-betterment. When it came to casting the lead role for ITV's bio-miniseries Cilla last year, it must have taken only seconds to decide that this had to be a job for the almost equally adored Sheridan Smith.
Though Black's sudden death at 72, while she was staying at her Spanish home near Marbella, has stunned fans and friends, Cilla herself was unsentimental about her own mortality. "Seventy-five is a good age to go if things start to drop off," she commented recently. "I don't want to linger. I don't want to be a burden on anybody. I know 75 is only four years away, but I take each day as I find it."
Cilla, born Priscilla Maria Veronica White on 27 May 1943, found herself growing up in a musically-inclined family, which included her parents and three brothers. "My father played the mouth organ, my mother and aunts used to sing, and it wasn't unusual for families to get together and make their own music in the Fifties," she observed.
Labelled "suitable for office work" in an early school report, she took a one-year secretarial and shorthand course at Anfield Commercial College, then worked as a typist at construction firm BICC, but the siren call of the nascent British Beat Boom was too strong. She was drawn irresistibly to Liverpool clubs such as the Cavern (where she sometimes worked as a cloakroom attendant) and the Iron Door, and was confident enough in her performing abilities to sometimes get up onstage with the local groups, including Gerry and the Pacemakers, Rory Storm and the Hurricanes and The Beatles. She became a local celebrity and was dubbed "Swinging Cilla" (though John Lennon liked to call her "Cyril"), and when the music paper Mersey Beat accidentally called her Cilla Black, she decided to adopt their version.
When Epstein became the Beatles' manager they urged him to sign Cilla, and an audition was arranged at the Majestic Ballroom in Birkenhead, with the Fabs as backing group. She sang "Summertime", but they hadn't rehearsed together and the group played it in the wrong key. Epstein was unimpressed, but later changed his mind when he heard her singing "Bye Bye Blackbird" at the Blue Angel Club. On 6 September 1963, Cilla was signed up as the only female artist in the Epstein stable.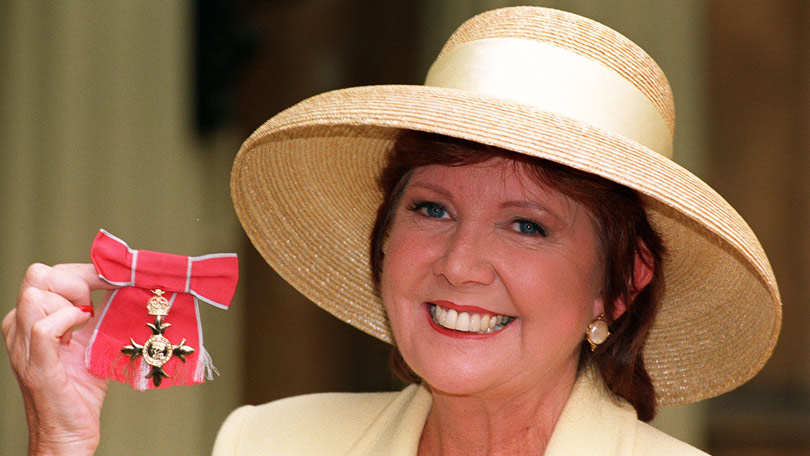 Epstein shrewdly foresaw that Cilla could become "one of the biggest stars in this country for 30 or 40 years," and it didn't take much to persuade George Martin to sign her to Parlophone Records. After a minor hit with the Lennon-McCartney song "Love of the Loved" in 1963, the following year she hit Number One with Bacharach and David's "Anyone Who Had a Heart "and "You're My World (originally "Il Mio Mondo", by the Italian composer Umberto Bindi). Both of these amply showcased the paint-peeling force of her voice, a sort of steel-mill alto. Bacharach confessed to finding it "strident". Nonetheless, it made "Anyone Who Had a Heart" the UK's biggest-selling single by a female artist in the 1960s (Cilla with her OBE in 1997, above) .
Cilla went on to have 17 consecutive Top 40 hits, including "You've Lost That Lovin' Feeling" and "Alfie", but by 1967 she was already making the break into TV. Shortly before his death in August that year, Epstein had fixed it for her to have her own BBC variety show, Cilla. It commenced its first run in January 1968, with a theme tune, "Step Inside Love", written by Paul McCartney, and ran until 1976, regularly drawing around 20 million viewers.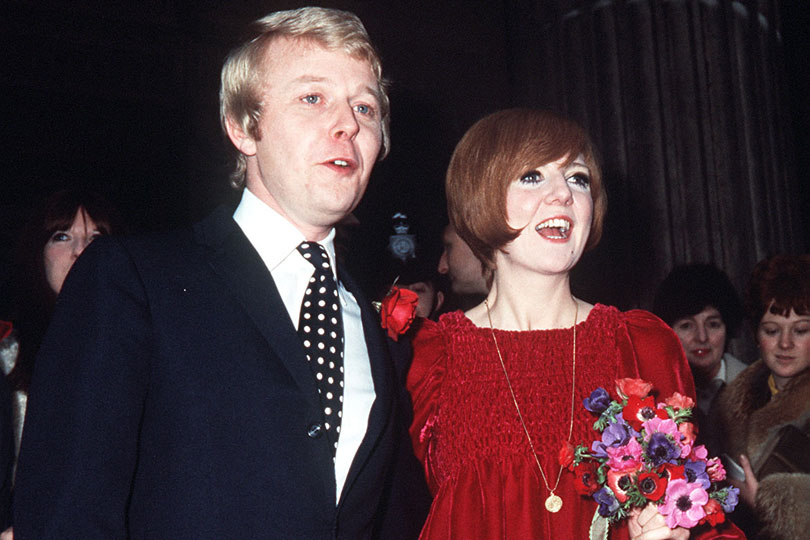 Her record sales fell away during the Seventies, but ITV let her try her hand at TV comedy with Cilla's World of Comedy and Cilla's Comedy Six. This proved not to be quite her métier, but in 1983 a well-received appearance on Wogan reminded everybody of her telegenic gifts. She struck a new deal with London Weekend Television, who launched her as host of Surprise Surprise and Blind Date. Both shows were enormous mainstream hits, and carried Cilla into the 21st century as the top-earning female performer on British television.
For the bulk of her career she was managed by her husband Bobby Willis, who died in 1999 after they'd been married for 30 years (their wedding day, above). Cilla was awarded the OBE in 1997. In 1969 the pop writer Nick Cohn, in his still-unsurpassed book Awopbopaloobop Alopbamboom, wrote: "In her time, she will grow into a pop Gracie Fields, much loved entertainer, and she'll become institutionalised." How very true.