theartsdesk Q&A: Writer Jimmy McGovern |

reviews, news & interviews
theartsdesk Q&A: Writer Jimmy McGovern
theartsdesk Q&A: Writer Jimmy McGovern
Television's premier dramatist on righting wrongs in his new courtroom drama Common
Jimmy McGovern: 'I've always been interested in issues of justice and injustice'
The black stuff. The phrase was patented in the early 1980s by Alan Bleasdale, Liverpool's other small-screen big hitter. But it could just as well describe the drama that issues from McGovern's imagination, with its dark understanding of the Manichean psyche, its intimacy with the curlicues of Catholic guilt, its knowledge that animal instincts pulse insistently beneath the epidermis we call civility.
His imagination got a perfect start in childhood. There were already four older siblings when he was born in 1949, and four more would be squeezed into a two-up, two-down in a working-class, largely Irish district of Liverpool. Young Jimmy scarcely spoke till he was eight. He still avoids radio and television interviews because of a now imperceptible stammer. Perhaps he inherited his misgivings about the spoken word from his mother, who got his names the wrong way round at his christening. His first name is officially Stanley.
The jigsaw pieces of his adult life are scattered through his work. His Sisyphean experiences as a teacher in a large secondary school, and later as a parent embroiled in the saga of opting out, went into Hearts and Minds. The deplorable gambling habit was given to Fitz in Cracker and his young alter ego in The Lakes. His film Liam, about an eight-year-old growing up in 1930s Liverpool, had strong elements of self-portraiture. And then there is the lapsed Catholic's inquisitiveness about human motive, which weaves through everything he has ever written. Try counting the number of times in his plots that a tortured priest cannot break the seal of confession. Even his foray into history – Gunpower, Treason and Plot – have a Popish underpinning.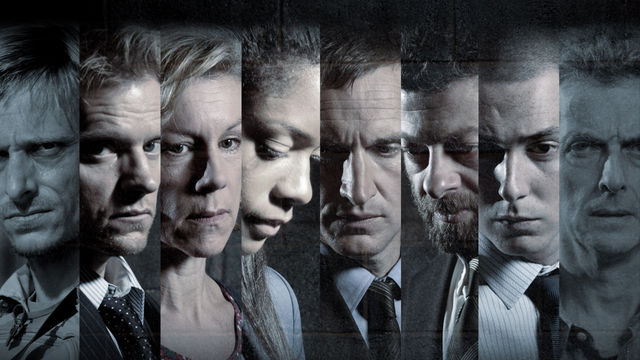 Since 2006 McGovern has been telling multiple stories of ordinary humanity in extremis, first in The Street, which peered behind the front doors of the inhabitants of an apparently blameless northern suburb, and then Accused (pictured), which put (again) ordinary criminals in the dock. For the past few years he has spent much of his time in Australia, working first as a script adviser on an award-winning series called Redfern Now, the first Australian drama written by and starring Aboriginal talent. Next up is Banished, his own drama about the travails of the first people to be deported Down Under.
But for now he is back doing what he does unlike anyone else: the high-impact single drama which takes up cudgels on behalf of others. Priest lent a sympathetic ear to the human heart beating under the surplice. Hillsborough told the story of football's most shameful day. Dockers shed light on the lesser-known plight of Liverpool's striking dock workers. And now Common shines a torch into the law courts to explain a highly contested area of the law known as the doctrine of Joint Enterprise, in which the apparently blameless can find themselves put away for murder. As dramatised by McGovern, it packs a mighty punch and tugs at the heartstrings, and above all lays out the facts for public consumption. Guilty by Association, an ancillary documentary, fills in the facts. Jimmy McGovern talks to theartsdesk about writing and righting wrongs.
Pictured below: Nico Mirallegro in Common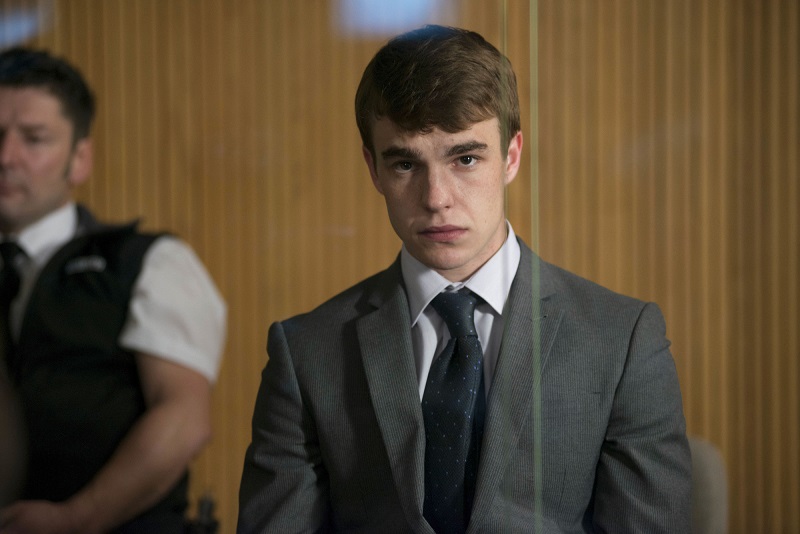 JASPER REES: The story told in Common was not your idea, so how did you get involved?
JIMMY McGOVERN: It's a strange one. I opened up a letter from a woman who has asked to remain anonymous. And she told me this story of these boys who were involved in a murder case, a notorious murder case, and she then explained the doctrine of Joint Enterprise and how they became entangled in charges of murder even though their part in the crime didn't justify it. I was about to send a nice polite letter back saying I was too busy or too tired as I often do and then I noticed the date. The letter had taken one month to get to me because she had put the wrong postcode. So I phoned her. She once again told me the story in greater detail and I found myself saying I'd come round and talk to her and other people who have loved ones inside because of the doctrine of Joint Enterprise.
One of the people there was the totally impressive Jan Cunliffe. She's the mother of Jordan Cunliffe who was mixed up in the notorious murder of Gary Newlove in Warrington. Jordan's case is particularly unfair because he didn't do anything. It was a sin of omission; he stood and watched: that seems to be the case against him. He got life. He was a minor at the time and because of his age the minimum he has to serve is 12 years. He's done about five and a half. And he's totally innocent. That's what got me involved in it and I started to do more research and came across more cases. It's a law that in the north seems to be used against young working-class men and women. In the south, London particularly, it seems to be used almost exclusively against young black people. And the campaigners will argue it's there to get working-class scum off the streets.
How long ago was that?
I got the letter about four or five years ago. It's taken me so long because I've been doing Accused and then was mixed up with this amazing job over in Australia working with Aboriginal people (pictured, Shareena Clanton in Redfern Now). I've done two series of the first exclusively Aboriginal drama series in the history of Australian TV. I was over there as a mentor. I was hardly ever in the country for a period of three years. They kept asking, "When are you going to do it?"
Did Accused give you anything that you could use in Common?
In the early days I did think about doing Common as an Accused hour and a half. But because of the fact that it's a real issue – although it was always going to be fiction – I didn't want to lose it within the stable of Accused stories. I wanted it to stand out on its own. I don't think working on Accused has helped me in any way on this other than the fact there was always a comfort blanket that if all else failed I could do it as an Accused episode. I've always been interested in issues of justice and injustice. I think it's that mainly.
How intense was the research process?
The first people I spoke to interestingly enough were three families who'd had people murdered. I knew that the film had to be totally even-handed. The film doesn't shy away from pointing out that murder is the most horrific of crimes and has devastating effects. I did that first and then went to meet people who had loved ones inside. That too was heartbreaking – to hear them talk about people inside. Everyone was realistic enough to know the great injustice was the murder. They are still suffering their injustice too. An innocent person has been tarnished with the brush of murder. I spoke to an awful lot of people. I remember going down to the House of Commons and there was a big meeting with interested people standing up and saying their piece. That was an eye opener too. It's nice to do research because it puts off the act of actual writing.
if the cost of being totally clear is to look stupid I'll look stupid
Why is it called Common?
The big impact was it had on me was the realisation of the obvious: nearly everybody involved in this could be classed as poor. Black and white. And that partly explains the title, but also the alternative name for Joint Enterprise is Common Purpose. If you are embarked on an illegal common purpose, say to burgle a house, and in the course of burgling that house, one of you commits a murder, you are all liable for murder because you have embarked upon a common purpose. Some people will argue that is not the case but that is how Joint Enterprise is used in the courts. (Pictured below, the family of Alex Henry, one of the cases featured in the documentary Guilty by Association)
Might this film help shift things?
I suppose there's always a chance but it's a very slim chance. People like [the Labour MP] Jeremy Corbyn are interested. The good guy was Keir Starmer. When he was Director of Public Prosecutions he took an interest in it. I think they are in the process of exploring whether this body of case law precedents can be enshrined in statute, whether they can bring about an Act of Parliament that actually speaks about the concept of Joint Enterprise. It is not on the statute books. It is common law because of what of what judges have decided over years and years. They've made preliminary attempts and sent documents out for consultation. But that, I believe, is as far as it's got. Whether it will have any impact at all I do not know. The problem is this: murder takes away flexibility from the judge. You can play a very minor part in an enormous crime, as you see in the film. An innocent tiny part in this enormous crime of murder but when you get sentenced you get the same sentence. In crimes of murder all flexibility is taken away from the judge. He has to impose a life sentence. It ensnares them all and they have to go down for life, even though the judge would know they don't deserve this. And compounding it allis the fact that it makes convictions so easy because the evidence required is much less if you use Joint Enterprise. Many have been sent down for life simply for association with the perpetrator. Mobile phone use or silence before or after the killing is often used as evidence. I suspect that to enshrine Joint Enterprise in statute or to reform it as they are planning is not enough so long as the crime of murder is not re-examined.
How did you go about kneading all this research into drama?
I certainly wanted to show that Joint Enterprise has been used in not just one case. There are other cases in which the threat of Joint Enterprise has been used to get people to plead lesser charges – defending lawyers will argue that you should do so, as they know from bitter experience that it's difficult to defend against Joint Enterprise. How I got that together as a flowing story? You just work hard. I tend to have a very basic plot and try to put flesh and blood on the characters. I had to make sure that the enormity of murder was there on the screen, not Starsky and Hutch. Murder.
How do you respond to the suggestion that you played a little bit fast and loose with one or two legal realities in the interests of dramatic compression?
If you talk to the campaigners they would say that was all too realistic. I even have the judge (pictured above, Michael Gambon) refer to the law of Joint Enterprise, and there is no such thing. It's a sequence of precedents. But if the cost of being totally clear is to look stupid, I'll look stupid. At least it's clear and we won't waste time. Economy and simplicity. Right throughout in Accused and The Street we had this thing, KISS: Keep it simple, stupid. We always went for simplicity of narrative and complexity of character. The story should be clear and engaging and you're wrapped up in it. But it should be simple. The emotions and the ramifications and the collisions, all that can be complicated and as messy as you like as long as the story is simple. Often I would do things that perhaps ... Cracker, for God's sake. That was getting 14 million viewers and there's no way Fitz would be allowed near a suspect.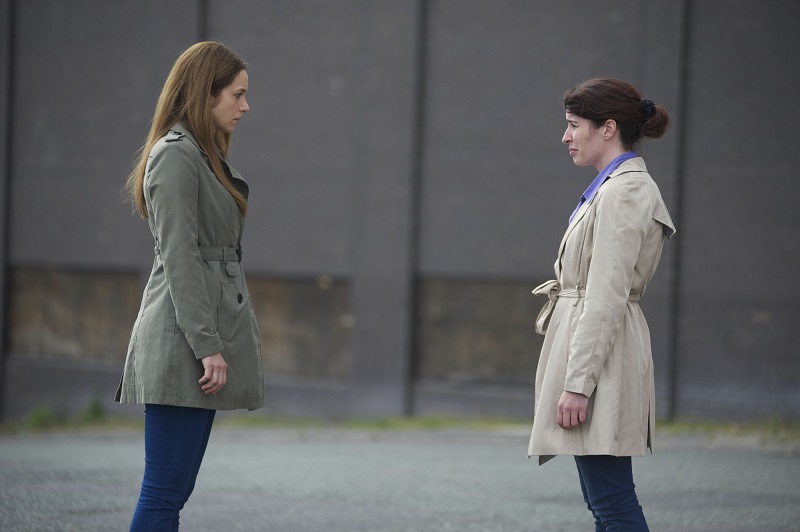 You have the two mothers meet at the end and have a moment of mutual empathy – the victim's mother and the mother of the boy convicted under the doctrine of Joint Enterprise (pictured, Jodhi May and Susan Lynch). Did you ever come across mothers who met for real in such circumstances?
I have heard of cases where they met prior to trial and it was frosty. But that's pure invention. You have to forgive me for that because it is a gruelling film and it need something at the end, some uplift.
Are you the same writer as the man who wrote Cracker?
No, I know for a fact that I'm better than I was. I didn't know how bad I was. It's only when you get older and wiser you realise how bad you were. I can explain this better if I talk about The Street and Accused. What we started to aim for was to write something in such a way that you would watch it and at the end say to yourself, "There are many points that that story would surprise me but looking at it now there's no way that story could have been told in any other way." We didn't tell that story, we found it in the street. So the writer is absent. You'd be able to spot the writer by the themes and the concerns but if you don't know that writer the writer would be absent. So it's just the story pure and simple told with economy and simplicity and honesty. That's the kind of thing we started to aim for and we were getting there with certain episodes of The Street. But then ITV pulled the plug. At the time I was doing Cracker (pictured below, Robbie Coltrane as Fitz) I wouldn't have known that. I wouldn't have entertained the notion of trying to write the perfectly formed one-hour film with the writer absent from it. That's what I strive for. It's great because it means you can't show off. If you show off, the writer is present.
Where do Cracker and Hillsborough stand now?
When I get through the pearly gates I'd have the Hillsborough script with me. Huge burning issues of our time, things that matter. Dockers, Priest. To help people. Cracker wouldn't be under my arm. It was good, it was of its time. I'm certainly not ashamed of it, but I'm not as proud of that. Even though Hillsborough had to be written badly at times for all kinds of legal reasons. There were things that were shocking but the lawyers were watching me. If I were doing it now it would be better. I did what I could. There were times when I wrote about what really concerned me in Cracker. There was a Hillsborough episode, for God's sake. I'd have to say I was proud of Cracker but I'm a lot prouder of other things. And I think I'm better now. I don't quite have the energy. The analogy I use, it's the creative angel and the critical devil. When you set out as a writer, especially a dramatist, the creative angel is huge and powerful, the critical devil is a tiny emaciated thing. The more experienced you get the older and wiser you get, the bigger the critical devil. When they're equal that's probably healthy. My critical devil is getting bigger and bigger.
Common is on BBC One on Sunday 6 July at 9pm. Guilty by Assocation is on BBC One on Monday 7 July at 10.35pm
Overleaf: watch the trailer to Common
When I get through the pearly gates I'd have the Hillsborough script with me
Explore topics
Share this article