Utopia, Series Finale, Channel 4 |

reviews, news & interviews
Utopia, Series Finale, Channel 4
Utopia, Series Finale, Channel 4
First series ends but epic conspiracy looks set for a comeback
Wednesday, 20 February 2013
Arby (Neil Maskell) and Jessica (Fiona O'Shaughnessy) find they have more in common than they suspected
"New Sars-like virus claims first Briton" according to a headline in yesterday's Times, news which will have sent spasms of alarm through Utopia-watchers. A couple of episodes ago we heard how the original Sars outbreak had been a fictional creation, and this series-closer began with overheard news reports of another attack of Russian flu in Britain, which was provoking "scenes of disorder".
But we know that these outbreaks too have been fabricated, as an excuse to dose up the population with the antidote.
Utopia's tortuous and bindweed-like plotting has had us pondering over what, exactly, The Network has been up to over the shadowy decades of its existence. Is it planning genocide on an incalculable scale? Or selective destruction of particular racial groups? Last week we learned from Letts (Stephen Rea), a pitifully shrunken figure once removed from the baroque gloom of his office, that the project aimed at nothing less than the mass sterilisation of the global population, give or take a few per cent who we would be left to ensure the survival of the species. The inital batch of test subjects would be the population of the UK.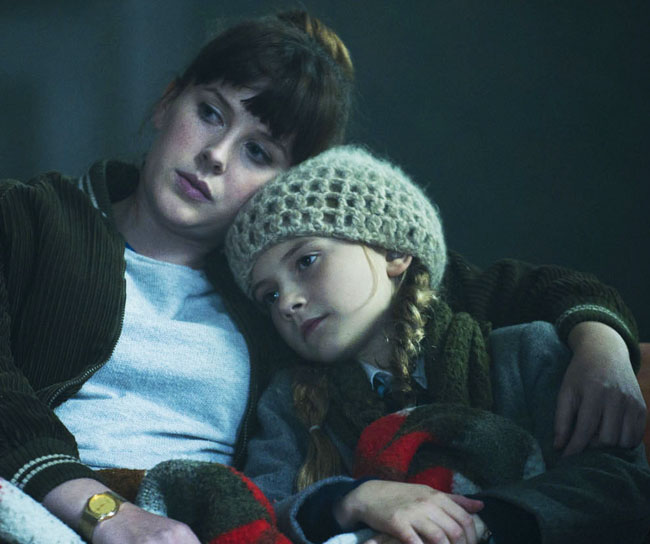 This has been an ingenious twist by writer Dennis Kelly. Looming global over-population and its potential for causing catastrophic wars over food and resources may be the largest elephant in any room, ever (why else are the Chinese colonising mineral-rich chunks of Africa?), but it's rarely discussed publicly. It's not hard to believe in the existence of covert organisations plotting stratagems to deal with it (Alexandra Roach and Emilia Jones, pictured above).
Moreover (Kelly asked us, through the reactions of his characters), despite its monstrous shadow-totalitarian behaviour, might not The Network's Janus project really be for the greater good? After all, they're not planning mass murder (though they're happy to kill everybody who gets in their way), merely the non-birth of billions of people whom the world's resources wouldn't be able to support. Wilson, despite having been shockingy half-blinded by agents Arby and Lee, found this argument surprisingly compelling.
Yet sadly, the anticipated cataclysmic punch of episode six, as our bedraggled band of refugees tracked down 64 million doses of sinister serum stored in a warehouse in Stevenage, was dissipated in a blatant set-up for series two, leaving countless loose ends flapping in the wind. Even though we were zapped with a staggering revelation about Jessica Hyde (Fiona O'Shaughnessy) and the legacy of her evil-scientist dad, what it really meant was that the wheel had turned full circle so it could start all over again.
But the scope and scale of Utopia are obviously designed with worldwide export in mind, so one series was never going to be enough. Apart from the numerous splendid performances (for instance Alexandra Roach's Becky, Neil Maskell's Arby and Emilia Jones as the cruelly orphaned Alice), the elements that stick in the mind are Ole Bratt Birkeland's stunning cinematography, with its enormously suggestive wide shots and intense colours, and Cristobal Tapia de Veer's cunning, menacing music. Can they keep the inspiration flowing?