Super-Powered Owls: Natural World, BBC Two |

reviews, news & interviews
Super-Powered Owls: Natural World, BBC Two
Super-Powered Owls: Natural World, BBC Two
Incredible secrets of the airborne nocturnal predators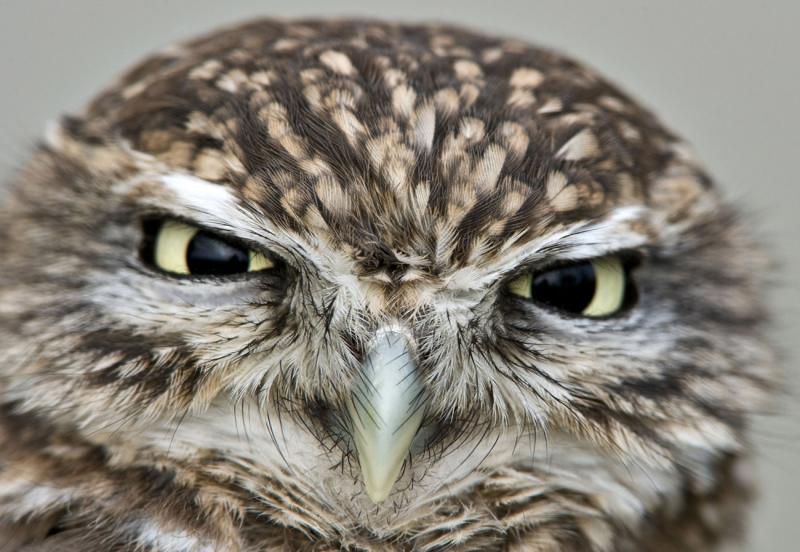 The mysterious owl, 'symbol of wisdom, harbinger of death'
The owl – symbol of wisdom, harbinger of death – is a powerful if disparate symbol in human mythology worldwide. But this outstanding visual essay provided a riveting array of astonishing facts to make of the bird something even more remarkable than the myth.
The species (all 240 varieties) is a great survivor, at home on all the continents bar Antartica, inhabitating the world from the frozen north to the desert, with home county barns in between. The film alternated touchy-feely moments as the charming bird obsessives, Lloyd and Rose Buck, raised barn owl sisters Luna and Lily from incubated eggs in their home with visits to scientists running controlled lab experiments.
The resemblance of the owl's face to our own is both disconcerting and oddly beguiling
We listened to Lloyd listening to Luna cheeping while still in her egg, and watched her struggle to hatch. An owl egg takes 30 days to incubate and it can take the chick two days to struggle out of the shell. We watched Luna and her younger sister as they opened their eyes, grew feathers and learned to fly and hunt. The owl has acute eyesight, able to see at night, an ability given to no other bird of prey. Its hearing is spectacular, able to detect a small rodent even under snow, though the patter of rain can inconveniently blot out the minute rustlings of their prey. The owl can fly as silently as a ghost, and we were treated not only to an auditory comparison to the sounds of a pigeon and a kestrel, but to an examination of the anatomy of the owl's feathers which facilitate its noiselessness.
Their pounceability is amazing: they kill their victims by more or less smashing into them. They hit the ground with 12 times their body weight, and for doomed rodents it's as though a 12-ton truck hit a 170lb man. And owls can turn their head 240 degrees, with a special arrangement of their arteries to allow for the pressure (it would kill us even if we were able to do it). They also have an acute memory; owls are territorial and can make a mental map of their area, further boosting their ability in the dark.
One amazing sequence observed a family of great grey owls nesting on top of a Californian Redwood tree, their natural habitat, a mere 30 storeys or so above the forest floor. Learning to fly was a bit of a challenge for the fledglings, with their first tries simply a controlled tumble all the way down from branch to branch (sisters Luna and Lily, below).
The strength of the programme was its well-orchestrated balance between contrasting episodes. There was the very human side to the Buck's bird family, where informed affection was lavished on a variety of birds in their care, including Kesta, an 11-year-old barn owl. We saw owls in the wild, scaring off wolves in the Arctic who approached too close to the nest, hunting in daylight when forced to by food scarcity, diving into snow, and with the aid of a thermal camera watched great owls hunt at night in the Scottish highlands.
Lucy Smith's film (with gentle narration from Paul McGann) was a quiet and even entertaining marvel, painlessly informative. The resemblance of the owl's face to our own, as its eyes gaze out piercingly, is both disconcerting and oddly beguiling. There was neither anthropomorphism nor sentimentality here, but rather both demonstration and explication of some of the anatomical facts that make this species so utterly fascinating.
One amazing sequence observed a family of great grey owls nesting on top of a Californian Redwood tree, a mere 30 storeys or so above the forest floor
rating
Explore topics
Share this article