Storyville: The Most Dangerous Man in America, BBC Four |

reviews, news & interviews
Storyville: The Most Dangerous Man in America, BBC Four
Storyville: The Most Dangerous Man in America, BBC Four
Oscar-nominated documentary is as gripping as a Hollywood thriller
Tuesday, 16 February 2010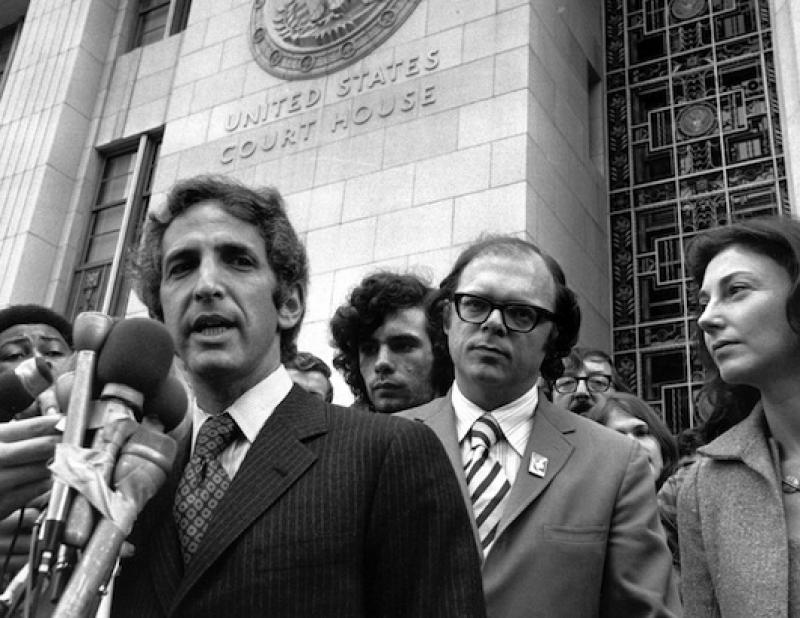 Daniel Ellsberg at the height of the Pentagon Papers crisis in 1971
On Daniel Ellsberg's first day in his new job at the Pentagon in 1964, working under Secretary of Defence Robert McNamara, the Gulf of Tonkin incident occurred.
This engagement between American destroyers and North Vietnamese torpedo boats was used as the pretext for President Lyndon Johnson's escalation of the Vietnam war, and marked the start of one of the most traumatic eras in recent American history. For Ellsberg, it was a period in which he was transformed from a strategic analyst enthusiastically committed to America's global struggle against Communism into an anti-war activist who leaked reams of top secret Pentagon documents to the press, thus helping to bring down Richard Nixon.
Judith Ehrlich and Rick Goldsmith's remorselessly gripping documentary operates on several levels. It's a history of the Vietnam war and a biography of Ellsberg, illustrated with newsreel film and hugely evocative black-and-white photographs, while exploring the relationship between citizens, government and the media. It's a political thriller, reminiscent of movies like All The President's Men or The Parallax View. The killer twist is the way it shows history repeating itself, with Ellsberg now a prominent protester against American involvement in Iraq, except that any prospect of a new Ellsberg bringing current administrations to book looks woefully improbable.
In 1971, the US Supreme Court established a First Amendment milestone by upholding the right of newspapers to publish top secret government documents. Result: the road to Watergate and the eventual collapse of the Nixon regime. But nothing similar has happened since, while the idea that the executive is answerable to the voters never caught on over here. The gaping flaws in our own "democracy" are amply illustrated by the Chilcot Inquiry, a kind of bloated therapy session for shifty politicians and their menials which aims vaguely to "identify lessons to be learned" about our involvement in Iraq.
Ellsberg is at front and centre of The Most Dangerous Man in America (as Henry Kissinger described him) as protagonist and interviewee, but as much as it depicts him as a heroic, crusading figure, it also makes some effort to calculate the cost of his actions. Ellsberg rather airily describes how he expected his leaking of the Pentagon Papers would damage the career of Harry Rowen, president of military think-tank the RAND corporation, but seems unconcerned by Rowen's subsequent sacking. It's left to other contemporaries to describe the sense of betrayal Ellsberg's actions provoked among his fellow workers in the intelligence community, who no doubt shared Nixon's assessment that Dan "gave aid and comfort to the enemy."
But you'd need to be a special kind of individual to do what Ellsberg did, and most of us aren't capable of that kind of moral certainty and unswerving purpose. We might even find his imperious high-mindedness hard to take. But he wasn't short of physical courage either, and described his time as a company commander in the US Marines in the 1950s as one of the happiest periods of his life. In the Sixties he was a State Department adviser in Saigon for a couple of years, and vividly recalled being ambushed by the Viet Cong when he joined a combat patrol in the Mekong Delta to get a flavour of what US troops were up against. He rapidly concluded that "we couldn't beat this enemy in their own backyard. These guys were not going to give up."
When he subsequently gained access to "The Study", an encyclopedic super-secret history of American's involvement in Vietnam, it became clear to Ellsberg that the war he'd worked so diligently to support was indefensible. The documents revealed how Harry Truman had aided the French during the first Indo-China war, and how Eisenhower had given American backing to a brutal dictatorship in South Vietnam. Ellsberg concluded that the war "was a crime from the start," and when he came into contact with prominent anti-war activists such as Randy Kehler, he experienced a transformative moment in which, he explains, he felt that "my life had split in two." From that moment, he espoused the anti-war cause as zealously as he'd previously worked for the other side.
This isn't just Ellsberg's story. There were brave politicians like Mike Gravel and Pete McCloskey who stuck their necks out to oppose the mounting lunacy of Vietnam. It was a golden era for the American media too, with the New York Times leading the charge for freedom of information against the White House's paranoid authoritarianism. Walter Cronkite, doyen of American broadcasters, sensationally interviewed Ellsberg at a secret location when he'd gone into hiding to avoid arrest under the Espionage Act. This deservedly Oscar-nominated film brings those momentous events back to life, while prompting disturbing questions about whether those "lessons to be learned" about government secrecy and accountability have already been forgotten.