The Split, Series 3, BBC One review - the Defoes are back, more conflicted than ever |

reviews, news & interviews
The Split, Series 3, BBC One review - the Defoes are back, more conflicted than ever
The Split, Series 3, BBC One review - the Defoes are back, more conflicted than ever
Will Hannah and Nathan's marriage survive? Nicola Walker and Stephen Mangan star in Abi Morgan's legal drama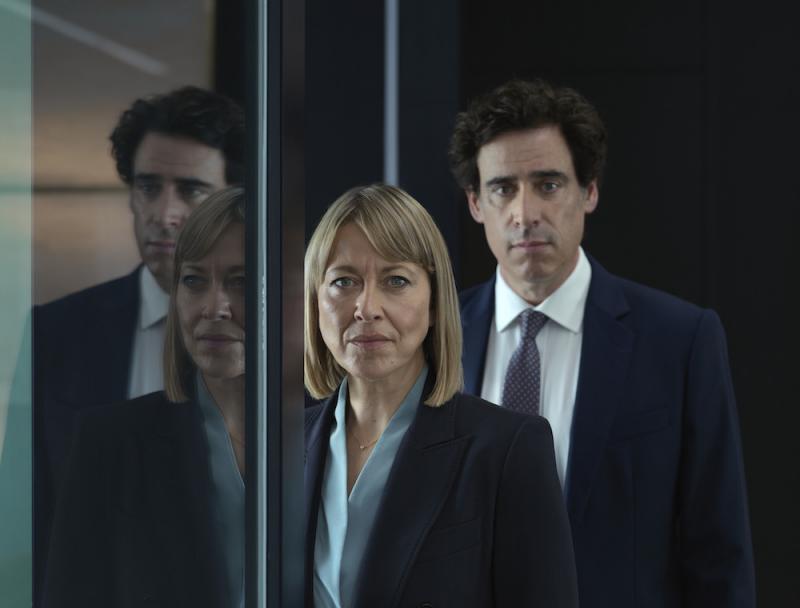 Secrets and lies: Hannah (Nicola Walker) and Nathan (Stephen Mangan)
After two years away, Abi Morgan's acclaimed legal drama/juicy soap The Split returns for its third series, reuniting us with the closely knit, or, you might say, incestuous, law firm of Noble Hale Defoe.
Ruth Defoe (Deborah Findlay) and her daughters Hannah (Nicola Walker) and Nina (Annabel Sholey) all work at the firm, wearing silky clothes fit for a cocktail party. There's another daughter, Rose (Fiona Button), the youngest, who, thankfully, is not a lawyer. Hardly a British version of The Good Fight – it's far more conventional, bland and often unconvincing – it's still highly watchable.
So where were we? In the last episode of the second series, Hannah, a mother of three, tells her husband Nathan (Stephen Mangan) that sex with her colleague Christie (Barry Atsma) with whom she had an on-off affair for years and who's now in New York, was better than with him. Which doesn't seem to bode well for their marital future, but who knows. And anyway, who better to negotiate their own split than a couple of divorce lawyers, right?
Just in time for the introduction of no-fault divorce laws in England and Wales this week, the first episode of series three, full of life, death and seizing the moment, brings us to the post-lockdown world of podcasts from the upscale kitchen table (the Defoe house looks preternaturally shiny and high-ceilinged).
Ruth – has she really moved in with her daughter? Apparently so – is interviewing couples about their relationships, including Rose and her lovely ex-banker husband James (Rudi Dharmalingam) and making dramatic pronouncements like, "If marriage is the conquest and divorce the inquest, can there ever be a good divorce?"
Back at the office, Hannah, who believes against all the odds that her marriage still has legs, is fiddling tearfully with her rings and avoiding signing the divorce papers, unaware that Nathan has not only signed his but has an unbearably smug new girlfriend, Kate (Lara Pulver), a "kid shrink" who has written a book about divorce and its legacy.
Meanwhile, Rose, who's looking after Nina's baby while she's at work, and James, now a freelance techie with a business called Brain on a Bike, want to adopt, though Rose is conflicted about it ("You've got to grab it or you'll miss life," James tells her, fatefully, as he cycles away). In fact, everyone's conflicted about everything, except, perhaps, Lindsay Duncan's deliciously cool S&M countess (pictured above), whose late husband strayed back to her after leaving her for someone younger but less sexy.
"We only have this one life," she intones on Ruth's podcast. "And if a marriage has a pulse it's worth reviving." Hannah listens carefully and tears up the divorce papers. Soon, a terrible family tragedy brings Nathan's comforting presence back into the family home – but for how long?
As well as the countess thread, there's Leonora (Karen Bryson), a heart surgeon (importantly sad plot point) who wants a divorce even though her marriage is apparently perfect. The unconvincing, and surely soon to be upended, reason why she wants to leave her husband remains mysterious until the second episode – by this time we've kind of forgotten if we care – when the truth-versus-lies trope takes centre stage, with Hannah, who until recently covered up her affair with Christie from Nathan so maybe isn't totally one to talk, advocating honesty above all things.
This backfires when, in one of the most intriguing scenes, Sian (Amanda Wilkin), her wife, newly pregnant Bella (Lily Cole), want sperm donor Gus (Tom Rhys-Harries, pictured above) to sign on the dotted line that he has no paternal rights. They're an achingly cool, fashion-y triad but it's complicated. "If it was a natural conception rather than artificial insemination, then your legal position would be different," explains Nina helpfully.
Gus is looking at Bella's sonogram with suspicious intensity. Bella and Gus were in Bali for a shoot and, says Sian, "Ping – she starts ovulating. It was fashion week in Paris so no way could I be there." Hannah and Nina exchange glances. Sian has the right to know the truth about the conception, declares Hannah to a dubious Nina. Hmm, maybe. "Why did you have to say anything?" wails Bella, as the shit hits the fan a few days later.
Bring on more secrets and lies. And, by the way, Christie's back in town.