Pamela Stephenson: The Fame Report, More4 |

reviews, news & interviews
Pamela Stephenson: The Fame Report, More4
Pamela Stephenson: The Fame Report, More4
A no-holds-barred investigation into the fame of Pamela Stephenson
Is there a (famous) doctor in the house?
"I'm a doctor of psychology," Pamela Stephenson began her Fame Report last night, the better to establish her intellectual credentials while taking our minds off her orange face and massive boobs.
She said this from a balcony somewhere that looked very much like it might be in LA (tossing her platinum hair in the wind as she spoke), then she hopped in a cab to the West End – because you can do that if you're famous – where, in between letting slip that she'd once been a fêted comedian and, more recently, a third-place finisher on
Strictly Come Dancing
, she giggled a lot about whatever red-carpet event she was right now heading off to and hoped desperately that the tabloids wouldn't be there to photograph her zits.
But "despite my self-consciousness," she reflected, "fame can be seductive." Well, knock me down with a feather.
Who was the last person to successfully retire from fame? Or to even try?
The Fame Report made no attempt whatever to establish what fame actually is (chapter one, you'd have thought, in Dr Stephenson's thesis on the subject), over and above demonstrating that it's something highly valued by the Angelino in the street; but since the programme was supposed to be about the effects of fame (i.e. on people who are already famous), perhaps it was decided that this didn't really matter. So Stephenson invited some famous people round, and they had a little chat.
They did their best, bless 'em, the famous. John Hurt was self-effacing in a thoroughly decent and old-fashioned kind of way; Alan Cumming seemed painfully shy; former Spice Girl Mel C was slightly sad and washed up, but surprisingly contemplative. Mostly they spoke about the things that famous people always speak about on these programmes: namely, things that the rest of us take to be perks of the job, if not in fact the entire point. Cumming says people rush up to him and tell him he's wonderful. Stanley Tucci says he often drives the wrong way up a one-way street. Billy Connolly (Dr Stephenson's husband, about whose fame she has already written two full books) says if you're a famous comedian you can dance in the traffic in Australia and people will salute you for it. Whereas the rest of us would just get nicked.
Then there was The Dark Side of fame. Tucci reckons it makes you the focus of every event, whether you're supposed to be or not. Connolly tells his wife that he becomes a different person when he's on stage. And apparently Ryan O'Neal was narcissistic and vain. Who knew?
Once all the obvious boxes had been ticked, and the usual lessons reiterated (why must these programmes be so tired and unambitious?) The Fame Report's only remaining USP was Stephenson herself. Unfortunately, she seemed to be of the opinion that this was really the whole idea. In smarter hands – and with a knowing ex-celebrity comedian eagerly champing at the bit – this could have been the core material for a hilarious satire, the cameras following a woman who thought she was famous, interviewing her ostensible "peers" about their "shared" troubles.
Though Stephenson did seem perfectly on-the-ball when asking the psychiatrist's-couch kind of questions (head-shrinker vs interviewer? – we'll save that one for another day), she spent at least as much time talking as any of her interview subjects, and mostly about her own experience. At one point, after a good few minutes of gabbing, she actually had to ask John Hurt if he "saw where [she] was going with this": he really didn't, but he was very polite about it.
For the most part, also, her victims were at least bashfully self-aware – if only in an enjoyably ironic sense. "You do get slightly piqued if someone doesn't recognise you," Hurt confessed, croakily. Stephenson's approach, though, was to ask her husband to tell her what it was like having a famous wife. "I can't wait to leave your dressing-room," he said, straight to her face. She didn't laugh so much at that.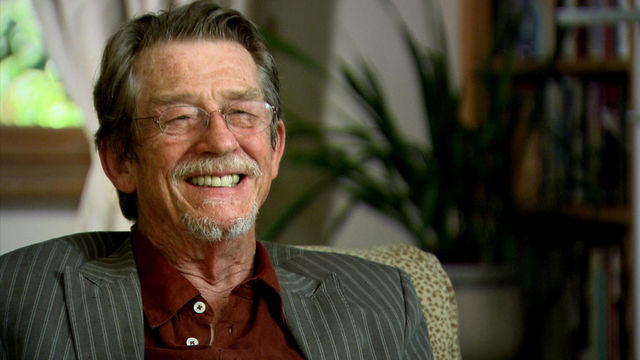 When Stephenson says she retired from the limelight because she was "bored", we understand that fame clearly wasn't the problem for her that it does become for some people (the retort being so obvious that it doesn't merit making). But the truth is she hasn't retired. Here she is, on TV, talking not about psychology but about fame – and her own fame, at that. Jonathan Miller she is not.
Fair's fair, the trappings of fame can obviously include the occasional unpleasant surprise. As Stephenson said sympathetically to Mel C, "You signed up to be Madonna; you didn't sign up to be the ugly girl at the back." Cumming apparently gets snarky tweets about his pale legs. Connolly doesn't like to be interrupted while he's out for a stroll.
But that's part of the game, isn't it? You gotta roll with the punches. It's hard not to surmise that Alan Cumming isn't as famous as Stanley Tucci because Cumming has to hold someone's hand every time someone points a camera at him. There was also no investigation into what you might call the differing calibres of fame – between John Hurt and Mel C, for example – or even whether any such categories exist (though surely we can conclude that a major reason Hurt doesn't read red-top stories about his weight problems or his sexuality is because he didn't sign up to be a Spice Girl).
And so we found Stephenson spending increasing amounts of time with poor, sad-looking Tatum O'Neal – cue sombre piano music and voiceover – in an attempt to substantiate her claim that fame "causes traumatic injury to the psyche, both when it arrives and when it leaves".
If famous people hate their lot in life so much, why don't they, y'know, just get out of the game? I'd like to have seen a few minutes on how former celebrities bed down into reality after they're done. I mean, who was the last person to successfully retire from fame? Or to even try? A one-hour film on Mike Brearley would have made a very nice counterpoint.
But then famous people, as Stephenson so vividly demonstrates, don't retire. They can't. The final shot was of Tatum O'Neal out walking her dog, apparently about her business (O'Neal, not the dog) and blissfully unaware of the camera crew that was stalking her. Unaware, that is, except for the radio-mic that was taped to the shoulder of her jacket.
Famous people, as Stephenson so vividly demonstrates, don't retire. They can't
Share this article