The Mill, Series 2, Channel 4 / The Lancaster: Britain's Flying Past, BBC Two |

reviews, news & interviews
The Mill, Series 2, Channel 4 / The Lancaster: Britain's Flying Past, BBC Two
The Mill, Series 2, Channel 4 / The Lancaster: Britain's Flying Past, BBC Two
Return of 19th-century industrial saga is dingy, drab and didactic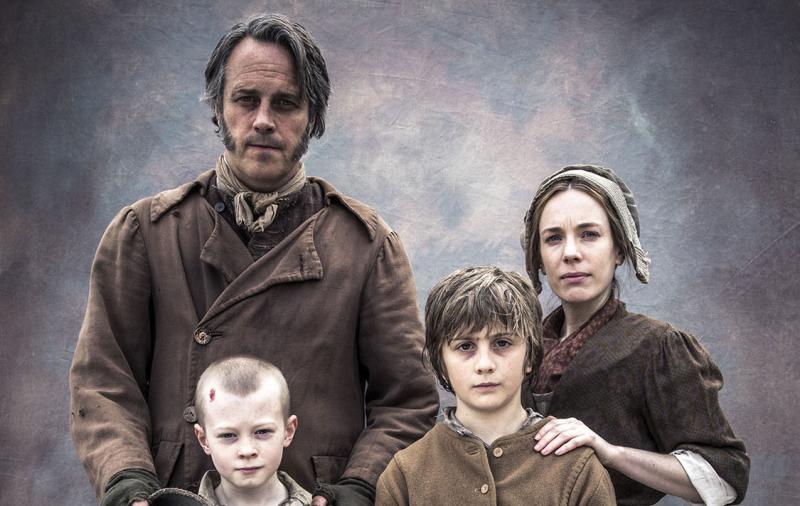 It's grim down south: the Howlett family, economic migrants looking for work in the industrial north
Supposedly, The Mill [*] was Channel 4's highest-rating drama of 2013, and the viewers' reward is this second series. However, the secret of the success of this dour, dimly lit series is hard to fathom. Its attempt to convert the history of working-class protest during the Industrial Revolution into a plausible interplay of character is as teeth-gnashingly literal-minded as it was first time round.
Often, writer John Fay hardly seemed to bother with the "drama" part at all, as his screenplay lapsed into indigestible lumps of didacticism. This opening episode was a sustained campaign against the evils of capitalism, the Poor Law and the Corn Laws, and almost every line was a polemical announcement, like a slogan on an old Soviet poster. On the potential evils of mechanisation and its capacity to throw workers into poverty, we were told (by the union organiser and inventor Daniel Bate): "Machinery isn't the enemy here! It'll improve our lives when it's used properly." Wage cuts at the mill? "Blame the Corn Laws," said the overseer. "It's them that's strangling trade." And when Peter, the freed slave (played by Sope Dirisu, below), said the mill-workers' struggle wasn't his fight, Bates told him: "It's all our fight! We're ruled by the rich and they look after their own interests!"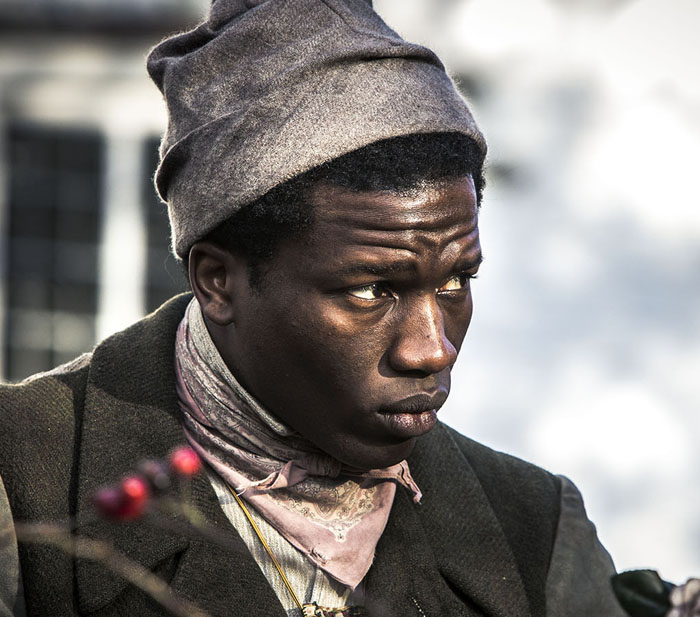 Still, if Gordon Brown had been able to tear himself away from Scotland's "No" campaign to tune in, he would have heard some music to his ears about fiscal catastrophes from the campaigning orator John Doherty (Aidan McArdle), evidently a reader of Gordon's Big Book of Excuses. "The English labourer did not cause the downturn," declared he. "A banking crisis in America started it."
There was even a bit about that topical favourite, immigration, as poor rural labourers from the south of England flocked to Cheshire to find work. The surly bourgeois individualist John Howlett (Mark Frost), who can't abide the idea of trades unions, was soon clashing with Bate, who tried to turn the other cheek: "No-one's blaming you, you're a victim of the Poor Law."
Jeepers. This ain't drama, it's a policy paper from a consortium of socialist think-tanks. Did anybody actually try reading any of this doggerel out loud before rolling the cameras? Incidentally, there appeared to be an attempt at a joke, when a northern worker commented: "I know it's grim down south." I trust any such frivolity will be ruthlessly airbrushed from future episodes. Not that I'll be watching them.
I couldn't work out why we needed another film about the Lancaster bomber. In recent memory we've already had a reconstruction of the Dam Busters raid presented by Martin Shaw, Bomber Boys (in which Ewan McGregor and his brother Colin learned to fly a Lancaster) and The Dam Busters, in which a group of young RAF graduates replicated the fabled mission in a vintage Lanc (poster for the 1955 Dam Busters movie, below).
The Lancaster: Britain's Flying Past [**] was John Sergeant's personal ode to "the plane that won the war," as he put it, but it added nothing to the sum of knowledge about the aeroplane, Bomber Command or the Second World War in general. Sergeant wasn't having any nonsense about whether the RAF bombing campaign was a terrible waste of lives and resources (it was "incredibly effective", he declared), though he acknowledged that the destruction of Dresden "caused international outrage".
As Sergeant presented archive film of Lancasters being assembled at their Yeadon factory and tracked down former crew-members, the film felt like a hybrid of Long Lost Family, Time Team and Who Do You Think You Are? Its particular achievement was to discover a previously lost Lancaster which had been shot down into a lake near the German rocket research establishment at Peenemünde, enabling Sergeant to bring the daughter of one crewman for a belated, emotional visit to the site. But all things considered, this just seemed to be Sergeant enjoying a giant flying bunbury.
Did anybody actually try reading any of this doggerel out loud before rolling the cameras?
Share this article