Mad Men, Series 5, Sky Atlantic |

reviews, news & interviews
Mad Men, Series 5, Sky Atlantic
Mad Men, Series 5, Sky Atlantic
The 1960s saga's long-awaited return finds Don Draper unsettlingly changed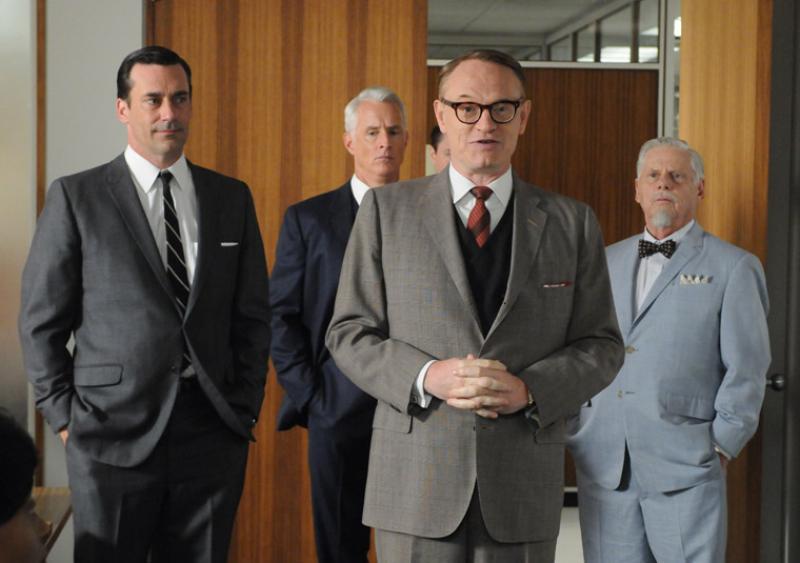 The ad men: Don Draper, Roger Sterling, Lane Pryce, Bert Cooper
The most shocking moment in this feature-length episode of Mad Men – for which the phrase "long-awaited" seems an understatement after a 17-month hiatus – is a quiet one. It's not a moment on the level of a man getting his foot severed by a lawnmower, or Don Draper's (Jon Hamm) out-of-nowhere proposal to doe-eyed secretary Megan (Jessica Paré) in last season's finale.
The moment comes when Don, a man who has built a house-of-cards false identity around his passion and creative ingenuity as an ad man, casually admits to his new wife, "I don't really care about work."
It's just one of many indications that the time is out of joint throughout the subtle, startling 90 minutes of "A Little Kiss", which sees roles reversed and characters changed almost beyond recognition. Seven months on from last season's conclusion, Joan (Christina Hendricks, pictured below), who once longed to swap the office for domestic bliss, is exhausted, hormonal and finding stay-at-home motherhood a poor substitute for her role at Sterling Cooper Draper Pryce. Pete (Vincent Kartheiser), who once longed for Don Draper's life, now has a wife and child in the suburbs and a house that's a dead ringer for the Drapers' old digs, but is already resenting the long commute to Manhattan. Roger (John Slattery), once the life and soul both of the party and the firm's client list, now has no accounts of his own left and is reduced to rubbernecking his way into Pete's meetings.
It's Joan's storyline that serves as catalyst for the episode's best scene – an impeccably crafted, shamelessly theatrical set piece that uses the strangely fluid structure of the SCDP set to its fullest advantage. Joan's visit to the office with her newborn son sets in motion a procession of deliciously fraught encounters, with characters making overlapping entrances and exits dragging the weight of the unspoken past in their wake. Roger's double-edged exclamation of "There's my baby!" is matched only by the excruciating beat in which Pete comes across Peggy (Elisabeth Moss) literally holding the baby. These characters and their shared histories are by now so rich and so unresolved that no expository dialogue is needed.
The Roger v Pete tension, established in earnest during last season's Honda episode, looks poised to become crucial going forward – and given their shared capacity for childishness, it's likely to entertain. There are those who will never be able to see past Pete's despicable early characterisation no matter how he evolves (for such viewers, the scene in which he whacks himself in the face on his own office's pillar may provide some catharsis), but despite his trademark petulance he isn't wrong to demand a better office, given that he's effectively carrying the agency at this point. Roger, meanwhile, has lost even the Pond's cold cream account that Freddy Rumsen handed him on a platter, and is too busy keeping an eye on Pete's diary to look for new business of his own.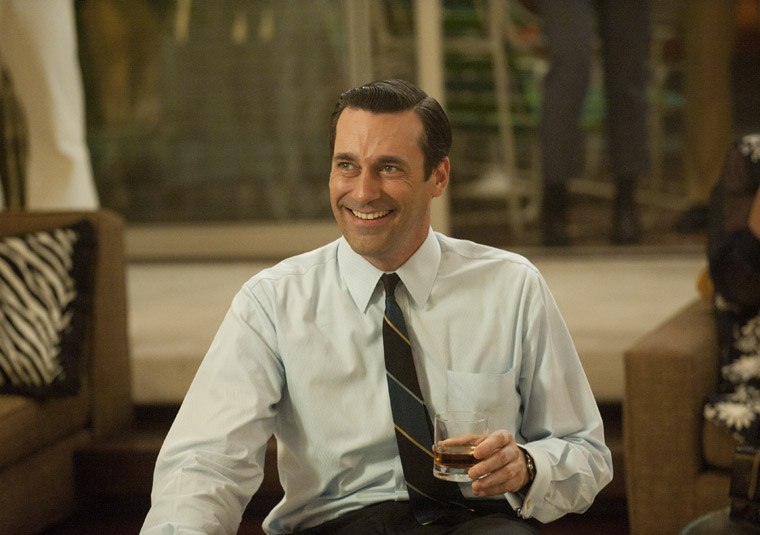 On the Draper front, Don (pictured right) and Megan's dynamic here won't appease the many viewers infuriated by his weird Stepford transformation in last season's finale, but the episode does hint at why he might be so hopelessly under her spell. The misjudged surprise party she throws him – not to mention her sultry public rendition of "Zou Bisou Bisou" for his benefit – suggest she barely knows him, but we later discover she knows not only about Dick Whitman, but far more about his sexual proclivities than Betty ever did. While the kinky scenario of Megan clearing up party crumbs in her underwear and forbidding Don to do anything but watch is startling, even risible, it's not much of a leap for a man we've seen hire a prostitute to slap him around during sex.
Megan herself is still a thinly drawn mass of contradictions – she's eager to succeed in Peggy's footsteps, yet happily strolls into the office late with Don and skips out early; she's meek and unassuming, yet all but performs a striptease in front of her assembled work colleagues; she's uncomplicated, yet accepts Don's dark past and morphs into a domineering sex kitten at will. Maybe she's as good an actress as her friend says, or maybe Matthew Weiner simply hasn't worked out how to write her as anything other than a one-size-fits-all male fantasy. At the very least, it's safe to say that this marriage is unlikely to become Don and Betty 2.0. Here's hoping they can avoid the Roger and Jane mould as easily.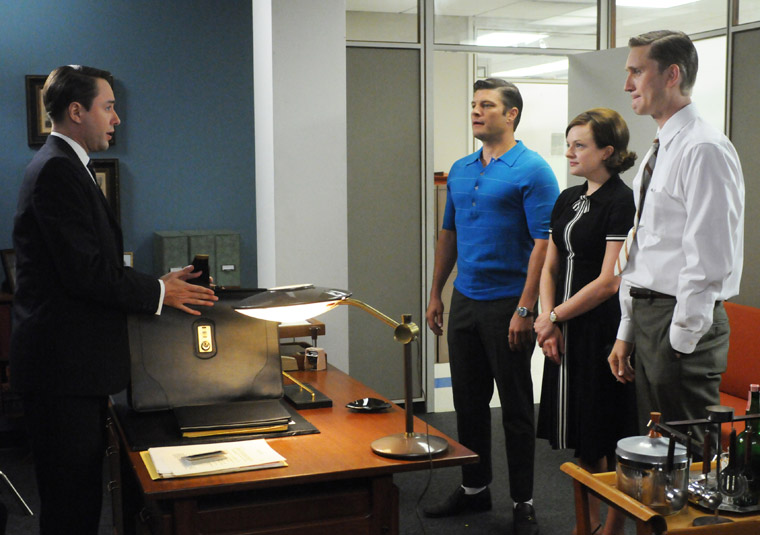 The most likeable characters at any given time in this show have tended to be those who are most effective at their job – Mad Men is, at its core, a cynical love letter to the workplace. Pete, Peggy and to a lesser extent Lane seem genuinely invested in the firm and are working the long hours to prove it, whereas Roger and Don are now on the other side of the "giving a damn" divide. Peggy's especially perturbed by the change in Don, and her scenes with Megan (who's landed a promotion on top of a ring) fascinate, fraught as they are with yet more unspoken resentments for Peggy, who's had to contend with countless people assuming she slept with Don to get her job.
When we first meet Don in the pilot episode, we're initially endeared to him not only because Jon Hamm looks like Jon Hamm, but because we find him in a state of panic before a pitch for which he has no ideas. All of Don's finest moments since, from the Carousel pitch to last season's bold American Cancer Society move, have pivoted on his professional passion. The question becomes: if he doesn't care about his work, do we still care about him?
Mad Men continues on Sky Atlantic on Sundays
It is, at its core, a cynical love letter to the workplace
Explore topics
Share this article