Mad Men, Series 3, BBC Four |

reviews, news & interviews
Mad Men, Series 3, BBC Four
Mad Men, Series 3, BBC Four
Third series of the Madison Avenue saga brings family traumas and a British invasion
Thursday, 28 January 2010
Jon Hamm as Don Draper, searching for something he can never find
The second season of BBC Four's artiest import began uncertainly, but season three took off at the gallop. The opening scene of the first episode prised open Don Draper's closely guarded past with a flashback to his Depression-era infancy, depicting his adoption after the death of his mother (a prostitute). Then we jumped back to the present, where his wife Betty's pregnancy picked up the childbirth theme. His employer, ad agency Sterling Cooper, is reeling from job cuts in the aftermath of a takeover by a British company, a problematic union which could spell rebirth or stillbirth.
Some argue that Mad Men is too slow and too preoccupied with design and décor, but creator Matt Weiner knows that fastidious attention to detail is the key. What the show accomplishes mesmerisingly well is rooting itself in a finely textured network of character and circumstance, then shooting out flares which illuminate the social turbulence of the early Sixties. Sterling Cooper's new British owners are called Puttnam Powell & Lowe, which has prompted Sixties advertising veteran Lord Puttnam to comment that it's "the most flattering thing that's ever happened to me". When supercilious British bean-counter Lane Pryce sacks Burt Peterson from his job as Sterling Cooper's head of accounts, Peterson rages that "you're the dying empire, we're the future!"
Yet for all the brashness, chauvinism and naked ambition displayed by the denizens of Madison Avenue, Mad Men rides an undertow of nostalgia and regret, like a constant reminder that for everything achieved something must be lost. The same might be said of the USA itself, as we sense it approaching the summit of its power and influence.
Senior agency partner Roger Sterling (John Slattery) can't bear to give up his old habits of drinking, smoking and womanizing, and two heart attacks later finds himself married to his 22-year-old former secretary and disowned by his daughter on the eve of her wedding. Pete Campbell (Vincent Kartheiser), scion of a moneyed upper-class family, seethes with frustration that neither his marriage nor his professional life are proceeding exactly as he'd assumed they would. Peggy Olson (Elisabeth Moss, pictured below), having cracked the glass ceiling to establish herself as a copywriter, is forever torn between fighting her corner as a modern woman and trying to behave like one of the unreconstructed boys.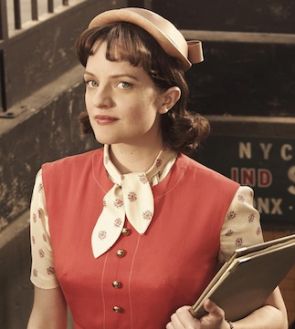 It's in the central character of Don Draper (Jon Hamm) that most of these currents collide. Ostensibly the epitome of the go-ahead modern executive, equipped with lovely home, perfect wife Betty (January Jones) and adorable kids, Draper is a self-constructed character based on a dead man's stolen identity. Modern psychologists would have a field day with the anguished memories of a primitive, loveless childhood which intermittently come searing through his Laurence Harvey-ish façade. However, this is 1963 and the therapy boom hasn't happened yet, so Don makes do with hard liquor and a prodigious string of sexual encounters.
He's doomed to keep searching for something he can never find because he never had it in the first place, a notion exquisitely evoked in his advertising pitch for the Kodak Carousel slide projector in Mad Men's first series – "it takes us to a place where we ache to go again… it lets us travel the way a child travels, around and around and back home again. A place where we know we are loved."
Despite an emotional fault-line wider than the Grand Canyon, Don can be chivalrous, loyal and decisive, as in the moment last night when he stepped into the middle of his wife's family feud, announced that Betty's ailing father would henceforth come and live under the Draper roof, and packed her scheming brother off on the next train. But there's this attractive young schoolteacher who seems to have caught his eye…
Subscribe to theartsdesk.com
Thank you for continuing to read our work on theartsdesk.com. For unlimited access to every article in its entirety, including our archive of more than 10,000 pieces, we're asking for £3.95 per month or £30 per year. We feel it's a very good deal, and hope you do too.
To take an annual subscription now simply click here.
And if you're looking for that extra gift for a friend or family member, why not treat them to a theartsdesk.com gift subscription?