Homeland review - 'worryingly prescient' |

reviews, news & interviews
Homeland review - 'worryingly prescient'
Homeland review - 'worryingly prescient'
Something is rotten in the State of the Union
Power corrupts: Carrie Mathison (Claire Danes, left) and Elizabeth Marvel as President-elect Elizabeth Keane
It was a long time coming, but Homeland's sixth series at last awoke from its early-season slumbers to put on a late surge over the closing episodes.
For a while, it had seemed that the story was barely advancing at all, as the screen was self-indulgently hogged by Carrie Mathison's emotional life, particularly her anguish over her daughter being taken into care. Yet by the end, she found herself in the teeth of the hurricane as the USA was threatened by a brutal
coup d'

état
.
Homeland has always been about the personal cost of undercover work, where commitment to the greater cause tends to destroy private lives. One of its most durable relationships has been the one between Carrie (Claire Danes) and covert operative Peter Quinn (Rupert Friend), two troubled souls bound together by the horrors they've both witnessed. Its survival into this latest series was something of a bonus, since Quinn had apparently died after being used as a chemical warfare guinea pig last time out. Friend was as surprised as anyone when the producers called him back for an encore.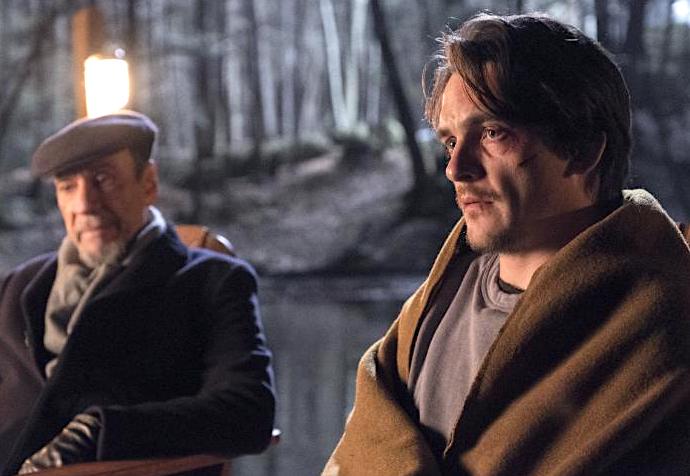 Quinn's return duly became one of the dominant themes. At the end of series five, Carrie's callous decision to rouse him from a coma to interrogate him had caused him to have a stroke, leaving him with a limp, hallucinations, extreme paranoia and impaired speech. Friend's performance has been something of an unsung masterpiece, an agonised portrait of a dedicated agent desperate not to allow his damaged abilities to prevent him from doing what needs to be done. For much of the time he has made a pitiful spectacle, compared to his effortless hyper-competence in previous seasons. His anguish belatedly erupted in last week's episode, when he confronted Carrie about what she'd done to him – "you made me a fucking monkey."
We also got a harrowing glimpse into the way he'd been recruited to the CIA as a teenage foster child, then sexually abused by the hideous Dar Adal (F Murray Abraham, pictured above with Rupert Friend), who has at last been outed as the monster in the Homeland basement. Quinn had learned to accept that his one true gift was as a killing machine, and that there was a black hole where his heart should have been. When the chips were down and assassins were closing in on beleaguered President-elect Elizabeth Keane (Elizabeth Marvel), it had to be the mighty Quinn who pulled the fat out of the fire by driving full tilt into a hail of machine-gun bullets.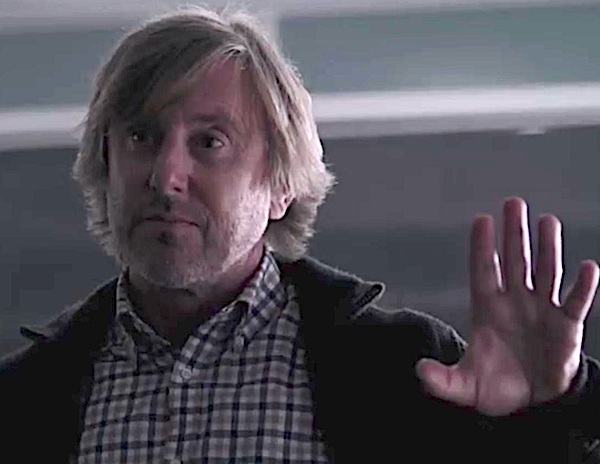 If Homeland deliberately steered clear of depicting a Trump-style presidency, it waded boldly into the alarming new world of sock puppets, fake news, social media "boiler rooms" and professionally-organised mass hysteria. The theme of Adal teaming up with rabid right-wing online propagandist Brett O'Keefe (Jake Weber, pictured left) to mount a cynical character assassination campaign against Keane rang disturbingly true, and even Adal's murder conspiracy wasn't so hard to believe. This is America, after all. The new President's unforeseen illiberal crackdown and programme of mass arrests in the aftermath took us into the closing credits on a note of rising panic.
Homeland has often been worryingly prescient in the way it uses real-world events as source material. With the Chinese leadership now pleading with the Americans and the North Koreans to ease off on the nuclear sabre-rattling, who knows where we'll be by season seven? Let's hope we're still here to see it.