Homeland, Series 5, Channel 4 |

reviews, news & interviews
Homeland, Series 5, Channel 4
Homeland, Series 5, Channel 4
It's back to taser the nerve-endings and ask uncomfortable questions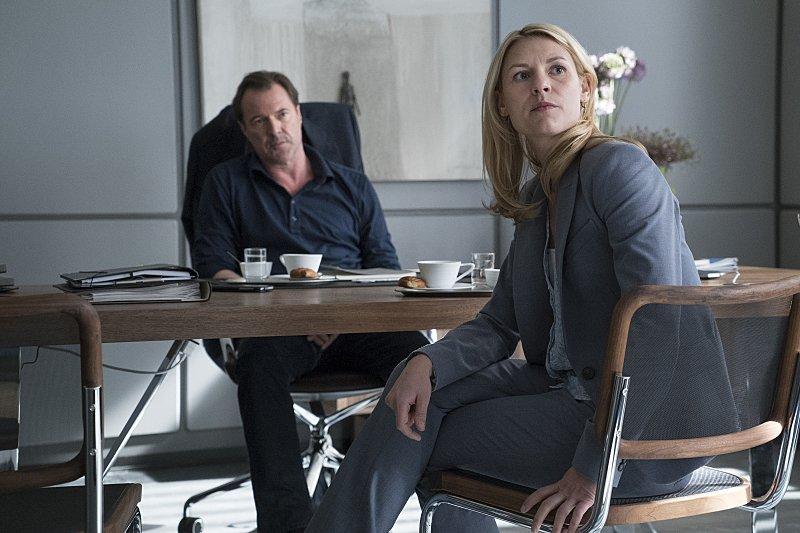 Claire Danes as Carrie Mathison, with new boss Otto Düring (Sebastian Koch)
Stunningly reinvented in series four, Homeland sustained the momentum with this tense and menacing fifth season opener. Carrie Mathison (Claire Danes) has now quit the CIA for a new job in Berlin, where she's working as head of security for billionaire philanthropist Otto Düring (Sebastian Koch). The past, however, is not giving up without a fight.
In the light of recent real-life events, it was smart work by the writers to throw the spotlight on the German capital. Filming obviously took place before the current refugee crisis (and Frau Merkel's controversial leading role in it) blew up, but with a storyline revolving around jihadists hiding out in Germany and a plan by Carrie's new employer to bring humanitarian aid to a refugee camp in Lebanon, this could have been ripped from the pages of tomorrow's newspapers.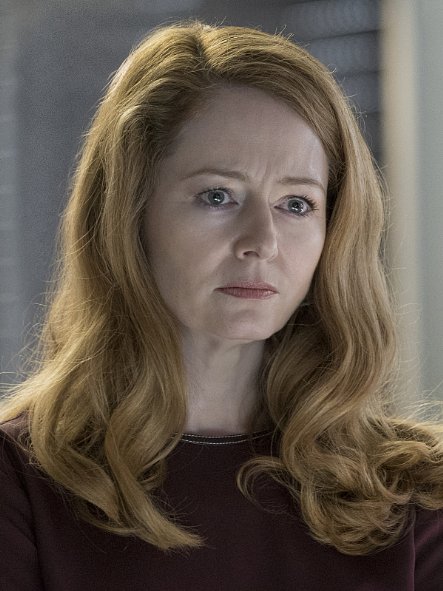 As one of the characters remarked to Carrie, you can take the girl out of the CIA but not vice-versa, and, new job or not, her entanglement with the Agency seems set to continue like an endless doomed romance. A frosty meeting with the CIA's Berlin station chief Allison Carr (Miranda Otto, pictured right), who made it clear to Carrie that any assistance from the Agency would only be forthcoming if they got something in return, was followed by a clash with her old mentor Saul Berenson (Mandy "battleship" Patinkin, looking increasingly inclined to mete out Old Testament-style retribution). Saul is livid with Carrie for quitting the Agency, but also considers that she's gone over to "the other side", since her new boss's family fortunes were evidently built on slave labour during World War Two. "You're being naive and stupid, which you never were before," was Saul's blistering parting shot, triggering that familiar Danes expression where she looks as if she's trying to cry and swallow a baseball dipped in super-hot chili sauce at the same time.
The refugee camp which Herr Düring proposes to visit (a really dumb idea in Carrie's opinion) is under the control of Hezbollah, which prompted her to pop in to a local mosque and ask an illustrious cleric to set up a meeting with Hezbollah representatives. She was then grabbed off the street for a difficult encounter with a terrorist she'd done battle with when he worked for that old CIA bête noire, Abu Nazir. Nevertheless, word was subsequently sent that Hezbollah approved the Lebanon visit.
What gives Homeland its unsettling edge is the sense that it's pitching you into the dark corners of an endless secret war liable to erupt into bloody chaos at any moment, on a battlefield which is beyond anybody's control. Black Ops specialist Peter Quinn (Rupert Friend, pictured left), summoned to a meeting of the top brass after spending two covert years in Syria, opined that beating IS would demand a colossal commitment of boots on the ground coupled with a wholesale re-education programme. The hopelessness of the task has reduced Quinn to a state of embittered nihilism, and he's now carrying out clandestine assassinations at Saul's behest, like the delivery man from hell (pictured above).
Saul himself rushed to Berlin because of a catastrophic leak of secret CIA documents. These revealed a secret deal allowing the CIA to pursue terrorists where German agencies couldn't go ("jihadis finding safe harbour in Europe while your hands are tied by German law," barked Saul). The horrified Germans promptly abandoned the agreement, leaving Saul and Allison Carr to ponder over their hesitant, reluctant allies. "What's wrong with them, these new Germans?" demanded Carr. "Yeah, they used to fight like hell," retorted Saul.
It's "only" TV drama, but Homeland is tasering the nerve-endings and asking astute, uncomfortable questions about topics which even supposed current affairs programmes find it impossible to get to grips with. You could almost dread finding out what happens next.