Game of Thrones, Sky Atlantic, Series 8 Finale review – who will sit on the Iron Throne? |

reviews, news & interviews
Game of Thrones, Sky Atlantic, Series 8 Finale review – who will sit on the Iron Throne?
Game of Thrones, Sky Atlantic, Series 8 Finale review – who will sit on the Iron Throne?
HBO's epic saga ends a controversial final season on a high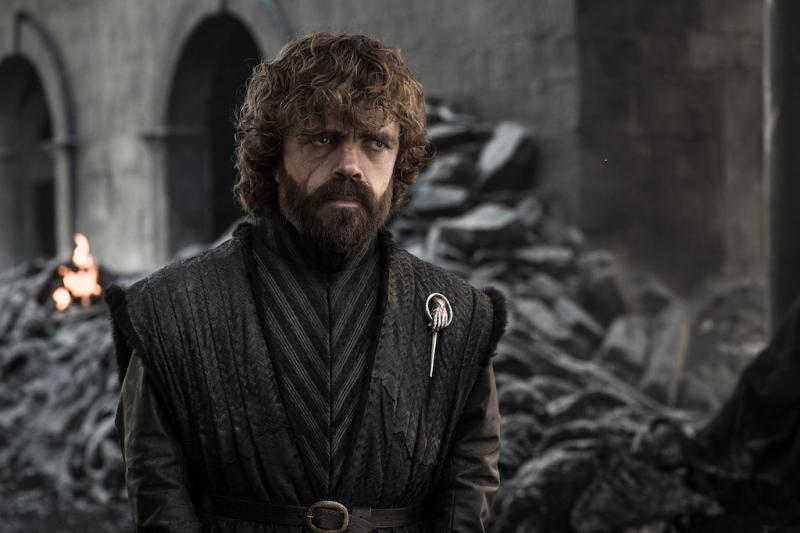 The Imp comes of age: Peter Dinklage in 'Game of Thrones'
WARNING - CONTAINS SPOILERS! And so it's over. Eight years of thrilling, fantastical, often emotionally devastating, in some senses ground-breaking television, has reached the moment of truth with two questions, one fictional, one real. Who would, finally, sit on the Iron Throne?
And after alienating fans and critics alike with an erratic final season, would showrunners David Benioff and DB Weiss – who both wrote and directed this final episode – rediscover their mojo at the last?
The answer to the second, considering the many pieces at play in HBO's epic saga, has to be a resounding yes. OK, at times it may have felt a little neat. But for the most part it hit all the right notes. Finally, much-loved characters returned to their old selves, notably Tyrion (Peter Dinklage) who rediscovered his intelligence and ability to influence others. And the fates of individuals and the kingdom, both, seemed right and just.
The result was an alternately tense, touching, cheekily funny – which is saying a lot given the horror of the previous episode – and satisfying farewell. But for all we know, the naysayers will still be clamouring at the gate, crying for blood. Let's not forget the lead-up to today's crack-of-dawn denouement.
Having been deserted by the script for some time, Tyrion - and the great Peter Dinklage - are about to return to form
While it's often the case that a much-loved series' final episode will elicit disapproval from fans and critics, feeling cheated of the finale they feel the characters – even they themselves – deserve (HBO's own The Sopranos being perhaps the most famous example), Game of Thrones has gone one better, or worse than that. So unhappy have they been with season 8 that no less than one million fans signed an online petition in the past week, calling on the network to remake the entire final season.
Diehard fans can be unforgiving, especially where there's source material involved, in this case George RR Martin's series of fantasy books A Song of Ice and Fire. But here their chief criticism – that Benioff and Weiss were rushing things, taking narrative short-cuts that were undermining their own, careful character development – was perfectly valid, particularly when it came to Daenerys (Emilia Clarke), fast-tracked into a wholesale madness that led to last week's destruction of King's Landing.
Aside from anything else, it seemed that the slaughter had taken the sting out of the finale. Without Cersei, without Jaime (felled, together, beneath the Red Keep), with narrative chaos prevailing alongside Dany and her dragon, where could Benioff and Weisz possibly go? Certainly the boys could, should have given themselves two more episodes. And yet, as it turns out, we should have given them the benefit of the doubt.
The Iron Throne started where The Bells left off, in the rubble, Tyrion surveying the terrible spectacle of dead children scattered in the ash. The long focus on Tyrion's war-ravaged face – so far removed from the smooth-skinned, philandering, drunken "Imp" of season one – is actually a key to where this is heading. Having been deserted by the script for some time, Tyrion – and the great Peter Dinklage – are about to return to form.
While Tyrion seeks out the bodies of his brother and sister (a rather beautiful final glimpse of Nikolaj Coster-Waldau and Lena Headey), outside Greyworm is still executing survivors, the Dothraki horde are yapping with murderous delight, and Dany makes a speech that chills the blood. Having "liberated" the people of King's Landing, she declares, she will provide the same service for the rest of the world, including Winterfell, home of her lover, nephew and rival for the throne, Jon Snow (Kit Harrington). The young woman who once freed slaves from their masters now makes one of them, Greyworm, her Master of War. Enough said.
There's no reason, of course, why such a bloody story shouldn't end in despair (apparently Martin himself doesn't know for sure how he will end his books, which have fallen behind the series they spawned). But readers and viewers both would almost certainly prefer some light. The way in which Benioff and Weisz deliver that, having taken away so much hope, is simplicity itself. And it sees them once more keeping faith with their characters.
Tyrion has been arrested, for daring to free his brother before the battle, and will likely soon be executed. Jon, dumbstruck but still bending the knee to his queen, visits his old friend, and Tyrion rediscovers that clear logic and golden tongue of his. "Love is more powerful than reason," he tells Jon, fishing for the righteous man he knows, and eliciting a memory in Jon of something he was once told by a maester: "Love is the death of duty." The seed is planted.
There is a superb moment as Jon seeks out Dany in the remains of the Red Keep, Westeros's citadel of power. As he approaches the entrance, her sleeping dragon, Drogon, rises from a huge mound of snow. It's a sign of the show's visual strength that these creatures have never ceased to amaze.
Inside, we find that the throne still stands, albeit in a hall no longer adorned by walls or a roof. The Queen of Dragons (and a zillion other titles) finally gets to touch it. And the writers finally accord the character the context she deserves. Her final exchange with Jon reminds us of the good intentions she had, the innocence even, which have been grotesquely twisted by a dangerous sense of destiny and the heavy personal losses of the last few episodes. And then Jon does what he always had to do: he kills her, while holding her in his arms.
There's a special kind of nuance in a scene that has a man grieve the woman he's just murdered, alongside a dragon also showing its dismay by melting the throne everyone's been fighting over all this time – while careful not to singe the other Targaryen before him.

It has included some of the most extraordinary, epic filming ever made for the small screen
Lest we feel that Cersei and Dany were ill-served by the show, strong women consigned to evil, it's worth remembering those equally strong women still standing: Sansa, Arya and Brienne. And they all feature in the episode's speedy, bright conclusions. Again, Tyrion has a part to play – counselling the heads of the houses to elect a new leader. Stories, he says, are what most inspire people (a nice reference to all these years of storytelling) and who has a better story than Bran the Broken – the boy thrown out of a high window in episode one, who survived all manner of hell, and whose gifts allow him to know all their stories, in the past and to come.
But Bran (Isaac Hempstead Wright) will be the ruler of six kingdoms, not seven, Sansa declaring the North an independent state (Scotland, watch and weep), where she will rule. Tyrion becomes the reluctant hand to Westeros's new king. To appease Greyworm, still seeking justice for the murder of his queen, Jon is exiled to Castle Black, where he will reunite with the Wildlings and trek further into the wilderness, where he's always wanted to be anyway.
The final moments combine mirth and emotion. Mirth, chiefly at the table of the new council, which includes all our most-loved supporting characters – Brienne, Samwell, Davos, even the always-quipping assassin for hire Bronn, who amusingly is made master of coin. Emotion, in the Stark siblings' farewell and a gorgeous montage: Jon with the Wildlings, Sansa crowned queen of the North and Arya (Maisie Williams), feisty, independent, restless Arya, taking a ship west of Westeros, into uncharted territory.
Game of Thrones has, first and foremost, been the story of the Starks, the only decent family of all of them, split asunder by a civil war they had no interest in. So it's fitting the show ends with four of them, surviving, albeit in very different directions.
Once the dust has settled, season 8 will be seen as mixed but ultimately satisfying. And in The Long Night and The Bells, it has included some of the most extraordinary, epic filming ever made for the small screen, establishing the man responsible for both of those episodes, London-born Miguel Sapochnik, as a pre-eminent action director.
The series itself has given good, established actors the roles of their lives (Dinklage, Coster-Waldau, Lena Headey) and discovered a host of new stars, notably Harrington, Clarke, Turner, Williams, Richard Madden and Christie. It has combined fantasy with highly relatable (if often ripe) family drama and political intrigue, and reminded us how closely intertwined are myth and history. As epic storytelling, its closure has now left a very large gap.