Downton Abbey, Series 3 Christmas Special, ITV1
Downton Abbey, Series 3 Christmas Special, ITV1
Births, deaths but no marriages in rambling seasonal special
Wednesday, 26 December 2012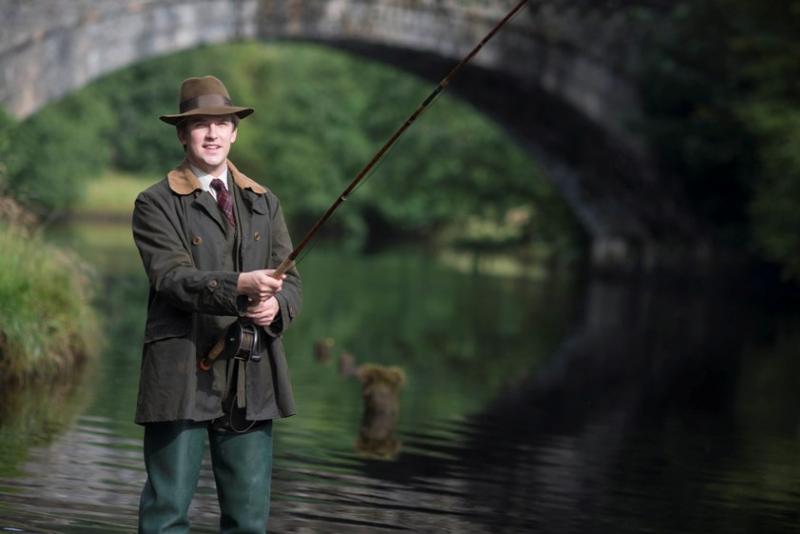 Dan Stevens angling for contract in Hollywood
I was going to make a strenuous effort not to give away the ending, but since it's all over the front pages of the newspapers there's not much point. This rambling Downton special spent two hours going nowhere in particular, albeit very charmingly, but Julian Fellowes had been keeping his knuckledusters hidden behind his back. In the closing few minutes, he gave us the new heir of Downton and got rid of the previous one, the much-loved Matthew Crawley.
Apparently Dan Stevens, who played Matthew, decided as long ago as February that he was leaving the show, so he might have expected a slightly more nuanced exit than what he actually got. He'd rushed back from Scotland, where the Crawleys had been trying to enjoy a summer break with Shrimpie, the Marquess of Flintshire (Peter Egan) and his bickering family, to be at the bedside of Lady Mary and their new baby boy.
Nemesis, in the form of a truck, was approaching from the opposite direction
Mary spelt out the significance of this in case anybody hadn't been keeping up: "We've done our duty. Downton is safe." Then there were a few pages of purple-hued romantic gush between the pair, before we cut to Matthew speeding along in his smart roadster, wearing a euphoric expression. Nemesis, in the form of a truck, was approaching from the opposite direction. I could imagine Fellowes writing this on a napkin over an agreeable dinner.
Otherwise, the episode went out of its way not to shake the superstructure too much. The whole Scottish dimension felt like an exercise in misdirection, luring us away from the core of the Downton saga with some thunderous Highland scenery and a spot of deer hunting. And a summer holiday story for Christmas? Odd. The story of Shrimpie and his wife Susan (Phoebe Nicholls) was of minimal interest, although the Earl of Grantham (Hugh Bonneville) was able to feel relief that his modernising efforts at Downton had saved it from the bankruptcy Shrimpie was facing at his Duneagle seat.
However, the Flintshires were about to depart to India to take up some grand Imperial posting, which means that their daughter Rose is going to stay at Downton. And there was yet more disappointment for the star-crossed Lady Edith (Laura Carmichael), as it was made plain to her paramour Mr Gregson, the magazine editor (Charles Edwards), that his overtures were unacceptable since he was already married, albeit to a mad woman. Actually you could always tell Gregson wouldn't go the distance, thanks to his odd similarity to his predecessor, the hopelessly drippy Strallan.
Most of the fun stuff was going on back in Yorkshire while the Crawleys were away, and Fellowes had packed in no less than three short-lived dalliances, all focused around a rather lively country fair in Thirsk. Mrs Patmore, the cook (Lesley Nicol), found herself being buttered up by the loud and bumptious Jos Tufton (John Henshaw), a local produce supplier, but it turned out that he only wanted her for her roast beef and vichyssoise soup while he went around cuddling all the local girls. Tom Branson (Allen Leech) didn't put up much of a fight against the determined advances of Edna, the new maid (MyAnna Buring), so Mr Carson and Mrs Hughes stepped in and fired her. And Dr Clarkson (David Robb) made discreet overtures to Mrs Crawley (Penelope Wilton), which she blithely ignored. Thomas, meanwhile, was still pursuing his doomed infatuation with the boy-band-esque Jimmy, and took a beating from the local yokels in the process. (Pictured above left, Rob James Collier's Thomas pulls.)
However, we can expect to find Tom Branson playing a far more prominent role in the next series, since both Mrs Crawley and Mrs Hughes took the time to give him reassuring lectures on his importance to the Downton world. They weren't quite sending him the same message, though. Mrs Crawley views him as a socially mobile bridge, or perhaps escalator, between upstairs and downstairs, while Mrs Hughes congratulated him on the way he'd grown into his dynastic responsibilities. No wonder the poor boy looked a bit sad and confused.
Most of the fun stuff was going on back in Yorkshire while the Crawleys were away
Explore topics
Share this article