Dallas, Channel 5 |

reviews, news & interviews
Dallas, Channel 5
Dallas, Channel 5
The mama of American soap operas returns with its glorious absurdity intact
Thursday, 06 September 2012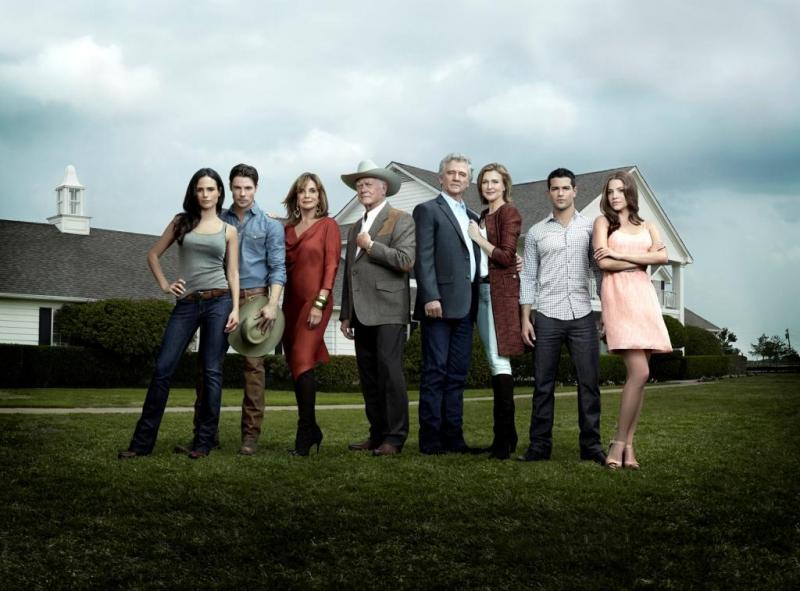 'Dallas': 'Blood may be thicker than water, but oil is thicker than both'
Praise be, they've kept the title sequence.
Dallas
, the mama of all American soap operas, is famous for a lot of things – Stetsons, satin sheets, surreal shower scenes, the slow disintegration of Priscilla Presley's nose – but perhaps the most memorable component in its Eighties incarnation was the opening credits in which mirrored skyscrapers were juxtaposed with the bucolic idyll of Southfork, and split-screens showed JR, Bobby, Sue-Ellen et al pulling panto poses to a histrionic orchestral soundtrack. Such things are sacred.
The new show is billed not as a remake but a sequel, the exhuming of old faces within this ancient format leavened by the introduction of technology (Bobby's missus surfs the web!), taupe furnishings and a new generation of characters including the man/doll hybrid that is Jesse Metcalfe, last seen servicing Gabby on Desperate Housewives.
JR's one-liners were cranked back into action and were delivered with delicious relish
The first instalment, entitled The Changing of the Guard, had a lot of explaining to do, which was fine as this is a soap and therefore expositionary dialogue is allowed to pour out of people's mouths with the same frequency as champagne corks are popped and adultery is committed. Thus, when JR's son John Ross (Josh Henderson) took a verbal swipe at Bobby's adopted son - "Everybody knows your daddy sold you when you were a little baby. You'll never be a Ewing!" - the bullshit-o-meter didn't flicker. Instead, you simply gasped at the callousness of it all.
Naturally, the battle lines were drawn early, ostensibly focusing on the feuding offspring of the original Ewing clan. John Ross had been furtively drilling for oil on the hallowed turf that was Southfork Ranch, his nefarious ways illustrated by his three-day stubble. Meanwhile Christopher (Metcalfe) the clean-shaven offspring of Bobby and Pam, was trying to develop a renewable source of energy by extracting methane from the ocean floor.
More thrillingly, we saw the return of the holy triumvirate: JR (Larry Hagman, on terrifically conniving form), jolted out of a depressive coma when his son told him of the $2bn-worth of oil slopping around under Southfork; Sue-Ellen (Linda Gray), running for governor but very possibly with a four-pack of Tennant's Super stuffed down her cleavage; and, finally, Saint Bobby (Patrick Duffy), hiding a tumour in his belly and trying to honour Miss Ellie's dying wish that the ranch never be developed.
This was more a case of scene-setting than an onslaught of high drama. As feuds and romantic entanglements bubbled to the surface, we were catapulted back to those time-honoured fillers: characters galloping on horseback across the ranch (why go around a herd of cows when you can barge right through the middle?), gushing oil-pipes creating impromptu wet T-shirt contests, and stilettos stepping out of gleaming sports cars. JR's one-liners also cranked back into action - "Blood may be thicker than water, but oil is thicker than both" - and were delivered with delicious relish.
Clearly, the masterminds behind the new Dallas aren't trying to revolutionise the format but stay true to the spirit of the original. Whether a younger generation weaned on Hollyoaks will take to an absurd fictionalisation of disgustingly rich Texans remains to be seen. It could be just what they need.