Coronation Street 50th Anniversary, ITV1 |

reviews, news & interviews
Coronation Street 50th Anniversary, ITV1
Coronation Street 50th Anniversary, ITV1
Gongs all round (almost) for a tear-jerking and action-packed live episode
Thursday, 09 December 2010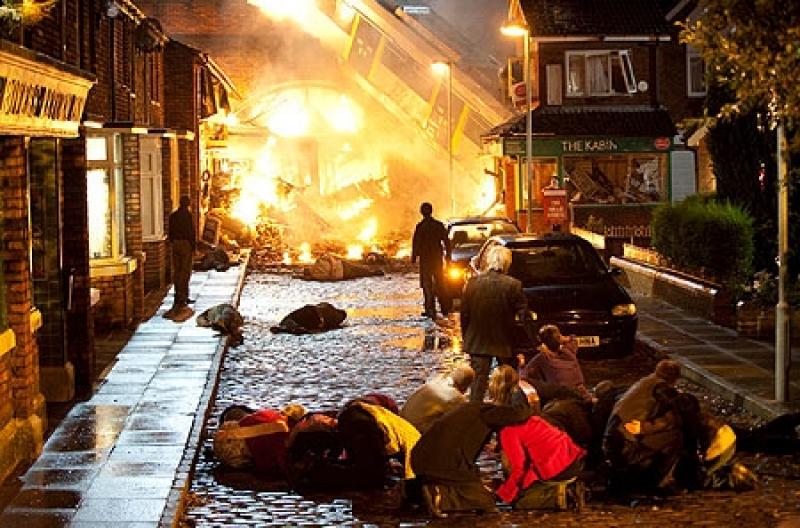 Murder and mayhem on Coronation Street: The live 50th-anniversary episode was a triumph
Even as a confirmed fan of the soap, I would be lying if I said I tuned in to Coronation Street for great acting. Fantastic comedy, yes; brilliant writing - certainly. But routinely fine exposition of the dramatic art? Nah, although there are honourable exceptions when the occasion demands.
But by crikey, did most of the cast pull it off last night in an hour-long live episode to mark the show's 50th anniversary, part of a week entitled "Four Funerals and a Wedding", involving a gas explosion, a tram crash on the iconic viaduct and an attempted murder.
There were only the tiniest, blink-and-you-miss-them mistakes (far fewer than the noticeably more nervous EastEnders cast managed when they went live to celebrate their whippersnapper 25th anniversary earlier this year). Fiz and John Snape's prematurely born child's gender was wrongly identified at one point and Sally Webster was not wearing a hardhat throughout her scenes inside Dev and Sunita's devastated shop. But unless I missed it, no one fluffed their lines (although there was an awful lot of gasping through oxygen masks, so some actors could have got away with it) and definitely no shaky camera action.


What we did get, however, was some overacting worthy of a Razzie as Fiz (Jennie McAlpine) gave birth prematurely. There really ought to be a rule that no actress should give birth on screen unless she has gone through the experience in real life; it just lends itself to bad acting, and so it proved with McAlpine, whose noisy, face-contorting screaming was just laughably bad. Thank goodness that screen husband John Stape (Graeme Hawley) was on hand to keep things on a more even keel with some wonderfully underplayed reaction shots, but then again maybe the poor man was fretting about how he was going to get from the hospital set to another (his and Fiz's front room) where his evil tormentor Charlotte was lying with a hammer in her skull, which he had planted there in an earlier episode. Rather annoyingly Charlotte was not yet for the chop, as in the closing scenes a police officer pronounced her still alive.

Sadly, Peter Barlow (Chris Gascoyne) was not to be given a let-out clause (or was he?) as he appeared to breathe his last while saying his wedding vows to Leanne (Jane Danson). Their scenes were terrifically moving and tear-jerking, and Danson surely deserves to be nominated in the next round of television awards. Special mention, too, for Julia Haworth as Claire Peacock, whose tearful, angry but contained response to husband Ashley's death was both entirely in character and a mark of genuinely good acting.
'The producers may be about to spring another surprise - they do love a budget-friendly clear-out and funerals can have more than one coffin'
Elsewhere, Molly Dobbs (Vicky Binns) was confessing to Sally Webster (Sally Dynevor, also turning in a terrific performance) that her husband, Kevin, was baby Jack's father, before leaving this mortal coil, thereby nicely setting up all manner of scenarios the writers can play with over the coming months. If this wasn't enough to be going on with, the programme-makers had yet more up their sleeve; interleaved with the big-bang goings-on were two rather more subtle and humane strands - the post-traumatic stress that teenage soldier Gary Windass (Mikey North) is suffering, and the ongoing pain of Steve and Becky McDonald's thwarted adoption of Becky's nephew Max.

So the wedding (Leanne and Peter's) and possibly three of the funerals (Molly, Ashley and Peter's) in the title were accounted for last night. My vote for the fourth is for the supremely irritating Charlotte to peg it on the way to hospital, but who knows, the producers may be about to spring another surprise - they do love a budget-friendly clear-out from time to time and funerals can have more than one coffin.

Rarely have I sat through an episode of Coronation Street and been quite so emotionally drained by the end of it. Hats off to writer Jan McVerry, director Tony Prescott, 65 cast members and 300 crew, who pulled off a magnificent piece of live theatre that did Corrie's creator Tony Warren proud.
'Rather annoyingly John Stape's evil tormentor Charlotte was not yet for the chop, as in the closing scenes a police officer pronounced her still alive'
Share this article