Coronation Street: 60 Unforgettable Years, ITV review - inside story of the world's longest-running TV soap |

reviews, news & interviews
Coronation Street: 60 Unforgettable Years, ITV review - inside story of the world's longest-running TV soap
Coronation Street: 60 Unforgettable Years, ITV review - inside story of the world's longest-running TV soap
They said it wouldn't last, but 'Corrie' became an all-time classic
Tuesday, 08 December 2020
Jean Alexander as Hilda Ogden
The seductively breathy Joanna Lumley supplied the voice-over for this hugely entertaining romp through the history of Coronation Street, celebrating "the Diamond Jubilee of the world's longest-running soap." Yet wasn't the uber-posh Lumley, scion of the British Raj, a discordant choice for this long-running saga of Mancunian fol
k? But of course Lumley herself appeared in
Corrie
, in a brief run as "the enigmatic Elaine Perkins" in the summer of 1973.
Elaine was a fleeting love interest for Ken Barlow, who would become far better known for his violently combustible marriage to Anne Kirkbride's Deirdre (their 1981 screen wedding threatened to upstage Charles and Diana's). William Roache, who plays Barlow, appeared here almost as the conscience of Coronation Street, having served loyally, man and boy, since the very first episode, broadcast on 9 December, 1960. "I'd like to be the first centenarian to be working in a soap," he confided, even though he'd really prefer the show to be described as a cutting-edge drama serial.
Thanks to its extraordinary longevity and unique niche in British culture – Corrie was the show which proved to snooty southerners that the North did in fact exist, and was revolutionary in its portrayal of working-class life on TV – it has become more of a vocation, or perhaps a second life, than a mere acting job for its cast. Sally Dynevor plays Sally Webster, and both Dynevor and her character are cancer survivors. "Coronation Street means everything to me," she said. "I love it, it saved my life."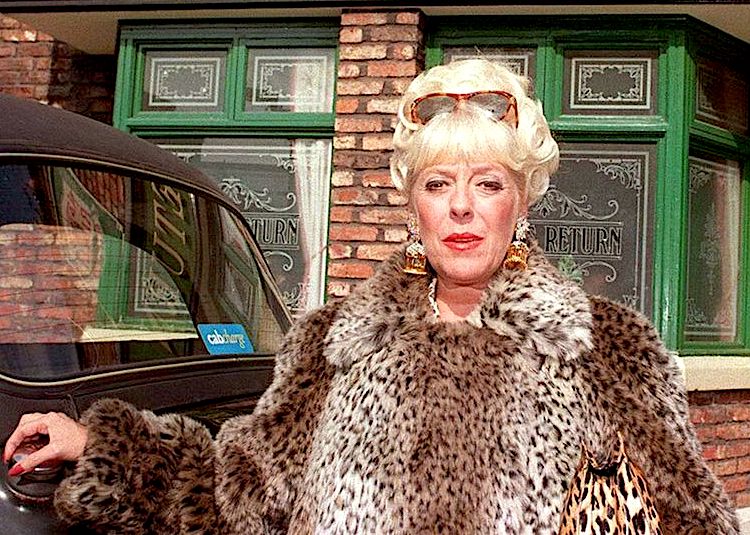 Every interview helped to emphasise the way the drama and the cast's real lives have become inextricably intermingled. Many of the characters have become archetypes almost as much, you might argue, as any in Dickens or Shakespeare. Jack and Vera Duckworth were tearfully remembered ("true soap royalty," suggested Lumley), with the scene of Vera's death after 50 years of marriage bringing several cast members to tears. Hilda Ogden's swansong at the Rovers Return was another multi-Kleenex moment, as the regulars belted out the Gracie Fields favourite "Wish Me Luck (As You Wave Me Goodbye)" – cheap music was never more lethal – and the famous Hilda and Stan kiss was rightfully recognised. "What's that lipstick taste of?" queried Stan. "Woman, Stanley – woman!" Hilda declared.
And without ostentatiously banging drums for feminism or #MeToo, Corrie has been one of the longest-running demonstrations of girl power known to man. Even Clint Eastwood would wilt in the face of Bet Lynch (Julie Goodyear, pictured above), in full blast-furnace mode, laying down the law about what was not permissible in the Rovers – "religion, politics and pinching somebody else's wife." Elsie Tanner (Pat Phoenix) was another of the show's original cornerstones, described in creator Tony Warren's script as "late 40s, with the very battered and much painted-over remains of good looks." The "strong northern women" have been Corrie's foundations, from Ena Sharples (Violet Carson) and Gail Platt (Helen Worth) to a lineage of actresses including Sarah Lancashire, Katherine Kelly and Michelle Keegan.
There was much more besides, from the show's treatment of domestic violence and some outlandish murders to the ground-breaking story of Hayley (Julie Hesmondhalgh) – the first transgender character in a British soap – and her marriage to Roy (David Neilson). As the saying goes, all of human life is here.
'Corrie' was the show which proved to snooty southerners that the North did in fact exist
rating
Explore topics
Share this article