Antonia Bird: 'I get lumped together with Ken Loach' |

reviews, news & interviews
Antonia Bird: 'I get lumped together with Ken Loach'
Antonia Bird: 'I get lumped together with Ken Loach'
The uncompromising director to whom a new feature-length documentary pays tribute
Antonia Bird: pulled no punches
Antonia Bird died in 2013 at the age of 62. The last television drama with her name on it was the first series of The Village, but the career which is celebrated in the BBC Four documentary Antonia Bird: From EastEnders to Hollywood were from a golden age of single drama. You always knew you were watching a film by Bird. She made a name with single-issue films with single-syllable titles.
First off was Safe (1993) tackling homelessness, then Priest (1994), Jimmy McGovern's portrait of the modern Catholic church. Next up was Face (1997) about gangsters with a conscience. In Care (2000) a man was forced to confront memories of being sexually abused as a child while Rehab (2003) told of drug addicts trying to get clean. Put them all together and they sound like a crossword clue. (Pictured below: Kate Hardie and Aidan Gillen in Safe)
There was nothing cryptic about Bird's work. It was almost as if she was branding her films, like a children's author brands a series of novels. The Famous Five and the Spiffing Adventure. Harry Potter and the Supernatural Mystery. Antonia Bird and the Social Drama Which Pulls No Punches. She seemed to be aware of the mockability here. When I interviewed her she was working on a film about the miners' strike (which was subsequently shelved). Its working title was intitially Strike, which was changed to Faith. "Got to change that," she said at the time. "I don't know – they just work for the subject matter. As a viewer I get arrested by titles. It's just an accident." She broke the sequence with The Hamburg Cell (2004) about the 9/11 hijackers.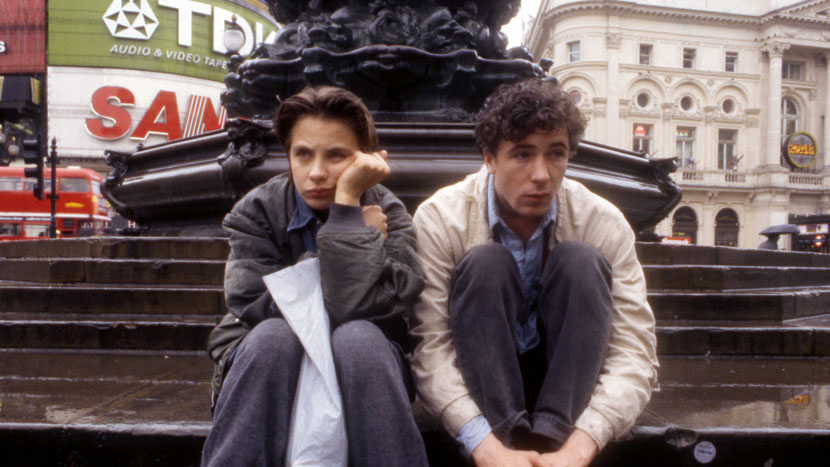 The implication in this short-sharp-shock signature is that she didn't quite trust her films to make their own impact. It was as if she wanted to punch you in the eyeballs the minute the title sequence runs. There was never any need to mistrust the material. A signature of Bird's work was her determination to confront subjects that were being avoided by other filmmakers. In Care, written by Kieran Prendiville (the man who brought you Ballykissangel) she dramatised the trauma of children raped in institutional care long before Operation Yewtree and Savile triggered an avalanche of dramas on the subject.
According to Bird her habit of shining a torch into the murkiest corners of society made it harder for her to work. "If you choose to go out on a limb and make films about social injustices you tend to be very unfashionable, very unemployable," she told me. "I get lumped together with Ken Loach. Which is very fine because I think he's great. He's a hero of mine for what he's stuck with through the years. But I don't think you do yourself any favours making films like this."
She was a feminist who by dint of market forces was deprived of the opportunity to make the films she wanted to. She is a Bird who makes films about blokes. "Generally the people who make the decisions about which films get green-lit are men," she said. "And men tend to be more interested in subjects dealing with men. And it has proved to be quite difficult to get films written with female protagonists financed."
Her one movie with a female lead was Mad Love, starring Drew Barrymore. After the shoot was over, Priest opened in America and Disney discovered they had hired a director with a highly controversial film on her CV about the sex lives of men of the cloth. "Miramax was owned by Disney at the time and I was in post-production with a nice Disney teen film, which was quite edgy originally. We always thought we were making a film for 15 and up, and suddenly we had to make it for PG. Which meant I had to take the heart of the film out. That was quite a lesson. You're not in charge, it's not your money, it's someone else's, you've basically got to do what you're told." (Pictured above: Linus Roache and Robert Carlyle in Priest)
Apart from a youthful flirtation with the Royal Court, all her best work was done on the small screen, from her first Play for Today, through early episodes of EastEnders and Casualty and on to the single dramas with single-word titles. "The thing about British television writers is they tend to have a very grown-up command of their medium, whereas film writers in Britain are not very disciplined. On the whole film scripts are actually not very good in this country. We've all had more practice at television."
Antonia Bird: From EastEnders to Hollywood is on BBC Four tonight at 9pm