Amber, BBC Four/ CSI: Vegas, C5 |

reviews, news & interviews
Amber, BBC Four/ CSI: Vegas, C5
Amber, BBC Four/ CSI: Vegas, C5
New Irish crime drama and returning US favourite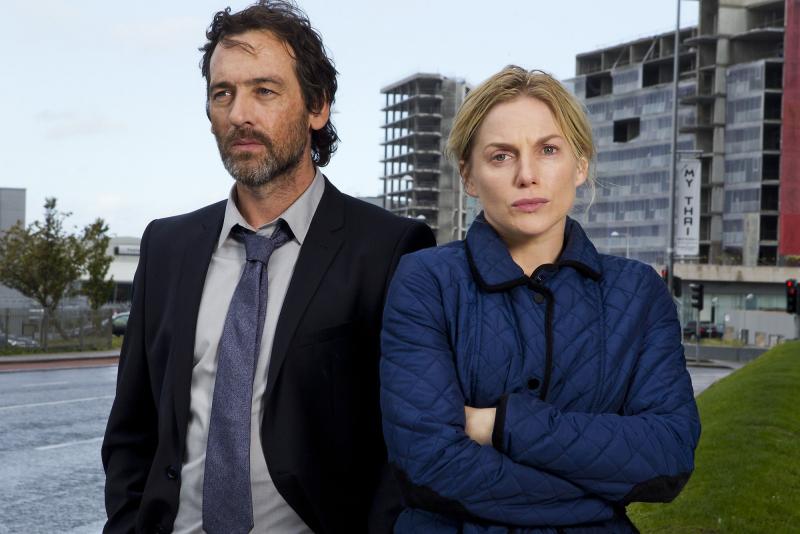 David Murray and Eva Birthistle as an estranged Dublin couple whose daughter, Amber, goes missing
When Amber (****) was shown earlier this year in Ireland, the crime series created by Rob Cawley and Paul Duane for state broadcaster RTE caused a kerfuffle as (giving nothing away) it didn't follow the usual narrative of teenager-goes-missing-police-miss-clues-and-family-implodes drama.
But that's all yet to pan out, and last night's opening episode of four started traditionally enough as Amber, the 14-year-old daughter of Ben and Sarah Bailey, lied to her parents about visiting her friend and didn't arrive home when expected.
The family implosion was already under way as Ben and Sarah (David Murray and Eva Birthistle) had recently parted as the drama opened, and were in the sniping stage of their marital breakdown. They live in Dublin's suburbs, where Ben runs a successful security company – with lots of empty or half-completed developments, laid asunder during the Celtic Tiger's death throes, to protect - and Sarah lives with Amber and son Eamon (Levi O'Sullivan, superb as a quiet victim of the unfolding tragedy) in an expensive modern penthouse apartment.
Each of the four episodes (directed by Thaddeus O'Sullivan) is told from a different viewpoint and last night's was from Sarah's. Birthistle gave a beautifully judged performance as a mother whose world has just fallen apart but who has to keep going not just for her missing child, but her son too. The first episode covered six months after Amber went missing and efficiently essayed how quickly the lines of enquiry run out for the police (the least important players in what is written essentially as a family drama) and the story disappears from public consciousness. As Sarah said on a radio show, trying to put it back on the news agenda: "[Having a missing child] becomes part of your normality."
Amber's personality - artistic, temperamental, indulged, possibly already sexually active – was neatly hinted at and convincingly played by Lauryn Canny, but the story strand involving Sarah's best friend, Maeve (Justine Mitchell), a journalist, was drawn with heavier strokes.
Maeve rather predictably stitched up Sarah by writing a sob story for a tabloid without her permission – yet as we will see in the second episode, shown from Maeve's point of view, the article may have prompted someone to come forward with information – but what could an old lag in prison at the time of Amber's disappearance know about it? The development certainly had me sufficiently interested to tune in for part two.
Detective work of different kind as CSI: Vegas (****) started its 14th season (of 22 episodes) where the last left off; a serial killer had kidnapped Crime Scene Investigation officer Morgan Brody (Elisabeth Hamois), whose dad is Sheriff Ecklie, and detective Jim Brass's estranged daughter, Ellie (Teal Redmann). Both women, we have learned in previous series, have daddy issues. Last night's opener started with the CSI crew attending a funeral; as the camera panned around the pews it teased us into wondering who wasn't there, or was, but in the casket. (Spoiler alert!)
A great twist (two, in fact) came almost at the end of what was a typical CSI show (written by Christopher Barbour) – complicated, fast-paced, chock-full of science (last night about synthetic DNA, among other things) – and one heavy on allegory. The serial killer was mimicking Dante's Inferno as he worked through some childhood/religious issues, and leaving clues in code.
I've long been a fan of this programme, much preferring the Las Vegas version to the ones (both now cancelled) set in Miami - which had laughably intense overacting from David Caruso in the lead role - and New York (not laughable or overacted but starring an equally intense Gary Sinise), but I do miss Grissom. William Petersen left the Vegas show in 2011.
Grissom's replacement as CSI chief, DB Russell, played by Ted Danson with some élan, was having a dark night of the soul last night. He wondered if he could still cut it as an investigator as he and his team had nine circles of hell to descend into (that is, nine deaths) before time would run out for the imprisoned women.
There's a danger that a show so in love with technology – not all of it actually yet developed for standard police work, but hey, it's nice to look into the future – might underplay the human tragedy of violent crime. But Paul Guilfoyle was truly convincing here as Jim Brass (pictured above), a man caught between doing the right thing by his daughter or by his badge. I always knew Ellie was a wrong 'un – and she proved it by slugging Brody in the back.
A popular show that references psychology, the Bible and one of the great works of literature - and wraps up the story up in under an hour with a twist no one saw coming? Not bad.