The Weir, Donmar Warehouse |

reviews, news & interviews
The Weir, Donmar Warehouse
The Weir, Donmar Warehouse
Mesmerising revival of Conor McPherson's haunting play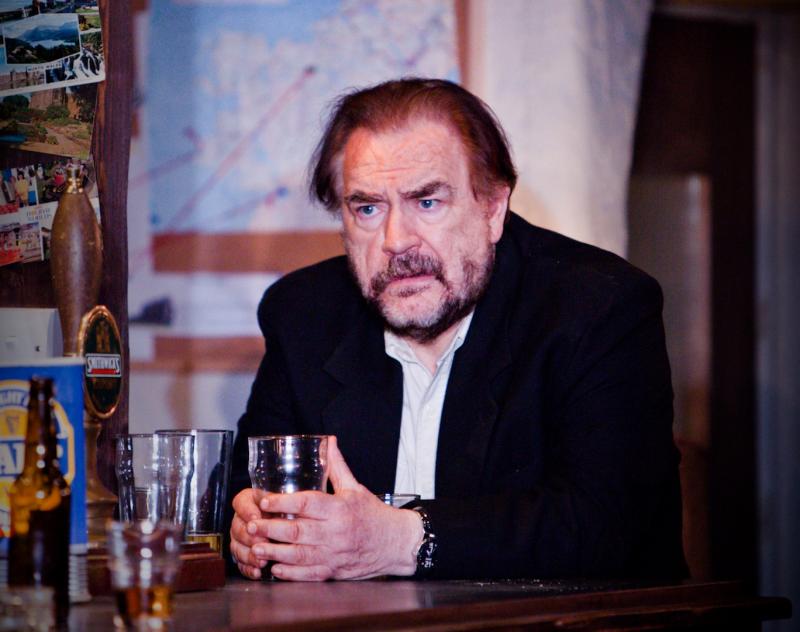 Brian Cox gives a towering performance in 'The Weir'
Conor McPherson's 1997 play has become a modern classic, and it's not difficult to see why. It's a glorious evening of storytelling that allows the cast to display their wares, as the conversation between characters who have known each other all their lives flows and ebbs as they reminisce, josh and cajole each other with both affection and darker, underlying feelings.
Such naturalistic conversation is, strangely enough, often hard to present with authenticity, but when it's done well - as it is here - one forgets this is acting. We could be eavesdropping on real people chatting.
We are in rural County Leitrim in Brendan's pub (expertly realised in Tom Scutt's design), which is empty save for a couple of regulars, single men of the village. Brendan (Peter McDonald) dispenses drinks as local garage owner Jack (the towering Brian Cox) dispenses wisdom, based mostly on his own limited experience of the opposite sex. Bombastic, but not yet totally cynical, he advises the much younger Brendan, henpecked by his sisters who have an interest in the family farm, to get himself a wife and not turn into a grumpy old sod like him. Then handyman Jim (Ardal O'Hanlon), who lives with his mother "who has been fading for years", joins them for a short one (which means several) and local bigshot Finbar becomes the topic of conversation.
The men are aggrieved that Finbar (Risteárd Cooper), a married man, has been seen showing a woman around the locality. We know Finbar is a wide boy as he enters, dressed in a pale linen suit, and we learn that the woman is Valerie, a "blow-in from Dublin", an academic who has just bought a house from Finbar once lived in by an old woman of the village. Soon the conversation turns to the old days, of roads the fairies travelled along, of graveyards and the departed. As the men tell their tales, what starts as a laugh quickly reveals each man's vulnerability, and we see them, all unused to female company, compete for Valerie's approval.
There is much, as the Irish say, codding on and the language is wonderfully expressive - "That's the way cunts always go about their business," says Brendan of Finbar. Entirely believable, too, is the eagerness of the men to tell ghost stories to the stranger, partly to test her mettle, partly for their own enjoyment. My parents and grandparents (from a place in Ireland that could double for The Weir's setting) loved telling us children (Londoners all) stories of dark and stormy nights, of spirits abroad and undead souls. They used to scare the bejaysus out of us, to their great delight, and to ours.
Valerie (Dervla Kirwan, pictured above, in a beautifully understated and natural performance) is the twist in the plot, as she tells her own ghost story, but one not layered by repetition or blather. The pain is vivid as she remembers the daughter she has lost and we understand her need to escape her previous life to live in this quiet place. But quiet doesn't necessarily equal good: "You're going to have a peace and quiet overload," Jack warns her.
Josie Rourke's delicate production, which brings out all the play's comedy, plays down its haunting elements. Instead she teases out ghosts of a more emotional kind and we witness an elegy for lost youth, lost love, lost opportunities and lives unlived. The cast are uniformly superb and the play's 100 minutes race by in a mesmerising evening.
There is much, as the Irish say, codding on and the language is wonderfully expressive
rating
Explore topics
Share this article