The Twilight Zone, Almeida Theatre review - from hokum to humanity |

reviews, news & interviews
The Twilight Zone, Almeida Theatre review - from hokum to humanity
The Twilight Zone, Almeida Theatre review - from hokum to humanity
Perfectly modulated ensemble and production vary the strains of a classic TV series
Wednesday, 13 December 2017
John Marquez as a man trying to escape a dream
Director Richard Jones watched all 156 episodes of The Twilight Zone as research for this Almeida production.
Director Richard Jones watched all 156 episodes of The Twilight Zone as research for this Almeida production. I've never seen a single one, to the amazement of the American fan on the tube home who saw me reading the programme and, having grown up with the TV series in the early 1960s, told me a lot more about the skill of creator/scriptwriter Rod Serling and which instalments I should seek out. I shall now.
The question why may trouble all but diehard enthusiasts as the opening actions unfold and intertwine, but by the end of this giddying evening Twilight Zone virgins may feel they've been hypnotised, hoodwinked or simply moved into thinking that there's more to the original stories than rumour had led them to believe.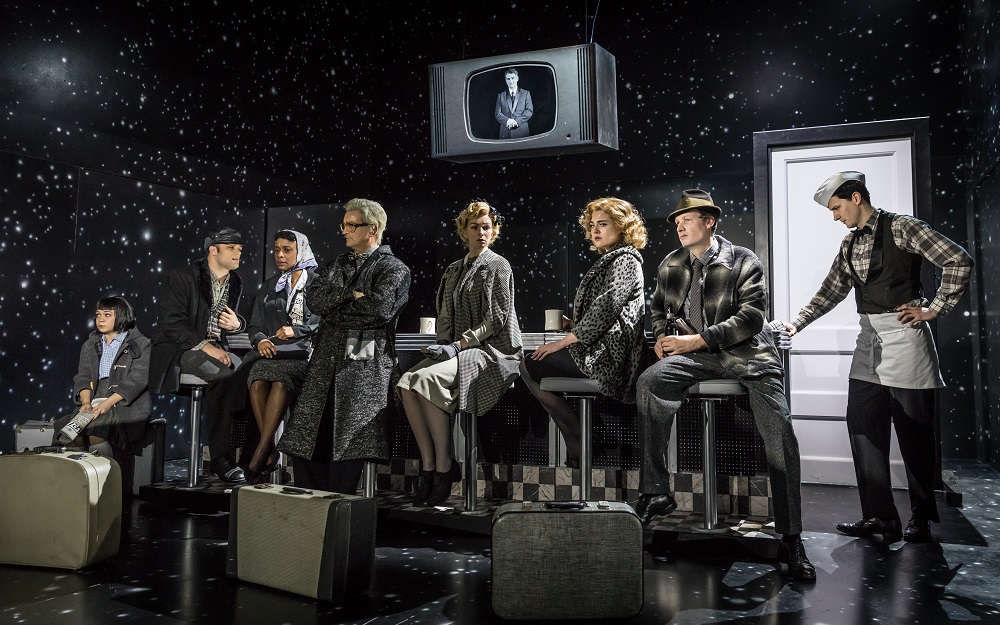 Everyone needs to take the credit for creating a multi-dimensional world, or worlds: the cast of nine, individuals transformed between costume changes as they take on anything up to five roles; long-term Jones collaborators Paul Steinberg for his starry multiple-doored sets, Nicky Gillibrand for her black, white and grey period costumes with just a hint of blue, and Mimi Jordan Sherin for her versatile lighting (look up at the rig above the stage, like an alien cluster in itself); the sound partnership of Sarah Angliss and Christopher Shutt, using the whole of the Almeida; illusionists Richard Wiseman and Will Houstoun, managing a running gag involving multiple cigarettes and variations on the line "but I don't even smoke"; Aletta Collins's funny-weird choreography for the dream vamp's song (delivered with panache by Lizzy Connolly), echoing her work on the Royal Opera Anna Nicole; Anne Washburn's brilliant adaptation of eight Twilight Zone episodes; and above all Jones's direction, which has you believing in quickly assembled, sometimes identikit characters. The equivalent of operatic ensembles interlaced with virtuoso arias, duets and trios is deft - joky, frightening and wildly entertaining before the interval, albeit with the nagging doubt about where this can possibly go; moving and disturbing after it.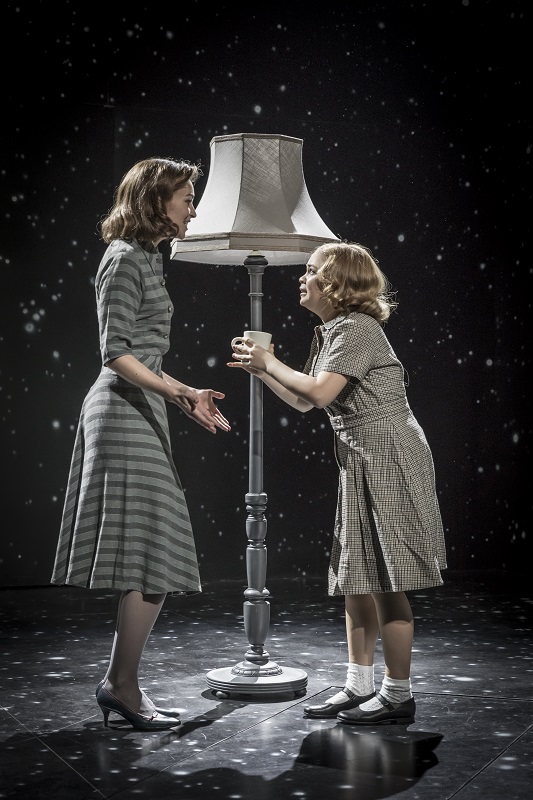 Aliens and parallel universes dog the first half, starting with an Agatha Christie-esque gathering of passengers from a bus sheltering from a snowstorm in an out-of-the-way bar (pictured above): which one is from outer space? A woman (Amy Griffiths) meets her younger self (Adrianna Bertola, in the second of four superbly done little-girl roles, the two pictured right); John Marquez, last year's seasonal star in Jones's Young Vic Once in a Lifetime, brings his quality of weird fixity to a character who's been awake for four days to try and keep at bay the woman who plagues his dreams. He's also the moralising narrator, but various other characters step out of character to point the maxims, too (another running gag). In a storyline that will resonate with followers of Stranger Things, a father (Cosmo Jarvis), guided by his physicist friend (Oliver Alvin-Wilson, pictured below), breaks through into the fourth dimension to find his daughter, leaving us there with him for the interval.
After it, stories become more freakily entangled, enriched by the introduction of a very alarming ventriloquist's dummy, but there's also more room for human truth. Neil Haigh and Franc Ashman take a rather poetic text seriously as an astronaut due to embark on decades of travel to a neighbouring solar system and the woman with whom he falls in love on the eve. This is the necessary romance-with-a-twist, and we go with it, starry-eyed and eventually broken-hearted (to push a point). The least interrupted sequence of all, "The Shelter", finally joins hands with the ugliness latent or apparent in American society then and now as neighbours tear each other apart seeking underground refuge as a nuclear attack seems imminent. If Serling's original script is closely followed here – and I want to see the episode as soon as I can – then he really was something of a genius: racism and mob mentality are ruthlessly exposed.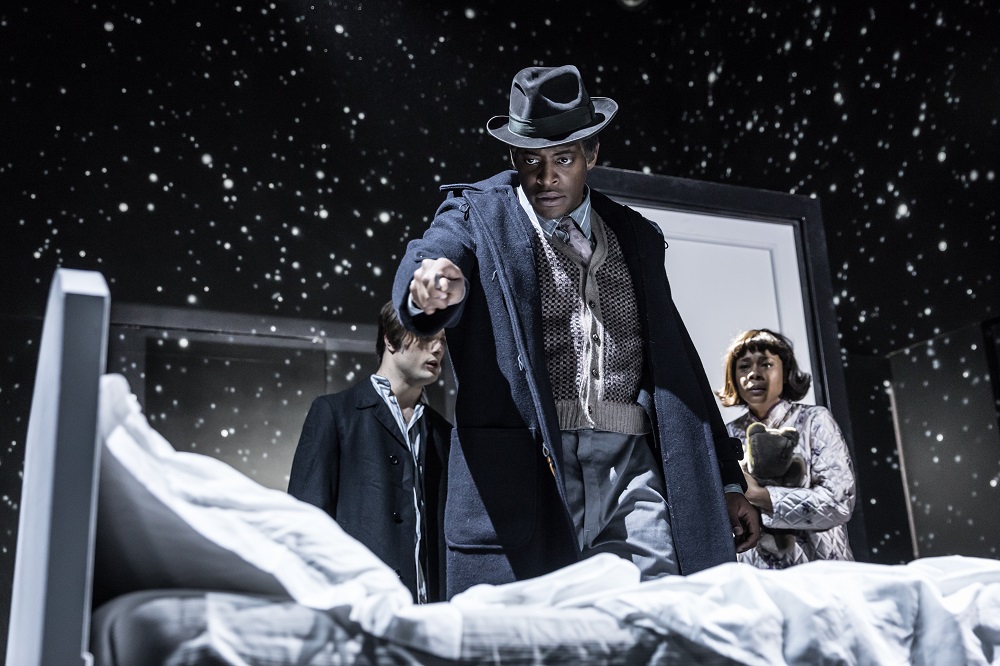 The epilogue is playful with the "how are we going to end all this?" and puts Marquez back in the spotlight. Perhaps it's the only point in the entire evening when a few minutes' snipping might not go amiss, but Jones and company are clever to the last – and finally, after all the homages to Bernard Hermann, Franz Waxman and others, we get the four-note motif which even non-aficionados like myself know so well. On, then, to discover the two episodes the American gentleman on the underground told me I have to see – "Nightmare at 20,000 Feet" and "To Serve Man" – as well as all those featured here and many others, no doubt. Serious addiction may be looming.
After the interval, stories become more freakily entangled, but there's also more room for human truth
rating
Share this article