Twelfth Night, RSC/Stratford-upon-Avon online review - inventive but underfelt |

reviews, news & interviews
Twelfth Night, RSC/Stratford-upon-Avon online review - inventive but underfelt
Twelfth Night, RSC/Stratford-upon-Avon online review - inventive but underfelt
Kara Tointon leads a concept-heavy, Victorian-era Shakespeare update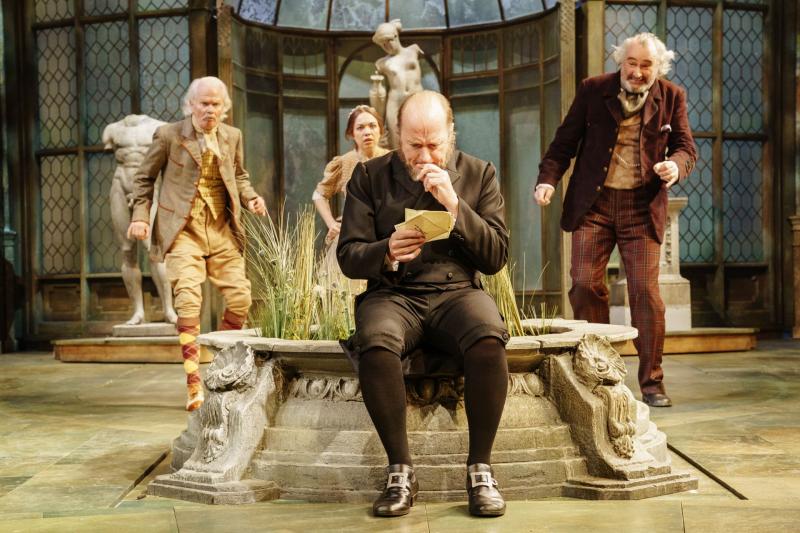 Prisspot: Adrian Edmondson as Malvolio in a 2017 'Twelfth Night' from Stratford
Twelfth Night is rarely long-absent from the British stage and nor is it in our current climate of streaming aplenty. This 2017 production for the RSC from the director Christopher Luscombe will soon be followed online by the National Theatre's gender-flipped version, with Tamsin Greig as Malvolia, which actually preceded this Stratford production at the time.
What kind of Twelfth Night is this? Conceptually busy and ingenious, to be sure, and arguably too much so: one feels on occasion that the inventive Luscombe has thrown every possible idea into the mix while stinting at times on the primary importance of any play which must begin and end with a degree of feeling imparted by its cast. Set in 1890s England in a decadent era that finds Nicholas Bishop's sexually ambivalent Orsino paying more than a passing nod to Oscar Wilde, Shakespeare's mercurial play becomes a G&S romp one minute, a study in Victorian-era pastiche the next. Jolly though these choices often are, one becomes aware after a while of the various ploys in use to chivvy along a play that ought really to be propelled first and foremost by an ensemble deeply attuned to the text's often discordant and surprising shifts in tone and mood.
The name draws this time out are Adrian Edmondson as a prissy, sneering Malvolio and Kara Tointon (pictured right), the Come Dancing alumna expanding her stage repertoire still further beyond Ayckbourn and Shaw to play the sequestered Olivia who keeps Malvolio in her grief-stricken employ. Luscombe's Illyria is very clearly England, as befits the reference in the text to south London's "Elephant", and Tointon projects a casual hauteur that could have come from flipping through too many pages of Tatler in-between her black-clad bouts of mourning.
There's considerably more urgency to Dinita Gohil's shipwrecked Viola, a performance that really pushes the questing transparency of Shakespeare's most famous twin to the fore. You feel the confusion that her newfound guise as Cesario generates in Bishop's bare-chested aesthete of an Orsino, who is first seen painting a scantily clad model while delivering the play's opening line what here is a resident pianist. (The order of the first two scenes has on this occasion been reversed.) Simon Higlett, the designer, accommodates the air of dandified lushness, drawing for visual inspiration from both west London's Leighton House and from Wightwick Manor, a National Trust property not far from Stratford.
The production ticks all the boxes well enough while never quite confronting life's whirligig with the seesawing swerves between pathos and humour that define this play. (One is treated here to a neat visual history, before the play starts, of numerous RSC Twelfth Nights across the decades.) The final scene belatedly gets at the Chekhovian affect of the material, as the round robin of wayward affection is made abundantly clear.
I winced at the decision to make John Hodgkinson's Sir Toby into a study in flatulence, his farts induced apparently by pickled herring (stay away from those in lockdown), but he and Michael Cochrane's necessarily tall Sir Andrew look as if they are having a field day together. And if Beruce Khan's Feste – here an Indian retainer within the royal household – doesn't have quite the vocal chops needed for the songs that come his way, he's a game participant in a Twelfth Night that casts its net wide in numerous directions so as to land a play whose multifaceted beauty remains ever so slightly out of reach.