Travels with My Aunt, Chichester Festival Theatre |

reviews, news & interviews
Travels with My Aunt, Chichester Festival Theatre
Travels with My Aunt, Chichester Festival Theatre
Patricia Hodge is 70 years young as she globe-trots through musical adaptation of Graham Greene
Patricia Hodge as Aunt Augusta in 'Travels with My Aunt'
Smoking weed on the Orient Express. Drinking at a brothel in Paris. Tricking the military police in Istanbul. Smuggling a Da Vinci into Paraguay. As travel itineraries go, it's certainly no Saga break. But then Graham Greene's Augusta is no ordinary literary aunt. The antidote to Oscar Wilde's Augusta Bracknell, Greene's 75-year-old heroine is a lusty free spirit who terrorises Victorian values and turns her nose up at the law.
Having reentered her nephew's life at what he supposes to be his mother's funeral, she co-opts this retired bank manager as her travelling companion and tears him away from the Dahlia-lined path of convention.
It's that "life force" quality that this musical, which opens Chichester Festival 2016, puts its money on. That and the casting of Patricia Hodge, the Miranda actress (and top trump in Downton Abbey's Christmas finale) who will become a septuagenarian herself this year. She's full-bodiedly sensual as she shocks Henry by sinking into a kiss with her black "valet" Wordsworth. She's infectiously sprightly as she skips into a dandy's arms at the conclusion of histrionic full-cast number "In the Eyes of Italian Men". And she can still convey an alluring combination of hauteur and mischief with a single amused twitch of the lip.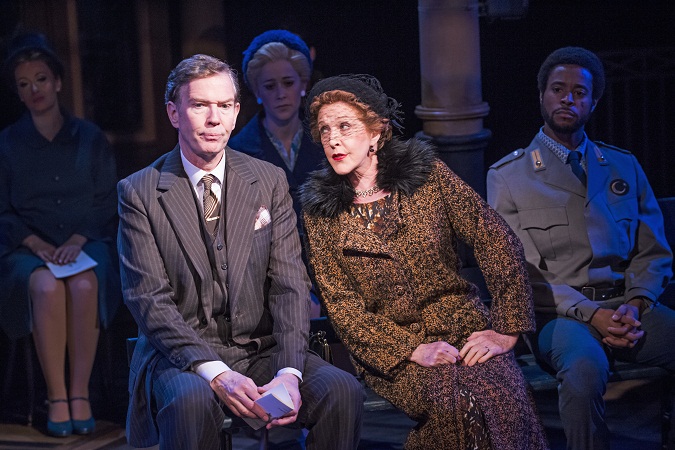 But Aunt Augusta's more immediate appeal to the reader is as a raconteur. And this new adaptation, with a book by Americans Ron Cowen and Daniel Lipman, is less successful in translating that quality to the stage. Travels with My Aunt may engage seriously with age and morality. But the short 1969 novel is treasured more as a random assemblage of weird and wonderful anecdotes. "[My Aunt's] conversation was rather like an American magazine where you have to pursue a story, skipping from page 20 to page 98 and turning over all kinds of subjects in between," says Greene's Henry. (Steven Pacey as Henry with Hodge, pictured above.)
So Cowen and Lipman (who last worked with composer George Stiles and lyricist Anthony Drewe on the 2011 West End musical Betty Blue Eyes) have had to restring a lot of anecdotal pearls here. They have lost many and sacrificed the isolated charm of others, along the way. Brighton gets the chop, along with the wonderful stuff about setting up a church for dogs. To compact the narrative and the ensemble, Henry's paternal parenthood and marriage prospects are also changed.
Keep moving or stagnate: the musical is unequivocal about the choice
Augusta's movements across the globe are explained entirely in relation to her old lover Visconti, an art thief whom she must bail out of execution. This imposition of an overarching narrative runs counter to the novel's sense of its heroine as a manic whirlwind in which Henry is irresistibly swept up. You sometimes question whether a musical is the right medium: songs give pause for the moments of reflection that are characteristically absent from the novel.
Nevertheless, Christopher Luscombe's production is gently engaging, with the strong production values you expect at Chichester. Stiles' score plays with the idea of a musical tour of the globe: curling middle-eastern scales for their arrival in Istanbul, a football chant in Argentina. Wordsworth's "Keep Moving" is calypso-lite, which doesn't help to make Greene's dated portrayal less cringey.
Colin Falconer's set is simple and atmospheric: a brown-paneled station waiting room that also becomes a pub, a theatre and a Paraguayan tropical glass house. The orchestra are visible in a second windowed box, elevated to the left, through which the off-duty violinist can be spotted grooving. A departures board illuminates destinations in turn: London, Paris, Milan, Istanbul… This helps the audience to keep up, and to see through Aunt Augusta's eyes. The world is one big all-you-can-eat menu, and her appetite shows no sign of abating.
Steven Pacey's Henry has a loose-limbed, rather boyish physicality that allows him more easily to let go. He is never quite as straight as the beige-cardigan-over-pinstripes combo would have him appear. He also brings a sympathetic tenderness to the iffy relationship with teenage hippy Tooley (Haley Flaherty), though this doesn't stop several members of the audience recoiling in shock when they kiss.
Readers often remark how the bubbles go flat in Greene's novel. Augusta's seductive sparkle wears off, and the committed amorality of the second half can leave you rather cold. But the musical actually warms up, with some of Drewe's funniest lyrics coming after the interval in a stand-off between Augusta and Henry ("While you've flitted and you've flirted I've had rubber gloves inserted"); Augusta's maternal instincts thaw as she realises her selfishness. For "She Puts the Living in Life", the stage is bathed in golden autumnal light, the chorus threading around her in a swirl of paisley. Keep moving or stagnate: the musical is unequivocal about the choice Henry faces, and the path he should take.