Toast, Rose Theatre, Kingston |

reviews, news & interviews
Toast, Rose Theatre, Kingston
Toast, Rose Theatre, Kingston
Richard Bean's ribald bakery comedy is proof of a gap year well spent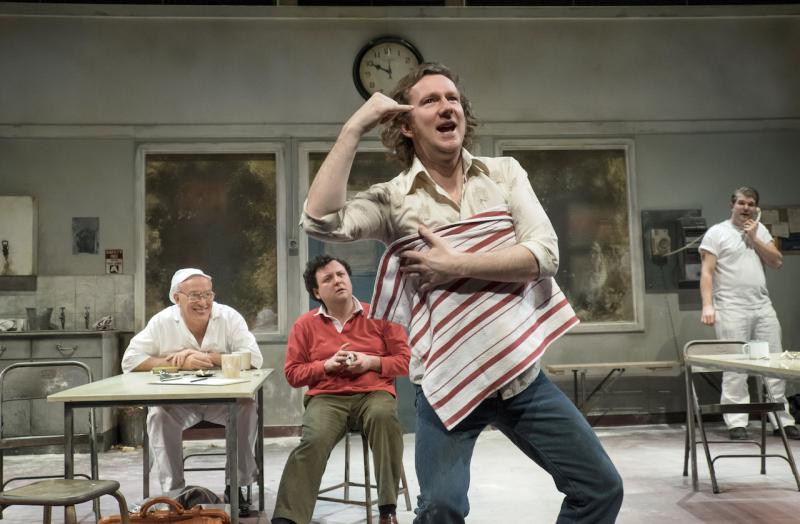 Bakers off: Simon Greenall (Cecil), John Wark (Lance), Matt Sutton (Peter) and Kieran Knowles (Dezzie)
If one says, accurately, that Richard Bean's Toast is a comedy about Hull's lost bread industry, trade unions and the poor working man, you will possibly yawn and turn the page. But it is no more just about that than Henry IV, Part II is about Tudor pub culture. Toast is a gloriously madcap blast about men's insecurities and pomposities, with a groanworthy taste in jokes.
For one thing, Bean originally wanted to call it
Wonderloaf,
a fine ironic pun on its subject, which is the artform that yesteryear's unionised working man made of loafing about on a break, all strictly legal.
In his gap year after Hull Grammar, long before he became today's most prolific comic playwright, Bean worked for a year in the local Homepride Spillers bakery. In the Homepride TV advert Fred the Flour Grader, the bowler-hatted cartoon boss, would assure the housewife in John Le Mesurier's velvety tones: "Graded grains make finer flour." It was the grading of the men around him in the bread factory that in 1999 Bean turned into this fine flower of a breakthrough comedy.
If six people are on a 12-hour shift, a seventh must be at hand to cover their breaks, known as the Spare Wank
Before Mrs Thatcher and Mr Murdoch came along, trade unions had management quaking in their boots, with strict breaks for fags, tea, sandwiches, or even to run home to roger the wife, arranged with genius by the arithmetically-fly Chargehand through the shift. And the rules stated that if six people are doing a 12-hour shift, a seventh must be at hand to cover when they are on their breaks, known as the Spare Wank.
That is one part of Bean's perfect comedic design, set up in a revolting 1975 works canteen in a factory so ropey that management never visit it, where six breadworkers, reluctantly doing the Sunday shift, take their Smokes and Half-Hours. Once you start counting who's on, who's off, you realise the beauty of the mechanism, as there almost always seem to be enough men on a break for a hand of cards - and who's to tell?
However, a management phone call that an extra 3,000 loaves are needed that night entails an all-nighter and when the new Spare Wank arrives he proves to be a prize ass, claiming to have graduated in social history at Hull and to be knowledgeable about antiques.
As Bean did himself, John Wark's slithery Lance floats about outside the almost impregnable camaraderie of the six regulars, all of whom are victims in various ways of the industrial tragedy caused to Hull in the Cod Wars. Ex-con Blakey, sex-obsessed seadog Cecil, young newly-wed Dezzie, frustrated Colin, irascible Peter, and floury, filthy, hopeless old Nellie, who's done 45 years there and lives in a caravan in a field - cooped up together on overnight shifts paid 10p an hour, the men share their feelings and secrets far more readily with each other than their disappointed wives and girlfriends.
Snapdragon Productions' staging debuted in 2014 at the little Park Theatre, and its remounting to tour the UK and later New York is a richly deserved reward for Eleanor Rhode's effervescent direction and a mesmerising ensemble headed by Matthew Kelly's lugubrious clown of a Nellie (pictured right).
The soft background rumble of the monster bread oven, uneasily burping and farting - Max Pappenheim's subtle work on sound design - constantly reminds the men, and us, who's boss. If it breaks down, it'll be eight hours to cool and another five to heat up again, and the men's livelihoods depend absolutely on that not happening. Hence the existential fearfulness that sharpens the dense sexualised banter, the ceaseless one-upmanship, and the jittering suspense as the men react to the Spare Wank and his weird utterances.
Jokes come thick and fast in a coarse shorthand that is indecently funny. The boss is shagging a lass in custard, the one with no teeth. It turns out "custard" means the Custard Tarts section of Spillers; and the men reckon he had his way with the pick of the lasses in Apple Turnovers and Eccles Cakes too. Riffing on fishpaste sandwiches, young Dezzie reveals something disgusting about what skates can offer to bored trawlermen, and Cecil's goosing of gullible Peter becomes an endearingly silly prank competition.
In fact, everyone is helpless, doomed by disastrous circumstances to not louse this terrible job up. Some lines cut to the quick: "I spend all week at work looking forward to the weekend, and when I get there I realise I work weekends," says miserable Blakey (nice work by Steve Nicolson). Simon Greenall is a razor-edgy Cecil, suddenly capable of moving us, while Kelly proves himself once again a master of sly pathos, having sublime fun with Nellie's liking for monosyllabic answers, and spends long minutes of silence simply manipulating his big, rubbery features, capable of seeming both cunning in the extreme and mythically wronged.
The joy of Toast is not just the crisp dialogue and tasty characterising within this bleak waiting-room, it's the cunning with which Bean and Rhode ratchet up the suspense, playing with your expectations of the plot and fears for the individuals. And Bean persuades you that male identification strategies, ways of belonging, and imaginative tactics to protect each other's frailties, found a far-from-contemptible emotional and moral home in those maligned trade unions. You might even find yourself shedding a tear for them.