Through a Glass Darkly, Almeida Theatre |

reviews, news & interviews
Through a Glass Darkly, Almeida Theatre
Through a Glass Darkly, Almeida Theatre
Broken Glass, as Bergman Oscar-winner stumbles in transfer to the stage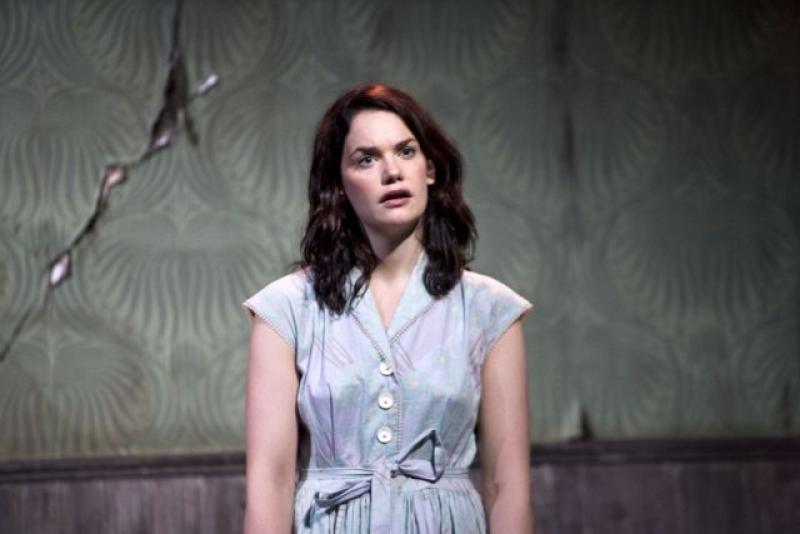 Ruth Wilson's Karin bares her soul - and her feet - in Bergman stage transcript
Perhaps it's because the Almeida had a major hit with Festen (well, everywhere but Broadway) that the Scandinavian back catalogue of movies seems every bit as ripe for plunder as is mainstream Hollywood when it comes to feeding musicals on Broadway and the West End.
But a high-toned source doesn't begin to make a satisfying evening out of this stage premiere of
Through a Glass Darkly,
a harrowing film shot in an emotionally devouring black and white that in the theatre, shorn of Ingmar Bergman's cinematic chiaroscuro, comes across as hollow and banal.
You can imagine the appeal of the material to actors, who can be forgiven for running headlong towards a story that demands considerable energy, heightened emotions and what would seem to be a baring of the soul. After all, the play's lone female cast member, Ruth Wilson, spent several months last year at the Donmar watching her stage sister Rachel Weisz in meltdown in A Streetcar Named Desire (for which both women won Olivier Awards) and may have decided that she wanted a bite of the in extremis cherry for herself.

Sorry to say, Almeida Artistic Associate Jenny Worton's transcription for the playhouse of Bergman's 1961 Oscar-winner contains not a trace of the galloping lyricism of Tennessee Williams. Instead, the 90-minute script (no interval) consists of one baldly stated self-admission after another - sample line: "I see my own confusion, and it's terrifying" - with the result that everything is announced but almost never felt. For all the angst on parade, this is one of the least moving theatrical experiences imaginable.

It's one thing, for instance, to talk of "staring into the abyss", as Wilson's febrile Karin does here, and quite another to take an audience with you on that forbidding journey deep into the recesses of a tortured soul. In what was the first of his so-called Faith Trilogy, Bergman managed as much through often wordless sequences in which the camera seems mercilessly to be excavating the worn-down psyche of the motherless Karin, newly released from a mental institution into the company of her husband, Martin (Justin Salinger), younger brother Max (Dimitri Leonidas), and father David (Ian McElhinney), a writer who, one feels, is interested in his daughter's malaise only insofar as it feeds his scribblings.

First glimpsed emerging from a holiday swim, the foursome pair up in varying combinations that bring to the fore one aspect or another of a collective dysfunction. Dad is revealed to be an unfeeling narcissist; Max (or, as he is called, Maxie) a horny adolescent with a fondness for porn, and Martin a doctor who conveniently has at the ready a syringe with which to calm his anguished wife in a gesture that finds a direct echo in Williams's Streetcar. They talk of sex and sleep, or the lack of it, while near the end 16-year-old Max inveighs against the others for being "boring", a charge that left more than one person near me fidgeting uncomfortably in agreement.

The director, Michael Attenborough, has been on a career-best roll of late between last year's beautiful When the Rain Stops Falling and his recent Measure For Measure at this address, which is one of the finest Shakespeare stagings in recent years. But as staged on a Tom Scutt set of enveloping greyness, this text proves all too unyielding, once one gets beyond the opportunities allowed a barefoot Wilson, inheriting the scorching Harriet Andersson's screen role, to go all breathy and wild-eyed on the audience. The danger, of course, lies with an approach so busy italicising every pained state of mind that it doesn't allow playgoers anything to discover for themselves. At the end, an ambulance arrives at the play's island locale: sometimes, truly, there's God so quickly.
Explore topics
Share this article