Theatre: The Best of 2012 |

reviews, news & interviews
Theatre: The Best of 2012
Theatre: The Best of 2012
Sondheim and the Bard shone on London stages but so did many a new play, too
Thursday, 27 December 2012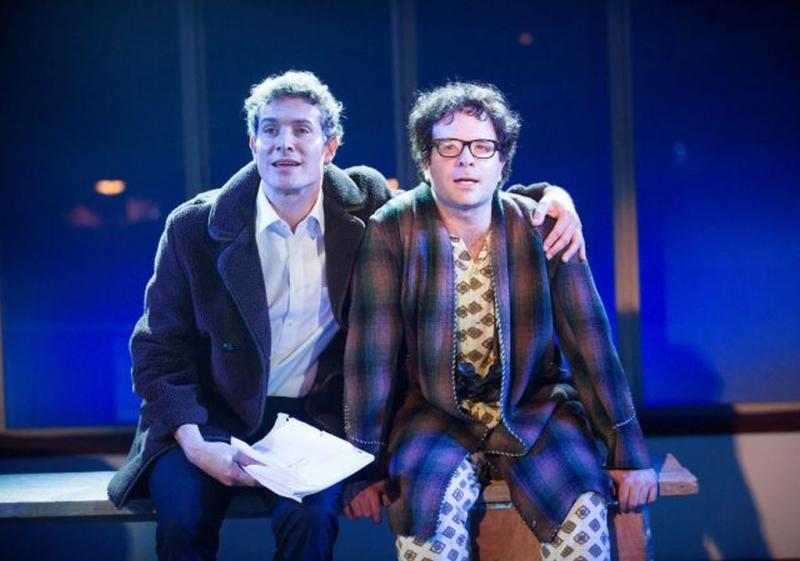 Who's like us? Damn few: the brilliant pairing of Mark Umbers and Damian Humbley in 'Merrily We Roll Along' at the Menier Chocolate Factory
For much of 2012, London theatre seemed to celebrate the playhouse as much as the play, turning certain venues into essential destinations. I'm thinking, of course, of Shakespeare's Globe, whose mindblowing Globe to Globe season - its namesake's canon performed in as many languages as there are plays - redefined the concept of marathon well before the Olympic athletes came to town.
Or the Royal Court, which traversed the year in high, heady style, setting established names (Jez Butterworth, Caryl Churchill, Martin Crimp) alongside gifted newcomers (Luke Norris, Hayley Squires) and fast-rising literary stars (
Constellations
author Nick Payne, who in the autumn also provided a dramatic perch Off Broadway for none other than Jake Gyllenhaal).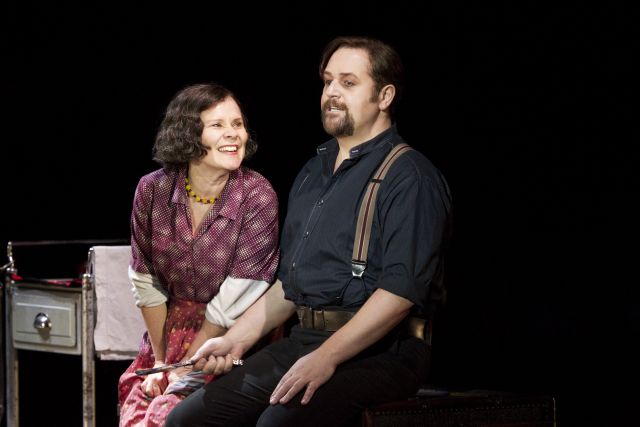 One actor-turned-neophyte-scribe, Stephen Beresford, launched his writing career with a play, The Last of the Haussmans, revealed to be the first in a planned triptych, while a veteran of the same National Theatre auditorium, Alan Bennett, followed up the surprisingly lazy People with two end-of-year one-acts (Hymn and Cocktail Sticks) as sweetly, sometimes poignantly self-revelatory as the full-length work that went before was preposterous, In musical terms, a decidedly duff year was salvaged by two shows from the honorary Brit that is Stephen Sondheim - Sweeney Todd (stars Imelda Staunton and Michael Ball pictured above) and Merrily We Roll Along, an established masterpiece and an eternally tricky problem piece, respectively, served up with equal lashings of wit, invention, and some especially fine vocals from both shows' leads.
The promise of Staunton's return to the West End in autumn, 2013, in the Sondheim/Jule Styne standard-bearer, Gypsy, was enough to make any musical devotee look forward, not back, as are the imminent arrival of two Broadway Tony-winners, Once and The Book of Mormon, to help erase the sour end-of-year taste left by The Bodyguard and Viva Forever!: two stage premieres that seemed to exist for the sole purpose of servicing their curtain calls. As it was, it remained a toss-up as to whether the ludicrous plotting of the first was better or worse than the comparative absence of plot in the second, the Spice Girls jamboree a jukebox entry that seemed to give up on its very narrative in front of our eyes.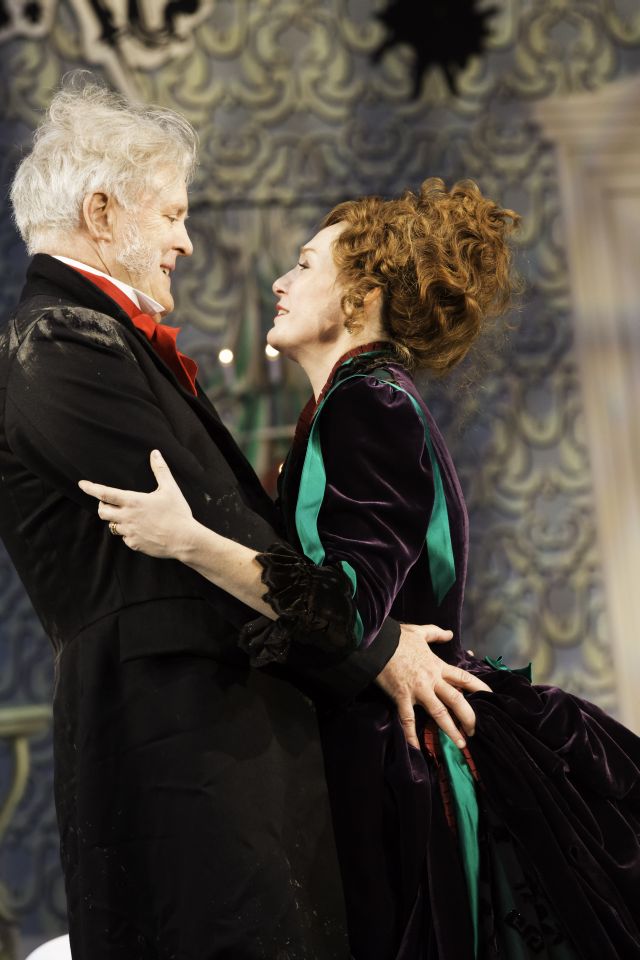 Far more satisfying on the song-and-dance front was the deliberate throwback represented by Singin' in the Rain, which trumped Top Hat in the nostalgia sweepstakes even if the shows did star two sisters, the Strallens Scarlett and Summer, leaving a third sibling, Zizi, to bolster the Merrily We Roll Along ensemble until such time as she, too, grabs her moment in the spotlight. On the Off West End front, Soho Cinders showcased a terrific score (from the Stiles and Drewe team) awaiting a coherent book, and an erstwhile Broadway flop Sweet Smell of Success weirdly and entirely coincidentally pitched up at east London's Arcola at more or less the same time as its onetime Broadway star, John Lithgow (pictured above with Nancy Carroll), was making his National Theatre debut in a rather padded production of Pinero's The Magistrate. That show itself seemed on the verge of becoming a musical, albeit of the faux-G&S kind.
The National survived two genuine turkeys (Travelling Light and the aptly named Damned By Despair, one in each of its larger houses) to field one Cottesloe jewel after another: This House, The Effect, and The Curious Incident of the Dog in the Night-Time, all three poised for broader exposure in 2013. Playing a medical guinea pig whose foray into pharmaceutical testing prompts a reevaluation of the very nature of passion, Billie Piper (pictured below right, with Jonjo O'Neill) gave a breakout stage performance, while Simon Russell Beale's rampaging Timon of Athens, in Nicholas Hytner's modern-day production complete with references to the Occupy movement, homelessness, and more, hinted at the Lear that he and longtime pal Sam Mendes are said to be hatching for this same address in time.
Elsewhere, the sheer diversity of London's theatre left one breathless, even when different stagings bore the same titles (or as good as). There was a world of difference between Scott Shepherd's cunning elision of the boundary between art and life in Gatz and the perverse misreading of the Fitzgerald novel that spawned the King's Head musical of The Great Gatsby which followed Shepherd and co's epic transfer from New York. And many a Shakespeare play seemed newly minted, not just via the global parade of languages, and performance styles, on view at festival director Tom Bird's seismic Globe to Globe season but in a theatre capital where one can find Twelfth Night performed in four contrasting styles by four entirely divergent ensembles, as was the case across the year. Away from the Bard, Uncle Vanya was nearly as ubiquitous, even if the smallest-scale production - Lucy Bailey's exquisitely forensic treatment for west London's Print Room - was, to my mind, the best.
It was as if the theatre community, in its sheer passion and superabundance and notwithstanding the more-than-occasional misfire, was determined to bear out a defining lyric from Merrily We Roll Along: "Here's to us! Who's like us? Damn few."
And just because they're fun, following in alphabetical order is a (highly subjective) list of the year's 10 best. And five worst.
Best:
Brimstone and Treacle / Arcola
Cornelius / Finborough
A Doll's House / Young Vic
The Effect / National Theatre, Cottesloe
In the Republic of Happiness / Royal Court
Julius Caesar / Donmar
Merrily We Roll Along / Menier Chocolate Factory
The River / Royal Court
Sweeney Todd / Adelphi
The Taming of the Shrew / Shakespeare's Globe
Worst:
All New People / Duke of York's
Damned by Despair / National Theatre, Olivier
The Great Gatsby / King's Head
Old Money / Hampstead
Viva Forever! / Piccadilly
The sheer diversity of London's theatre left one breathless
Explore topics
Share this article