Tanika Gupta on Adapting Great Expectations |

reviews, news & interviews
Tanika Gupta on Adapting Great Expectations
Tanika Gupta on Adapting Great Expectations
The playwright explains why she's given the Dickens classic an Asian makeover
Wednesday, 16 February 2011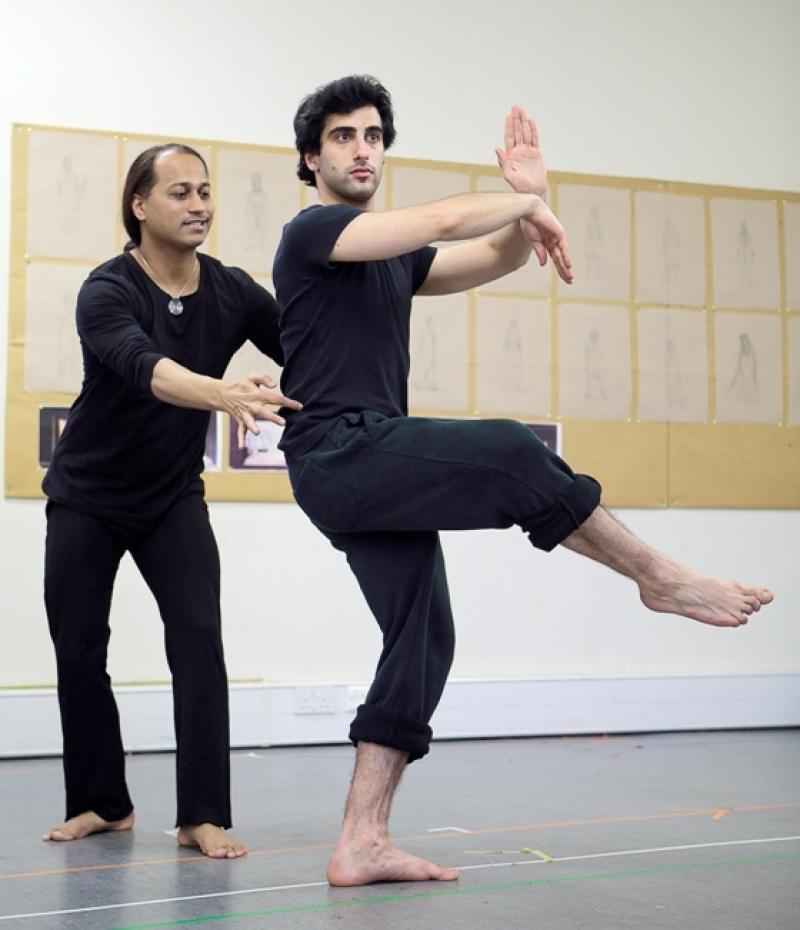 What the Dickens?: Tariq Jordan as Pip is rehearsed in 'Great Expectations'
A few years ago my brother and I were stuck in a traffic jam somewhere in London and a Rolls Royce drew up next to us with an elderly Asian gentleman at the wheel. He turned to us both and smiled sweetly before gliding on. For a blink of an eye, the driver morphed into our dad who died 20 years ago.
My brother and I turned to each other and both said out loud, "
Great Expectations
." It was our father's dream to come to London and end up with a Rolls Royce and both myself and my brother mentally saluted the Asian gentleman's smug realisation of our father's ambition.
Of all the Dickens novels I read as a youth, Great Expectations was always a favourite. The novel felt very Indian to me. Even the names sound vaguely Indian: Pumblechook, Gargery, Magwitch (say them with an Indian accent and you'll see what I mean). This was a story I could absolutely relate to because of the eccentric characters, the intricate storylines and the aspiration of the main character, Pip, to rise above his class and status and be educated. It was what my 24-year-old father aspired to when he got on a ship in Bombay in 1961 and sailed to England with the obligatory £1 note in his pocket.
It's the rags-to-riches storyline which appealed to me - being plucked out of the village and educated to be a gentleman, only to find your benefactor is a scary convict you once helped out as a terrified child in a graveyard. Then of course there's the crazy Miss Havisham who refuses to "get over it", who stops the clocks, blocks out the light and locks herself up in a darkened house with a rotting corpse of a bridal cake. I'd seen stranger things in Calcutta when I went back to visit as a child: Bengali widower intellectuals locked in libraries full of yellowing books; elderly English civil servants still living in ghostly Raj-like settings bemoaning the fall of the Empire; child servants of middle-class Indians adopted, educated and sent to private schools; even Estella-like cold-hearted women born and bred to discard their emotions and to marry well.
The opening sequence of David Lean's 1946 film version
The great thing about adapting such a wonderful novel for the stage is that the plot and characters are already in place and, as a playwright, one is simply injecting one's own ideas. I set it in the India of 1861 because I didn't just want to retell the recent "immigrant story". It also meant that I could use Dickens's language without having to worry about modernising it. But I didn't want to do a straightforward "Asian" adaptation and have lots of Indians running around with Peter Sellers-esque Indian accents. So Magwitch is now a black convict from Cape Colony. He is not a slave (as slavery was abolished by the British by 1861) but an African sailor with a criminal background. His story, as in the original, is one born of poverty and degradation. In this version, his anger at the white man's treatment of the black man lends an added fury. He is determined to make Pip into "an English gentleman" who will be able to hold his head high. Miss Havisham, the lawyer Jaggers and Herbert Pocket all represent the different English facets of the Raj whilst Joe Gargery (now a cobbler), Pip and Biddy are Indian villagers.
I was fascinated by the way the colonial British authorities in India educated Indians of "good families" in a very English way, encouraging them to embrace English values and morals. It wasn't an accident that Jawaharlal Nehru (the first Prime Minister of India) and Mohammed Ali Jinnah (the first Governor General of Pakistan) qualified as barristers in London and then went back to India to fight for their country's independence. So in this adaptation, Pip's aspiration to be educated and to become an English gentleman awakens his sense of Indian pride. Ultimately, his dissatisfaction at the way he is treated by the English leads him to question their wisdom. While Pip loses a lot at the end of the play (Estella, Magwitch and his inheritance), he gains a life-long friend in the quintessentially English Herbert Pocket. It is this friendship across the races which gives hope and which propels us forward into the present day.
I set it in the India of 1861 because I didn't just want to retell the recent "immigrant story"
Explore topics
Share this article