The SpongeBob Musical, QEH review - musical based on popular kids' animation sinks for lack of focus |

reviews, news & interviews
The SpongeBob Musical, QEH review - musical based on popular kids' animation sinks for lack of focus
The SpongeBob Musical, QEH review - musical based on popular kids' animation sinks for lack of focus
Fine performances cannot save a pedestrian book that soaks up over two hours with 20 minutes of plot
A sponge for all seasons - Lewis Cornay in 'The SpongeBob Musical'
There are many things that you are not told about being a parent, a vast landscape of details that batter you with unwelcome difference from that comfortable life of Friday night prosecco and pizza. One is a whole new palette of garish colours barging into your eyeline – fluorescent yellow, eye-bleeding orange, vomity green.
As quickly as you learn about this hitherto unknown spectrum that even van Gogh might think a little too much, you forget, the brain too addled by fatigue to retain any information from those shocking sleepless years. Until you go to see The SpongeBob Musical – then they're back all right.
Towards the end of the last decade, the show soaked up plenty of awards in its Broadway iteration and now it has arrived at the London port of its tour of the UK. Based, as even the least parenty of people will surely know, on the Nickelodeon smash hit animated series that has also spawned three films (the first of which was excellent). Our eponymous hero is the sponge that lives in the undersea town of Bikini Bottom (there are a few such double entendres, but nothing beyond what you'll hear Kenny and Sid relaying in a Bank Holiday lunchtime showing of a Carry On on BBC1) but his relentlessly positive outlook on life has been threatened by a volcano about to do to his home what Vesuvius did to Pompeii. All the much-loved characters swing into action, each with their own motivation to gain money or competitive advantage (Bikini Bottom is a hypercapitalist world) or show off and bickering and botching ensue.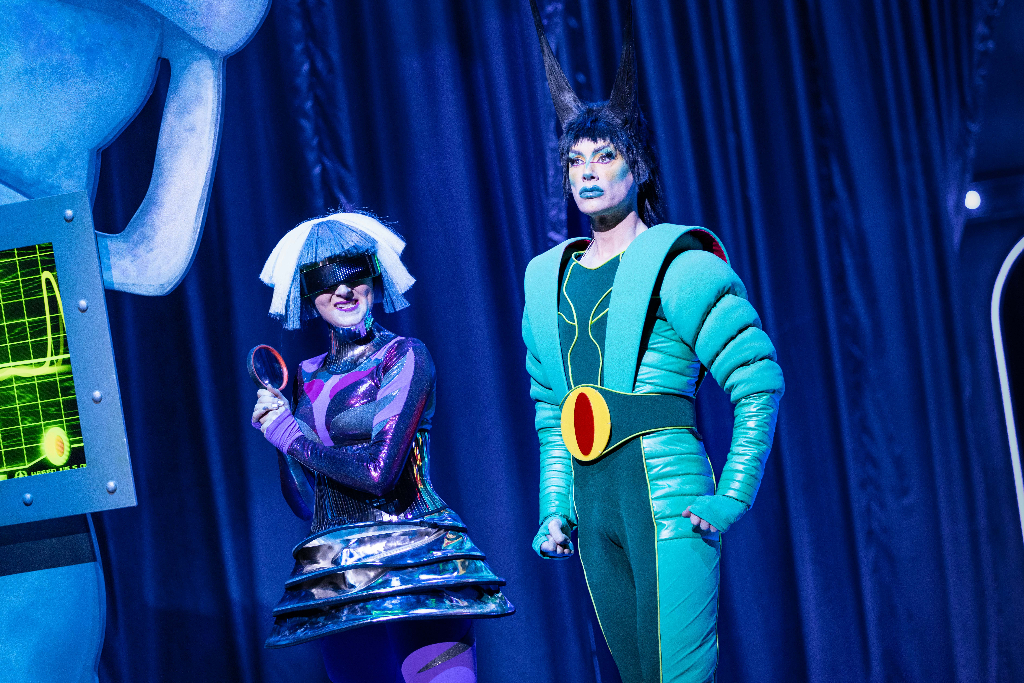 Not helped by each act being framed by a pirate breaking the fourth wall (though he's useful in allowing latecoming kids to find their seats without missing the main action), a pantomime vibe that would never have raised its head in the USA, pervades the show. The absence of that genre's tropes (no call and response, no villain skulking on from stage right to a chorus of boos, no Dame) sets a British audience off-kilter and we never really right the ship again.
That lack of a genre's essential anchoring is exacerbated by the curious decision to hand the score over to a roster of big name songwriters such as Cyndi Lauper, John Legend, They Flaming Lips and plenty more, which does guarantee some banging tunes. "No Control" by David Bowie and Brian Eno is a not unexpected standout and the second act anthem to geekish values "I'm Not A Loser" will resonate beyond fans of They Might Be Giants. There's no getting away from it though – tone, so critical to the magic of musical theatre, is as choppy as a stormy sea, the sense that we're listening to an imaginative and well played playlist, reinforced every time the band strikes up. The action happens in one place in your mind; the music in another.
If Steve Howell's set is a little lost in the cavernous Queen Elizabeth II Hall with the bubbles fired into the stalls never reaching port, the performances dial everything up to 11 to compensate. Lewis Conroy is our bright-eyed hero and, if he doesn't quite pull off the trick of being simultaneously an adult and a child (Ardal O'Hanlon's Father Dougal from Father Ted is still the benchmark), he is a stable enough centre for the whirlpool of crazies to swirl about him. He's also the centre of a wonderful piece of theatrical magic with yellow sponges illuminated on a dark stage, a highlight and rare example of the venue favouring the design.
TV's Tom Read-Wilson has a lot of fun with the multi-legged Squidward Q Tentacles who longs to make it as a hoofer in musicals and Drag Queen, Divina De Campo (pictured above with Hannah Lowther), steals every scene as the scheming Sheldon J Plankton, singing with real venom in her voice. Sarah Freer builds a strong rapport with the tweeny girls in the audience, pouting in defiance of her avaricious father, but we really needed to hear more of her wonderful singing. Richard Arnold is in tremendous form on the monitors, the news anchor bringing bulletins of death and destruction to come with a smarm that would survive a nuclear winter.
As is wearisomely familiar to readers of musical theatre reviews, now is the time to complain about the show's book. Kyle Jarrow has a perfectly good, if hardly original, story to tell were it a 22-minute episode streaming on a platform near you. But stretched to a yawning 140 minutes, the repetition and diversions required to keep the narrative afloat sap one's patience, particularly as the inevitable ending has been drifting towards us from the moment the impending cataclysm was announced. After all, you haven't paid up to £99 to see Spongebob soaked in lava have you?
It would be easy to dismiss such adult concerns about a show with kids first and grown-ups second as its target market, but, at the matinee I attended, a boy's unbroken voice interrupted the second act opener's audience interaction spot with a shrill "Get on with it". Not for the first time, a child spoke for us all.
Drag Queen, Divina De Campo, steals every scene as the scheming Sheldon J Plankton, singing with real venom in her voice
rating
Explore topics
Share this article