The Spoils, Trafalgar Studios |

reviews, news & interviews
The Spoils, Trafalgar Studios
The Spoils, Trafalgar Studios
Cringe. Jesse Eisenberg writes himself another narcissistic misfit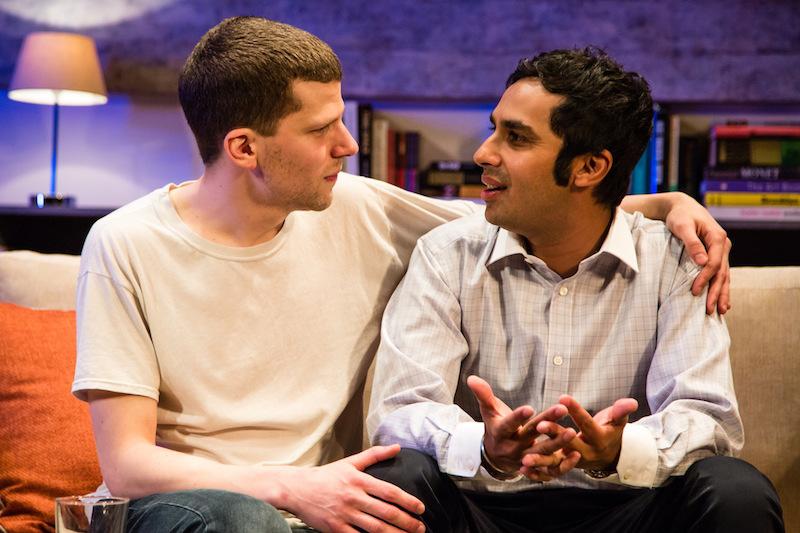 With friends like these: Jesse Eisenberg's belittling Ben and flatmate Kalyan (Kunal Nayyar)
"The most interesting characters are initially difficult to like," proclaims Jesse Eisenberg's would-be filmmaker protagonist, in case his cringe comedy's mission statement was otherwise unclear. Ben is an outlandish collage of unlikeable qualities: abusive, misanthropic, arrogant, vicious, self-loathing, needy, and a poor little rich kid.
Eisenberg does everything possible to alienate in an indulgent two and a half hours, short of throttling a puppy, before asking if we can still love him.
Perhaps the more intriguing question – and one Eisenberg's therapist has surely raised – is why the actor and writer not only plays narcissistic assholes in Hollywood movies like The Social Network, but also insists on creating them for himself. This is apparently his third theatrical enterprise designed to test audience sympathies, and even London viewers with limited exposure may find it wearying. Eisenberg does use his unfiltered character to attack Western entitlement and self-absorption, often to amusing effect, but it's an awfully blunt instrument. (Eisenberg and the cast pictured below)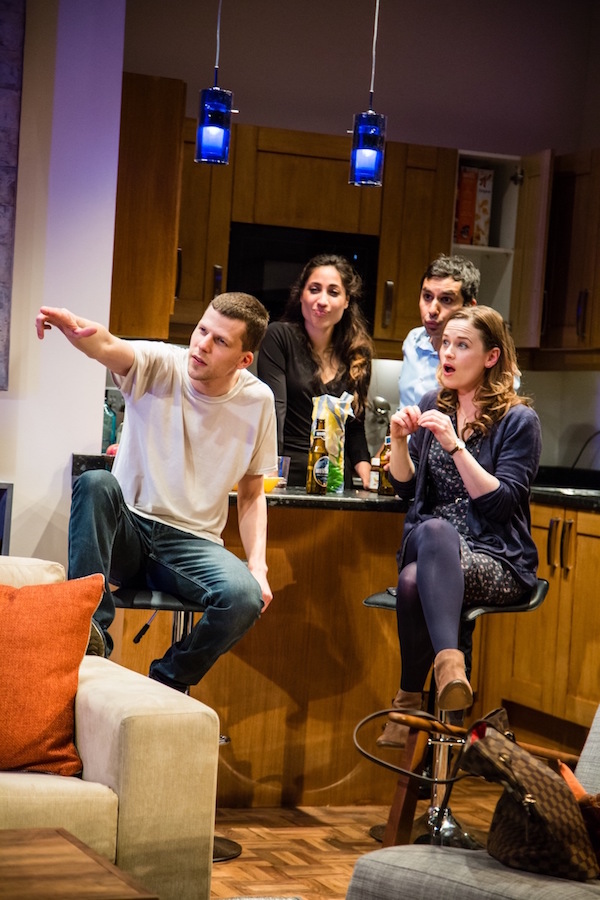 Ben is a weed-smoking, idle twentysomething, directionless after being kicked out of film school and living in a swish Manhattan apartment purchased by his father. Flatmate Kalyan (Kunal Nayyar of The Big Bang Theory), in contrast, is a sweet, industrious Nepalese business student. Theirs is a co-dependent relationship, with Kalyan enduring Ben's ethnic jibes, condescension and proprietorial attitude in exchange for rent-free quarters and crumbs of encouragement. Ben even appropriates Kalyan's film idea when he wants to impress childhood crush Sarah (Katie Brayben), now engaged to unimaginative banker Ted (Alfie Allen).
That Ben hasn't progressed beyond a prepubescent infatuation is indicative of his arrested development. His warped affection manifests in a scatological erotic dream, graphically described, and pathetically manipulative attempt to win Sarah's affection – "niceness" shading into aggressively unwanted attention. But his behaviour is so extreme that it becomes increasingly unbelievable any of these people would put up with him. At least Kalyan's Indian-American girlfriend Reshma (Annapurna Sriram) has the good sense to loathe him.
The British actors are excellent additions to Scott Elliott's fluid if protracted US production. Brayben brings compassion and authority to Sarah, at one point employing her stern "teacher" voice, while Alfie Allen – joining fellow Game of Thrones escapees Richard Madden and Kit Harington in the West End – is a delight as the happily oblivious Ted (pictured below with Eisenberg). Nayyar's accommodating Kalyan, who has a passion for cheesy PowerPoint presentations, is suitably endearing, and Sriram nails Reshma's self-congratulatory smugness and Valley Girl rising intonation. ("Is that a question?" asks Ben when she drawls that she's "in med school?")
But Eisenberg's is the showy role, the one composed of a million tics, fits and snarky rejoinders. Ben, though scathing of others' phony behaviour, is only capable of staging a documentary sequence rather than capturing something real, and it's hard not to apply the same criticism. He's not so much a lost soul as a walking think-piece on toxic millennial privilege, who doesn't achieve redemption, but has it dubiously thrust upon him.
Eisenberg has a good ear for dialogue and creates some effective set-pieces: a disastrous dinner party, a failed seduction, and a silly in-joke riffing off I Can't Believe It's Not Butter. Derek McLane's sleek apartment set gives it a 21st-century Friends feel, and Eisenberg's piece fits the current TV trend of demanding misfits. But the antisocial network's endless self-analysis makes for a flat theatre experience, dictating a response rather than trusting the audience to reach their own conclusions.
He's not so much a lost soul as a walking think-piece on toxic millennial privilege
rating
Share this article