South Downs/The Browning Version, Harold Pinter Theatre |

reviews, news & interviews
South Downs/The Browning Version, Harold Pinter Theatre
South Downs/The Browning Version, Harold Pinter Theatre
Engrossing Rattigan and Hare double-bill makes a triumphant West End transfer
Anna Chancellor plays a blinder as Belinda Duffield in 'South Downs'
It's amazing what working on a masterpiece can do. Commissioned to write a companion piece to Terence Rattigan's magnificent one-act drama The Browning Version, David Hare has abandoned his journalistic tendencies and written a gently oblique play of controlled emotional eloquence.
Beautifully directed by Jeremy Herrin and Angus Jackson, the engrossing pairing is a marvel of quiet restraint brimming with fear, love, pain and the whole damn thing.
"From the very beginning I realised that I didn't possess the knack of making myself liked." As desiccated classics teacher Andrew Crocker-Harris, Nicholas Farrell shuns self-pity and delivers Rattigan's unobtrusive but crucial line as simple, unadorned fact. That not only allows audiences to feel the pain coursing beneath the surface restraint of The Browning Version, it also speaks to the governing idea of Hare's South Downs which opens the double-bill.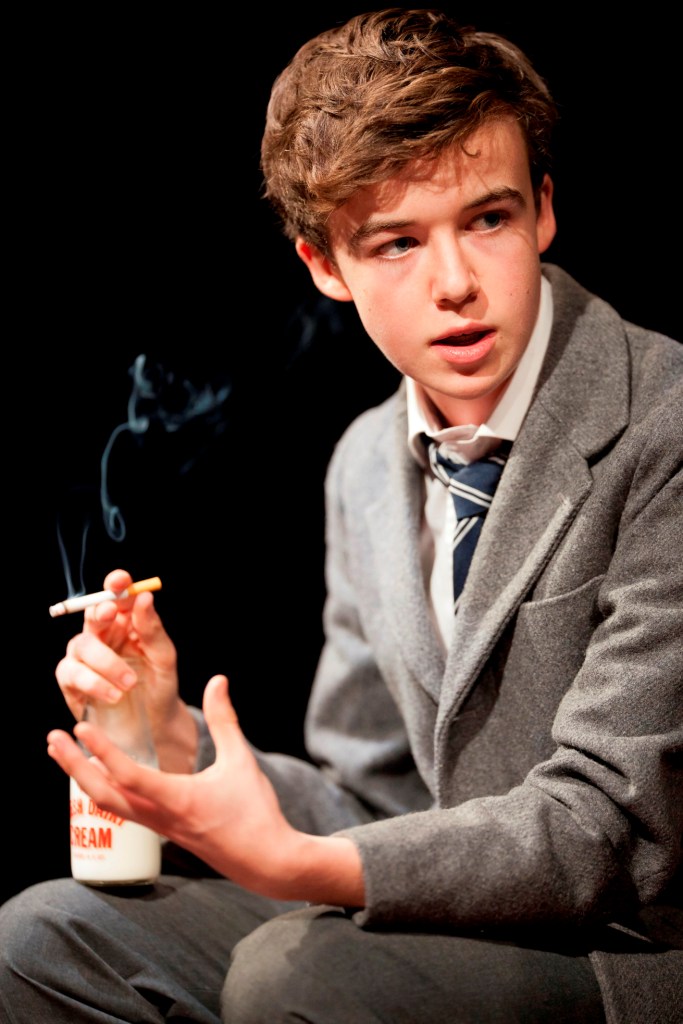 Feelings felt but only unwillingly spoken are at the considerable heart of both plays. In South Downs we're at a public school in 1962 not unlike Lancing College where Hare was a pupil. In an arrestingly composed debut, Alex Lawther (pictured right) is an isolated, precocious 14-year-old Blakemore. Echoingly caught in the sad ache of Bruno Poet's cold light on Tom Scutt's spare stage, Lawther lends him a studied air, a held sense of false composure. It's the armour his character wears because he's lost among the disdainful upper-class boys and is too bright, too questioning for the comfort of others. Bewildered by the hierarchical world, he hasn't learned the rules, much less how to play against them to his advantage.
Moving calmly through 12 scenes of school life, Hare's play is stronger on situation than on a developing plot. His ongoing fascination with England, the Establishment and the historical moment continues unabated. but this time it's tethered to an emotional dynamic, that of Blakemore's fear and loneliness.
Although Herrin ruthlessly observes the unsentimental nature of Hare's writing, he grounds the ideas in tenderness while resisting the temptation to overstate the institutional horrors that frighten Blakemore. Instead, he and composer Paul Englishby cloak the boys with nostalgia between the scenes via the unison singing of school hymns and coolly reverberant piano music.
Blakemore's salvation comes in the unlikely form of the mother of a universally admired prefect. In a scene of delicious comedy, Anna Chancellor - one part upswept glamour, one part self-mocking - plays a blinder as Belinda, the actress mother. Her generous words to friendless Blakemore reiterate the need for lying as self-defence which is a perennial Hare theme but expressed here without the sententiousness of some of his work. Her suggestion that Blakemore should act in order to make himself more accepted breaks through the carapace he earlier described: "I don't like me either. But it's the character I've been given, and I can't do anything about it."
Her act of kindness mirrors that of the pupil Taplow (Liam Morton, pictured above left) in The Browning Version whose leaving gift to his departing, normally stoic teacher detonates huge emotional consequences. This being Rattigan, however, this is barely glimpsed before being stifled, a use of restraint that floors the audience. We're glued to the subtext in a way that's far more powerful than merely pitying or admiring a torrid outpouring of emotion.
That scene is the pivot of both the play and Angus Jackson's fine production. At Chichester, where it premiered, some of its wrench and superbly placed comedy leaked away on the open stage. Having been written for the controlled focus of the proscenium arch, it's no surprise to find this perfectly crafted drama now works even better in a West End theatre.
Chancellor brings a completely different rhythm to Millie, Crocker-Harris's wife whose winning manner disguises a casual, wounding cruelty. But Chancellor allows tiny glimpses of the desperation that drives her: she's upsettingly trapped. Frank, a terrific, easeful Mark Umbers, is her only hope for survival but in this astonishingly well-plotted drama - young playwrights take note - nothing turns out the way anyone has planned.
Charting the passions hidden beneath everyday lives, Rattigan's writing and tone echo Noël Coward/David Lean's Brief Encounter - and you won't get higher praise from me. Together with Herrin's shimmering production of Hare's more impressionistic piece, this riveting, dovetailed double-bill offers profound emotional rewards while barely raising its voice.
This riveting, dovetailed double-bill offers profound emotional rewards while barely raising its voice
rating
Share this article