The Red Barn, National Theatre |

reviews, news & interviews
The Red Barn, National Theatre
The Red Barn, National Theatre
David Hare's latest is a superb adaptation of a Simenon thriller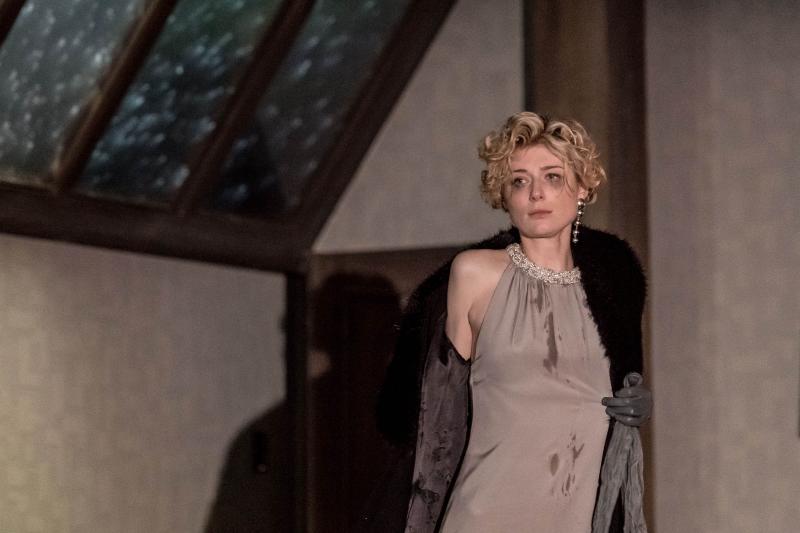 Seeing and believing: Elizabeth Debicki in 'The Red Barn'
At first, I was a bit confused by the play's title. After all, David Hare gave his 1998 adaptation of Arthur Schnitzler's La Ronde the moniker of The Blue Room, which coincidentally is the same title as Mathieu Amalric's very recent adaptation of a thriller by Georges Simenon.
Now Hare has taken another Simenon thriller,
La Main
, and called it
The Red Barn
, which immediately suggests the murder of Maria Marten in 1827.
But Hare and Simenon's barn is not in Suffolk; it's in Connecticut and the year is 1969. Hope that's clear. Even if not, a brilliant cast headed by Mark Strong and Elizabeth Debicki, seen in The Night Manager, means that this 110-minute thriller has the power to surprise at every turn.
We are lost in a story that is as dense
as any snow-storm
Initially, everything seems simple: two professional couples – glamorous Ray and Mona Sanders and the more prosaic Donald and Ingrid Dodd – attend a nice upper-middle-class party. As the January weather turns stormy they decide to go home, but their car gets bogged down in a violent snow storm. They battle against the whiteout on foot, but only Donald, Ingrid and Mona reach safety. Ray has been lost. So the first question is: where is he? Is he dead or alive? Has he been murdered, accidentally killed or committed suicide? And can the local police lieutenant, Olsen, solve the mystery?
Then it becomes apparent, in typical Simenon fashion, that we are lost in a story as dense as any snow-storm, and that what will most surprise us is that the victim is quite other than we originally thought. On the way, we will have enough time to examine the blackness of the human heart, and ponder how near each of us might come to committing murder. There's a chilly amoral atmosphere that hangs around this story, which is as much about the way we seem to be actors on the stage of life as it is about jealousy and dissatisfaction.
As the situation develops, The Red Barn becomes a study of the triangular relationship between lawyer Donald, his wife Ingrid and Ray's wife Mona. Fortysomething Donald and Ray have been best friends since college so this is an account of male friendship which considers how men compete through their possession (there is no other word) of the women around them. At the same time, this is a play about self-knowledge and how we form our ideas about our lives, and about our spouses. Yes, it is a bit uncomfortable. It also contrasts the sense of community in rural Lakeville, Connecticut, with the alienation of urban East River, New York, but never uncritically, and it plays delicious games with the metaphor of sight: how much do we see? Of ourselves? Of others? And, of course, looking is never the same as observing.
Aptly enough, Robert Icke's superbly compelling production begins with a giant eye and has a cinematic sense of constant movement, with fade ins and fade outs, which suits Hare's script. On Bunny Christie's lovely, elegant sets, and helped by Paule Constable's lighting and Tom Gibbons's soundscape, the three main actors (pictured above) perform an elaborate game of chess: Strong's Donald at first timid behind his glasses then almost hoarse with emotion, while Debicki's light and flighty Mona contrasts well with Hope Davis's calm and protective Ingrid. With each scene telling us something new, there's a real sense of revelation as the evening progresses, so it seems ungenerous to carp that most of the dialogue is too clear, and too lacking in subtext. Better to sit back and enjoy the ride – right into Simenon's dark nights of desire.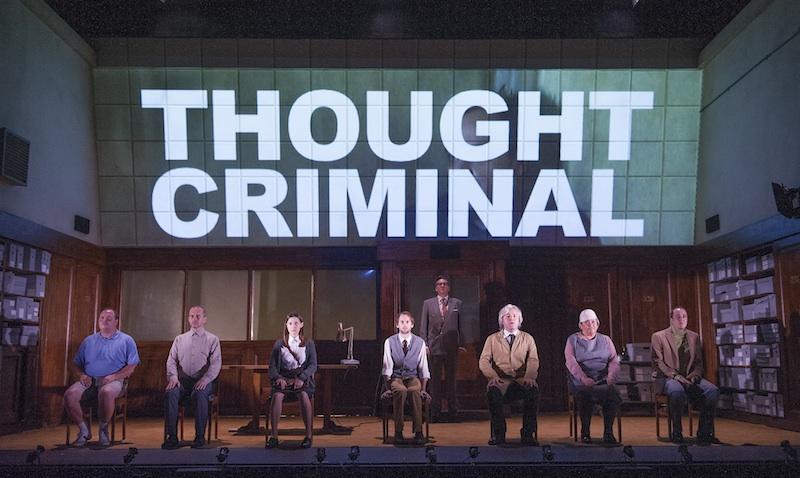 ROBERT ICKE: HIS CAREER SO FAR
Boys. Ella Hickson's new play is fuelled by testosterone but floats on nuance
Mr Burns. A startling vision of a post-apocalyptic world dominated by The Simpsons
1984 (pictured by Tristram Kenton) Headlong's adaptation of George Orwell's novel is a theatrical coup
Oresteia. Lia Williams stands firm on the bones of Aeschylus in uncertain makeover
Uncle Vanya. Robert Icke's lengthy revival/reappraisal is largely a knockout
Mary Stuart. Juliet Stevenson and Lia Williams electrify as four Schiller queens
Hamlet Predictably unpredictable performance from Andrew Scott subject to Icke's slow-burn clarity
Save
Robert Icke's superbly compelling production begins with a giant eye and has a cinematic sense of constant movement
rating
Explore topics
Share this article