Ryoji Ikeda: superposition, Barbican Theatre |

reviews, news & interviews
Ryoji Ikeda: superposition, Barbican Theatre
Ryoji Ikeda: superposition, Barbican Theatre
Japanese installation artist's onslaught of data stuns
Superposition, Ryoji Ikeda's quantum theory installation for music and graphics
It's not often that a performance's technological properties leaves you simply slack-jawed. Robert Wilson's very long Swedish-language version of Strindberg's A Dream Play did – at the same venue, though this time in 2001 – when the surtitle machines broke down (the audience gave an audible gasp of horror and then settled to its collective fate), but that was for altogether different reasons.
Compared to what Ryoji Ikeda and his team are capable of, even the beautiful crispness of Kraftwerk's stage shows fade into the realm of the bland.
In superposition, the Japanese installation artist – now based in Paris – has created a sound and music event that is simultaneously extraordinarily, mesmerically beautiful and also so radically disorientating that afterwards you feel as if the world has tilted to one side. Originally commissioned by the Festival d'Automne à Paris and premiered at the Pompidou Centre in November 2012, the 73-minute superposition is inspired, and perhaps generated, by mathematical quantum theory.
As the velocity of image and sound combine, the human presence becomes an indicator of scale
Three rows of video screens – a huge stage-width rectangular one at the top, with two rows of 10 smaller screen below – show images at breakneck speed. Some look like molecular diagrams, revolving around invisible poles; others look like shards of firing synapses or exploding super novae drawn out by computer-aided design; but most of all, superposition – as so much of Ikeda's work – is about data – data as a remorseless onslaught on human senses, a continual flow of digital information.
As streams of number and letters cascade across the screens, it sometimes feels as if there are messages trying to escape the machines. Because the text streams allow no gaps between words, phrases appear like this – FINDTHEFLUXIONS; INFORMATIONISNOTKNOWLEDGE; EVERYTHINGISWRITTEN. Ikeda sends so much information and so quickly that one (probably not inadvertent) effect is that languages begin to meld into one another: Latin is there, probably French too. Some words generated – MARLY; METAGASTRIC – look plausible; others – HAAGGISH: FUMISH – less so.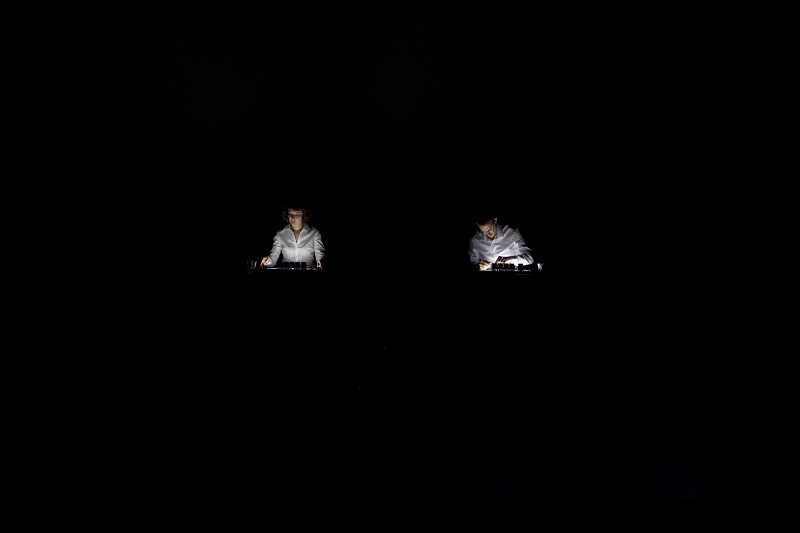 The incredible slickness of Yoshito Onishi's visual programming and graphics stand in contrast to the gravelly scratchiness of Ikeda's all-electronic score. But here too, there is much to marvel at: superposition starts with a very low-frequency mechanical growling that slowly becomes audible. Such is the disquiet it produces, it's possible that infrasonic wave-lengths are used – and that should give a pretty uncoded message of where Ikeda places humans within technology. In fact Ikeda underlines the point here, as superposition is his first installation to have performers on stage.
A long table on stage accommodates Stéphane Garin and Amélie Grould (pictured above © Karl Fidelis Fuchs) who, at either end, use Morse keys to send messages up to the screens' later they hit tuning forks and allow the sound waves to be describe above them on screen. As the velocity of image and sound combine, the human presence becomes an indicator of scale. One stunning sequence sees the screens explode into a myriad of flashing colour images – MRI scans, CAT scans and much more besides – while the two performers are, depending on your point of view, either anchored against, or swept away by the tidal wave of information.
superposition at the Barbican Theatre today at 8pm