The Rime of the Ancient Mariner, Old Vic Tunnels |

reviews, news & interviews
The Rime of the Ancient Mariner, Old Vic Tunnels
The Rime of the Ancient Mariner, Old Vic Tunnels
Fiona Shaw becomes a modern balladeer in Coleridge's gripping nautical poem
Wednesday, 09 January 2013
'More horrible than that is the curse in a dead man's eye': Fiona Shaw and Daniel Hay-Gordon
Here's an elegant thing to do before eight o'clock dinner - stroll out for an hour's recital of a rollicking story-poem done by a leading actress in a hip underground venue with judiciously hip application of modern dance, then go off and diss it over your sushi. Very London life.
And if the pleasure potential offered by Fiona Shaw and Phyllida Lloyd in recounting Samuel Taylor Coleridge's splendid 1798 horror yarn The Rime of the Ancient Mariner is any yardstick, there ought to be a future for a periodic series restoring dramatic poetry to the public at the cocktail hour.
Shaw herself ushers the little audience into the graffiti-bedecked tunnels under Waterloo station as ebulliently as a bride's mother at a wedding, even though she's merely dressed in black trews and shirt. It's a neat device to introduce the poem which tells how a guest arriving at a family wedding is stopped outside by a wizened old mariner who forces him to listen to his ghastly tale of a sea journey cursed by his callous act in shooting an albatross.
She seems to wink at us: maybe the mariner is a conman
Coleridge, who also wrote the probably better-known Kubla Khan, was a magician who could spin the richest silks from simple words and an almost childlike rhythmic tread that lives in the speaking of it aloud. He takes us, along with the detained guest, on an apocalyptic voyage: a ship first trapped in arctic ice, then becalmed in a diabolical heat, where - unforgettably - "water, water everywhere, nor any drop to drink". The mariner, who caused this catastrophe by shooting the sailors' guardian bird, the albatross, pays for it by watching his 200 companions die while he is doomed, by a game of dice between Death and Life-in-Death, to become Undead.
The celebrated 1876 illustrations of Gustave Doré (see picture) have hallowed the poem in romantic spiritualism, but the vernacular simplicity of the verse can't be disguised, and this seems to be where Shaw and Lloyd headed. Shaw, who can rarely stave irony out of her clever voice, treats the short, iambic lines robustly, almost rustically, more like an observer than the protagonist. She cuts an entertaining androgynous figure, full of Irishness and humour, Technicolor-clear with every phrase and suspenseful pause, but regaling us rather with a shaggy dog story than transmitting nightmare flights of someone losing their mind and staring into Hell before finding moral redemption. She seems to wink at us: maybe the mariner is a conman, and the guest, if he wakes up sadder and wiser in the morn, might keep closer guard on his wallet next time.
This was a creation for last summer's Athens and Epidaurus festival, which possibly contributes to a feeling that the staging is over-egged for the Old Vic Tunnels. This venue has its own atmosphere, with its sickly, dripping arches and trains rumbling overhead, and doesn't need the crepuscular soundscore provided by Mel Mercier (perhaps other venues did).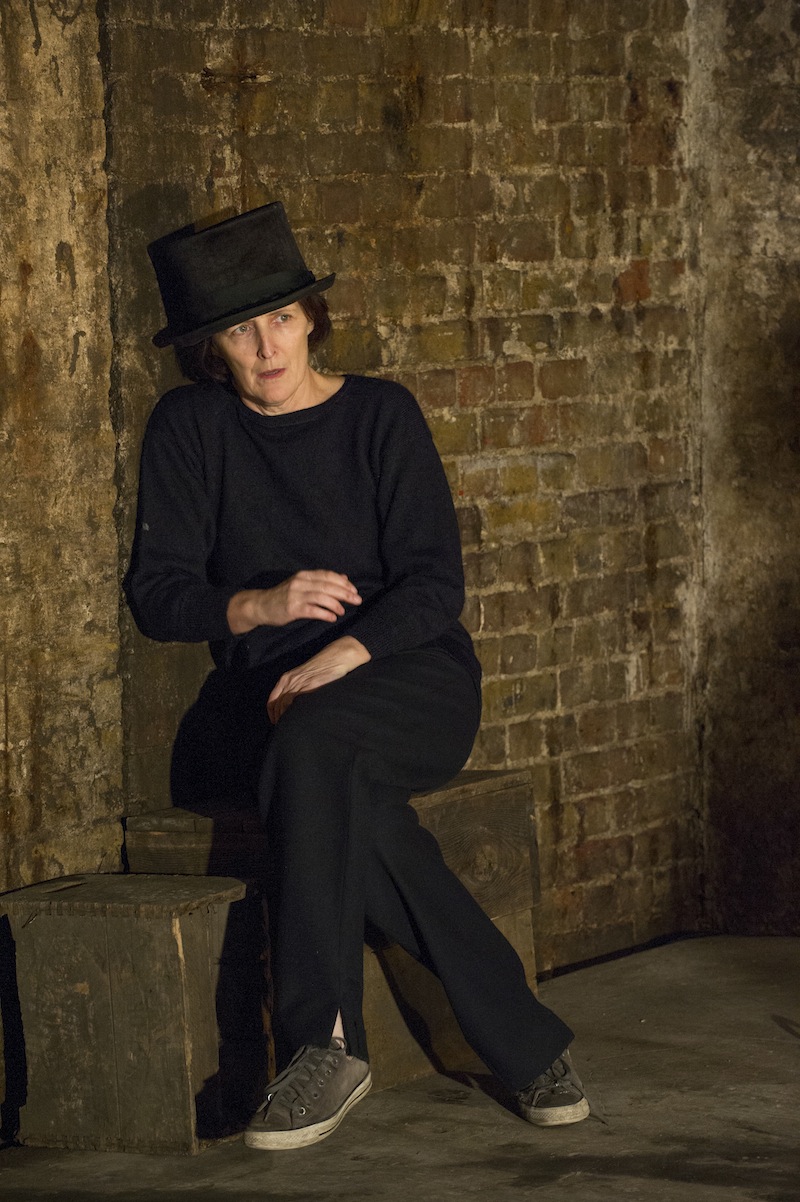 Shaw races about the little space like an eager cabin boy, tugging at ropes, unfurling sailcloth and climbing mizzenmasts - vivid, she is, to the gunwales. She has a lad with her, the dancer Daniel Hay-Gordon, whom she manipulates as if he were her marionette. She poses him as the mariner one moment, frozen in a traditional crone's posture, or enacting the albatross, silhouetted in flight, or the young dying sailors, draped in pietà across her. Credited to the fine choreographer Kim Brandstrup, this Doré-esque picture-making exists almost in another era, in spotlights and shadows (lighting by Jean Kalman and Mike Gunning), a fractured silent movie alongside Shaw's daybright delivery. But again, I wondered if it would have lost much by losing it, and making Shaw carry the whole thing solo, more rawly.
It's well worth reacquaintance with this marvellous yarn, then, which induces a sudden surge of curiosity about what other poetry could be refreshed by modern theatrical balladeers in a thought-provoking slot before dinner. Milton? Goethe? Homer? Still, this particular production could do with less of today's clever brains and a little more of yesterday's superstitious soul.