The Promise, Trafalgar Studios |

reviews, news & interviews
The Promise, Trafalgar Studios
The Promise, Trafalgar Studios
Russian drama fires up after the interval, abetted by its fine cast
Tuesday, 20 November 2012
Three into two won't go - or will it? Joanna Vanderham, Max Bennett, and Gwilym Lee make up the cast of Arbuzov revival
An expert cast delivers on their promise in Aleksei Arbuzov's triangular Russian drama from 1965 of the same name, which offers up war and peace and the shifting tides of love. There's so much of the last, in fact, that Alex Sims's production at times plays out like Design For Living set against a soundscape of shelling and the occasional nod to Hitler and Stalin.
Spanning more than 17 years in the lives of two men and a woman who survive the ravages of war only to face the separate ambush that comes with passion, the play transcends its soupier soap operatics thanks chiefly to the individual and collective talents of the trio on view before us.
At first, truth to tell, I wasn't sure whether the material might not sink its cunningly assembled cast, which includes a fast-rising TV star in Joanna Vanderham (The Paradise), here marking her professional stage debut, and two young but comparatively seasoned theatre names in Max Bennett (pictured below right with Vanderham) and Gwilym Lee. Both actors have done stints at the Donmar, the producing entity behind this third and final Trafalgar Studios season programmed to showcase the work of erstwhile Donmar resident directors who have here been given a spotlight all their own. But just when it looks as if an abiding shrillness and artificiality may well bring proceedings down, a post-interval rise in emotional temperature sends the pulse racing; the second half is very strong, indeed.
Up until the half, one can grasp how it is that a 1967 Broadway staging of this play, its cast including no less a line-up than Ian McKellen, Eileen Atkins, and Ian McShane, lasted 23 performances, and why Nicolas Kent's 2002 Tricycle Theatre revival got sniffy reviews. (I missed that one.) Set during the siege of Leningrad in 1942, the play's first act is given over to talk of corpse-strewn streets and fallen soldiers next to which the antics of the three teenagers on view before us seem trivial or cutesy or both. While one of course accepts the notion that love is sewn - in fact can often flourish - amidst devastation, the unfolding dynamics pay startlingly short shrift to the grievous losses sustained by the characters, as if the loss of a sibling or a parent were a minor inconvenience on the way to an amorous fumble.
The narrative, and Penelope Skinner's new English-language version of Ariadne Nicolaeff's pre-existing translation, is on far surer footing once electricity enters the equation in more ways than one. The years pass, Mike Britton's set gets a makeover allowing for not one but two rather remarkable bedspreads, and the roundelay of affections reasserts itself in ever-shifting ways, Vanderham's budding medic, Lika, the inevitable erotic pivot amid a milieu in which the poet Leonidik (Lee) and bridge-builder Marat (Bennett) are given the occasional bromance moment to call their own. (Skinner's language, too, allows for a "hey guys" here and a "no way" there. Oh, and "imbued" where presumably the word intended is "imbibed".)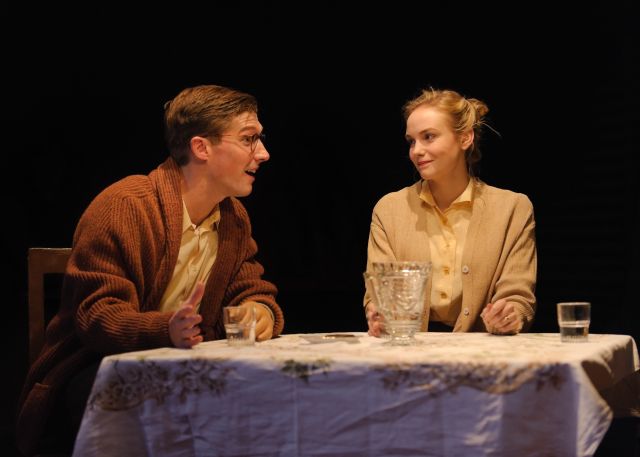 Of the cast, only Lee (pictured left with Vanderham) looks even remotely as if his character might have had a glancing knowledge of war, the others appearing disconcertingly milk-fed and robust, their reported privations notwithstanding. But as the calamity (and worse) outside gives way to a hothouse of feeling undimmed by the passage of time, all three performers connect to the gathering intensity of a piece in which the sudden chime of a doorball tends to reposition affections as if from scratch.
Calling to mind a (much) younger Kate Winslet, Vanderham leaves no doubt that the stage is as much her natural habitat as the screen, and Bennett survives some fairly marked changes in hairstyle to articulate the "promise" of the title, its actual fulfillment up for grabs. Best of all is the open-faced Lee as a battle-scarred poet who, luckily, is denied the banal rhetoric ("without you, I have nothing") that sometimes besets the others. While the writing on occasion suggests an Andrew Lloyd Webber power ballad waiting to happen, this superb actor's performance really sings.
A post-interval rise in emotional temperature sends the pulse racing
rating
Explore topics
Share this article