Huis Clos, Trafalgar Studios |

reviews, news & interviews
Huis Clos, Trafalgar Studios
Huis Clos, Trafalgar Studios
The nullity of Sartre's Hell is all too vivid in this new production of an existentialist classic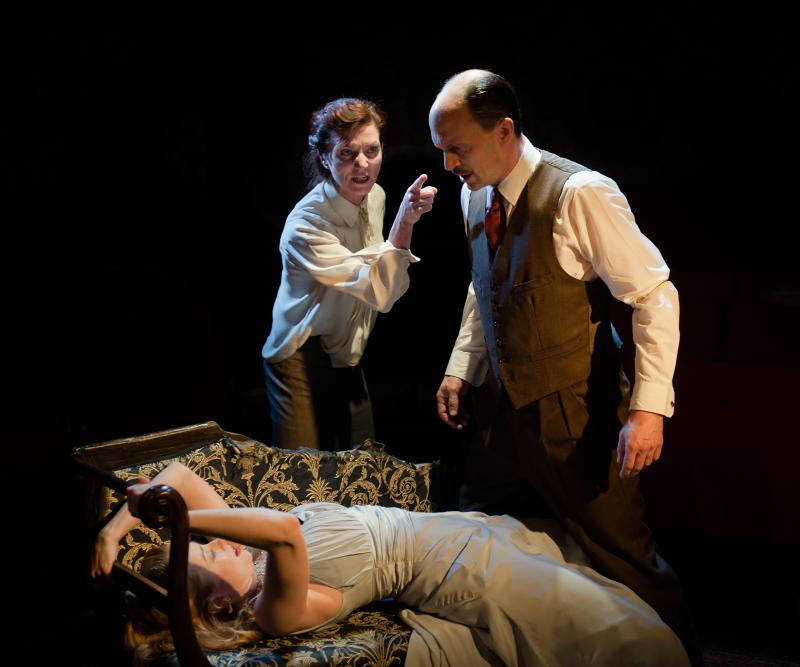 'Hell is other people': Sartre's unhappy trio meet their fellow torturers
Of all the 20th century's literary dystopias, George Orwell's Nineteen Eighty-Four has proved most tenacious, epitomised by its sinister promise: "Big Brother is watching you." But what happens when he stops watching? What becomes of us when the all-seeing eye of civil authority blinks shut for good, leaving us gazing, alone in perpetuity, at one another? It's the unsettling question posed by Jean-Paul Sartre's Huis Clos. Written some five years prior to Orwell's novel, the play's existential vision of Hell (famously defined here as "other people") might not have claimed the same place in the popular consciousness, but its issues and obsessions are undeniably those of our age.
A meditation on the imprisoning power of others' perception, Huis Clos positively shouts – and there is an awful lot of shouting – its relevance to a world of Twitter, blogging and phone-tapping media. Which makes it all the more unexpected that Paul Hart's new production at the Trafalgar Studios is so faithful, so primly authentic a creature. The Second Empire setting stressed in Sartre's text is recreated evocatively by Lucy Osborne's designs, creating a faded palace out of the close quarters of Studio Two. Gilded moulding gives way to the encroaching sprawl of damp, little heaps of plaster and dust bring asymmetric anarchy to the Aubusson underfoot.
Will Keen's Garcin is all twitching lip and trembling strideIn the production's neatest visual coup the space is also transformed into a theatre in the round. As we observe the spiralling despair of Sartre's three characters, each craving the release and self-reflexive affirmation of a mirror, we too must confront ourselves in others – trapped under their gaze for the interval-less two-hour span of the drama.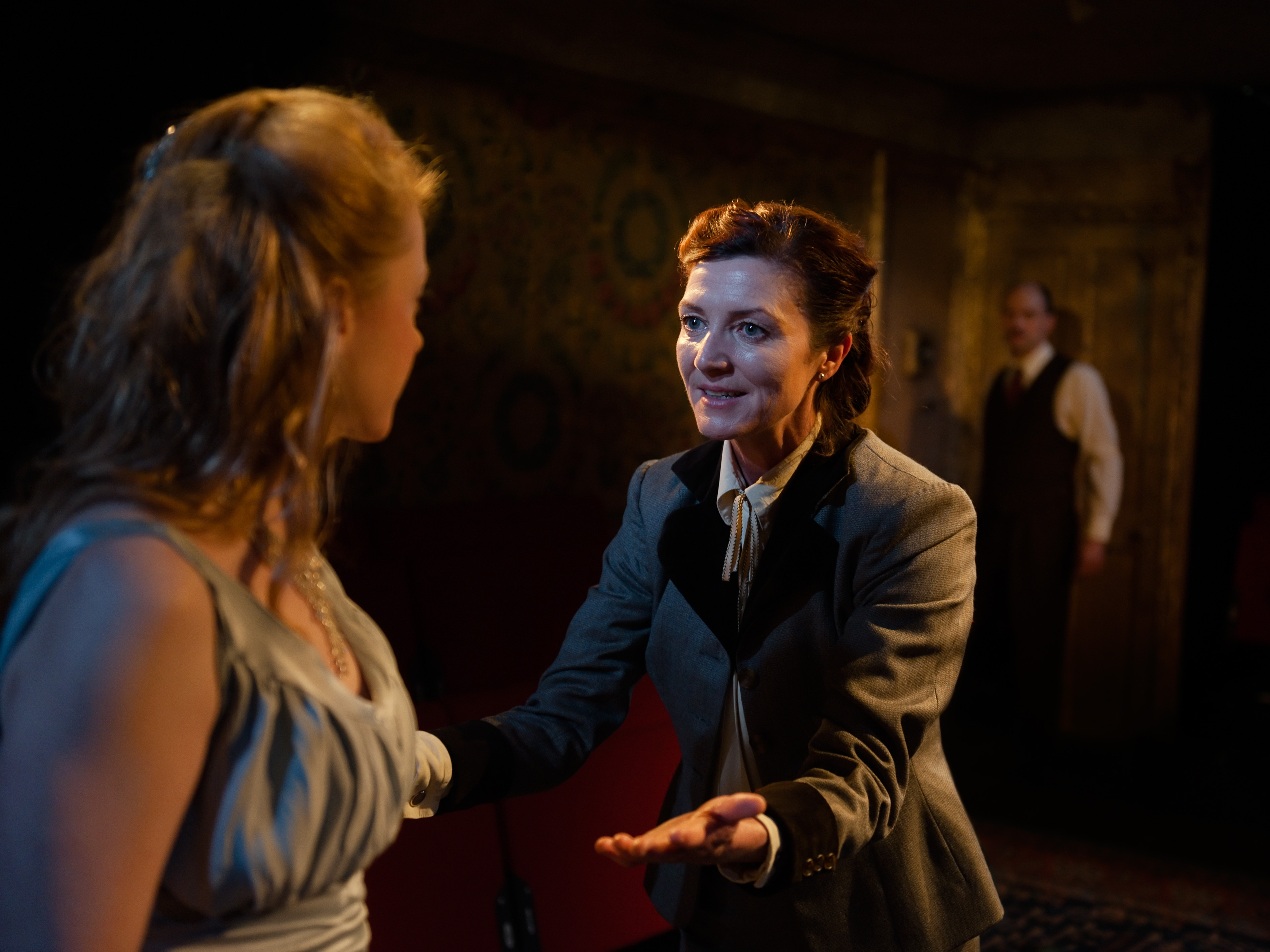 What Huis Clos pioneered so shockingly in 1943, Beckett and Pinter have since developed into a familiar theatrical idiom, numbing us to the blunter trauma of Sartre's construction. The straighter you play it, the clearer the disparity emerges between this early experiment and its descendants, and while the philosophical tussle between freedom and individual responsibility still gives weight to the text, the urgency of its theatricality feels questionable.
The cynical absurdism of this afterlife is at its best in the literal: the "capricious" bell that may or may not summon the Valet to the locked room, the hideous bronze statue that aggresses rather than ornaments the space, the lack of a toothbrush. These are the anti-symbols of Sartre's space, objects that reject meaning and climax in the paper-knife with which Estelle so fruitlessly stabs Ines. Hart's rather overwrought direction contradicts (at times even denies) the quiet menace of this banality, coming to grief at the moments of climax where he too often finds himself (and his audience) spent, teased and titillated into a constant state of emotional arousal that never finds legitimate release.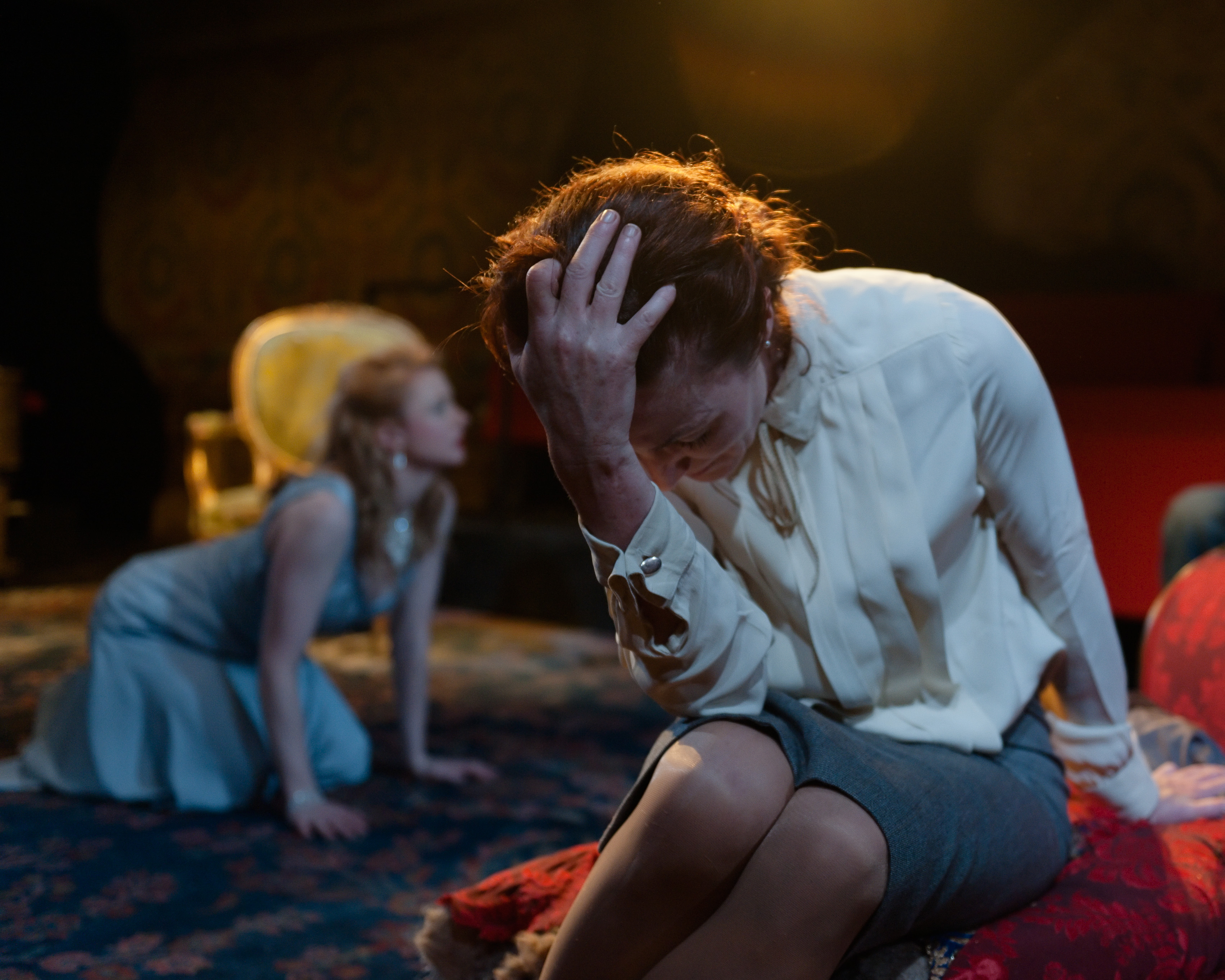 The performances Hart demands from his trio of actors assault in the intimate space of a studio theatre. Will Keen's Garcin is all twitching lip and trembling stride, and while his quieter moments of inaction and reaction reveal something of the truth of this coward who crouches behind the banner of Pacifism, this doesn't survive the mannered emphasis of his more violent encounters. Likewise Michelle Fairley's Ines (pictured above with Fiona Glascott as Estelle) is betrayed by direction that overloads her from the start, giving her such a burden of emotional intensity that she cannot but weary herself and us in the bearing of it.
Fiona Glascott's Estelle is more successful – by turns brittle and brutal, and coming closest to the altogether less strident vision Sartre creates. For his is a war of psychological attrition, not the all-out dramatic attack Hart insists on launching here. The "creeping pain" that "gnaws and caresses and fumbles" is a deceptively delicate affair, all the more pernicious for its refusal to declare itself openly, to reach for the thumb-screws and racks that Sartre's Hell so conspicuously lacks.
If not entirely fatal, this misunderstanding is certainly critical for this last production in the Donmar's season of work by its Resident Assistant Directors. If Hart succeeds in exploring the persistent nullity of a world in which nothing can be gained, he fails here to grasp the fragile despair, the fading hope, of one where nothing can be lost.
Hius Clos is at Trafalgar Studios until 28 January
The urgency of the play's theatricality feels questionable
rating
Explore topics
Share this article
Subscribe to theartsdesk.com
Thank you for continuing to read our work on theartsdesk.com. For unlimited access to every article in its entirety, including our archive of more than 10,000 pieces, we're asking for £3.95 per month or £30 per year. We feel it's a very good deal, and hope you do too.
To take an annual subscription now simply click here.
And if you're looking for that extra gift for a friend or family member, why not treat them to a theartsdesk.com gift subscription?