The Night Alive, Donmar Warehouse |

reviews, news & interviews
The Night Alive, Donmar Warehouse
The Night Alive, Donmar Warehouse
Conor McPherson returns to haunt the London stage afresh
What's up, Doc? Michael McElhatton as Doc (aka Brian/Bri) in Conor McPherson world premiere
Can theatrical lightning strike twice? That certainly looks to be the case at the Donmar, which has followed Josie Rourke's expert revival of Conor McPherson's contemporary classic, The Weir, with the world premiere of McPherson's latest, directed with a deft finger on both the human and numinous pulse by the author himself.
A play that extends the terrain of
The Weir
and can be seen to invert it as well,
The Night Alive
poses as many questions as it answers, though of the pleasurable kind that comes from the sort of investment in character that sets McPherson so richly and feelingly apart.
It's fascinating to note a writer so apparently given over at the start of his career first to the monologue and then the soliloquy here allowing full rein to a dialogue-driven piece that rarely puts an ear, so to speak, wrong. Set in present-day Dublin in the shambolic bedsit of the scarcely less ramshackle Tommy (Ciarán Hinds, pictured below right, with Michael McElhatton at the rear), the play brings together a motley cross-section of life's sometimes quite literally walking wounded, who chart their battered path through the puzzle that we call existence, calling on humour and empathy to ease the way but not without suffering abrasions of both the physical and psychic sort.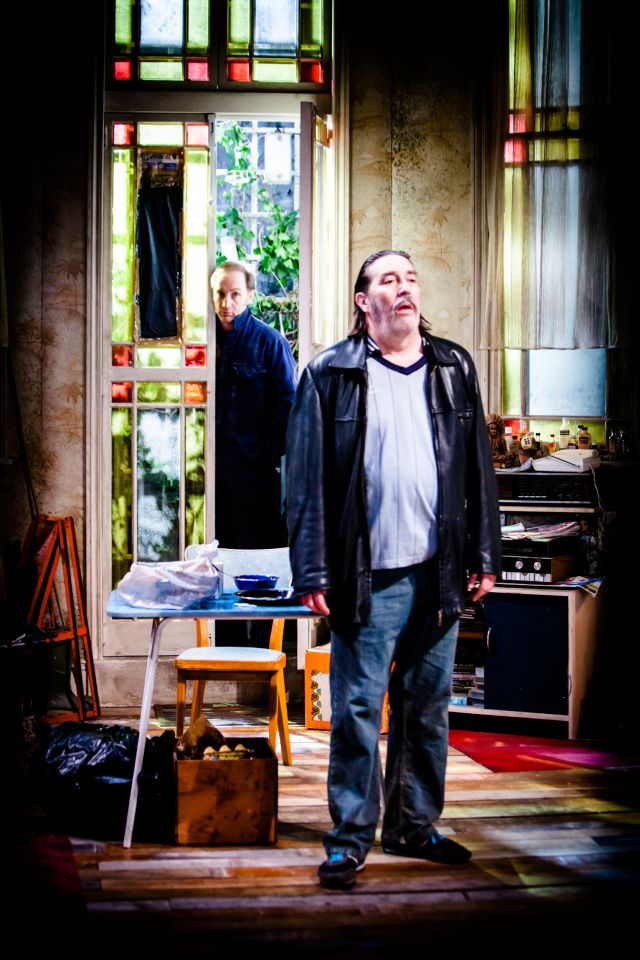 On that very front, Tommy when first seen is offering shelter to the bloodied Aimee (Caoilfhionn Dunne), a young woman whom he rescues from an assault and brings home to a debris-filled room that, it becomes clear, offers refuge numerous times over. Also seeking succour there at regular intervals are Doc (Michael McElhatton, imnmediately winning), the cosmos-minded colleague in Tommy's removals business, and Maurice (the invaluable Jim Norton, winner of both a Tony and an Olivier for McPherson's The Seafarer), Tommy's uncle and patron of sorts, a widower who's not above drunken mid-afternoon ramblings and who perks up most at the prospect of instant coffee. (Maurice's level of awareness is elsewhere tested when he clocks a sack of turnips without paying apparent heed to the dead body lying by its side.)
As always with this dramatist, people register almost as strongly by their absence, a retinue that on this occasion is surely headed by the family (two teenage children, most notably) from whom Tommy has been all but exiled and by Maurice's much-missed wife, whose anniversary mass, he balefully reports, is attended by a gathering of eight. Audiences are left to puzzle out a final encounter - details not to be revealed here - that would seem to mark a rebirth of sorts, though whether it comes at the price of life itself is up for grabs. (The accompanying music, with lyrics announcing, "Look out Hollywood, here I come", makes mockery of too straightforwardly chipper an interpretation of events.)
Written as is The Weir for four men and a woman and also played without an interval across close to,two riveting hours, The Night Alive hints at the possibility in the here and now of salvation in the very act of kindness, Maurice's spoken lament for what he calls "sweetness" lingering well after his drink-fueled perceptions have come pouring forth. At the same time, a narrative that springs from an act of charity courses with a degree of violence alien to the earlier play. The tension as often as not is ratcheted up by the camply spoken yet feral Kenneth (Brian Gleeson, son of Brendan and brother of Domhnall), perpetrator of the injuries that led Aimee to Tommy in the first place. (Gleeson is pictured left)
McPherson hits the big issues - death, evil, the workings of black holes - head on, if sometimes a touch self-consciously, while pausing for a non-verbal surrender to ecstasy powered to the music of Marvin Gaye. And as if in response to Doc's remark about "keeping it real, you know", all five actors inhabit Soutra Gilmour's high-ceilinged set as if they had been living these characters for years, Hinds's sad-eyed grace arguably first among equals in a play that stares headlong into the abyss only to ensure that this Night is in every way alive.
The play brings together a motley cross-section of life's sometimes quite literally walking wounded, who chart a battered path through the puzzle that we call existence
rating
Explore topics
Share this article