Newsies, Troubadour Wembley Park Theatre review - bombastic musical let down by its songs |

reviews, news & interviews
Newsies, Troubadour Wembley Park Theatre review - bombastic musical let down by its songs
Newsies, Troubadour Wembley Park Theatre review - bombastic musical let down by its songs
Backflipping newsboys take on press barons in this hyper-energised UK premiere of the Broadway hit
David vs Goliath: the cast of Newsies
What do you mean you haven't heard of the newsboys' strike of 1899? It's a classic David and Goliath story: a group of New York kids selling newspapers for Joseph Pulitzer (him of the prize), who take a stand when their boss tries to charge them 20% extra to buy their "papes".
The 1992 Disney film, Newsies, became a cult classic, and was turned into a Tony-winning Broadway show in 2011 that ran over 1000 performances. The newsies have now burst onto the stage of the shiny Troubadour Wembley Park Theatre, backflipping, wise-cracking, and making the most of some mediocre songs.
Director/choreographer Matt Cole's production has everything except the music. The fourteen-strong company of newsboys are all astonishingly talented; Ross Dorrington in particular dances like he's walking on air. They move all the set-pieces on and off themselves, including a throne of papes for Pulitzer to sit on, which is possibly too on-the-nose. This makes it feel like a performance the newsies are putting on for themselves, a playful retelling of a real-life victory for child labourers everywhere.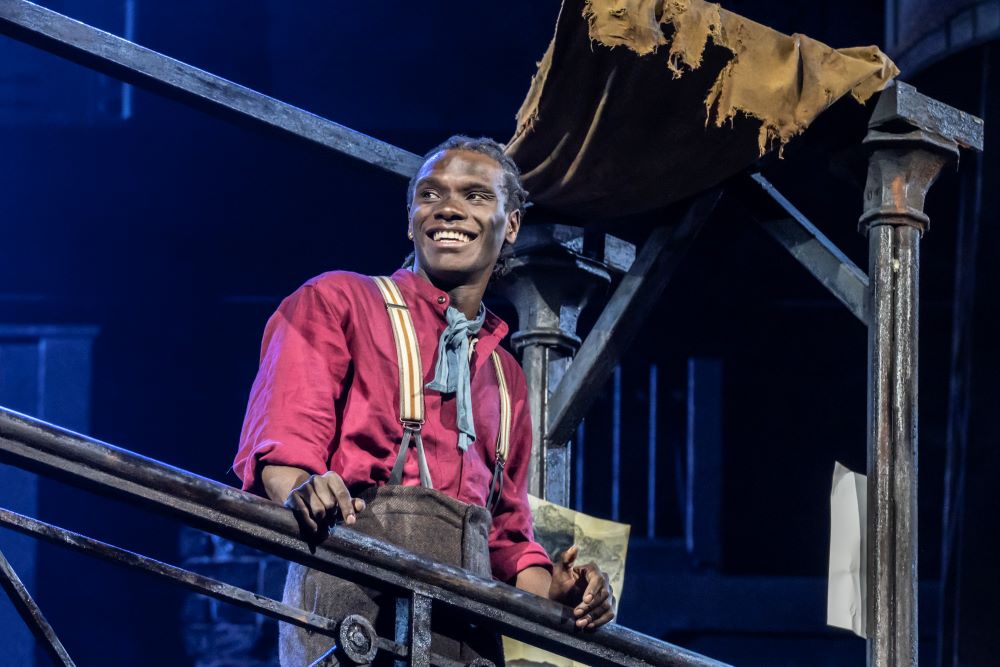 They're mostly not actual children, of course, apart from new boys Davey (Ryan Kopel) and Les (Nesim Adnan). These two are figures of great curiosity among the newsies, because they not only have a mother but a father too. Luckily they've got Jack Kelly (Michael Ahomka-Lindsay, pictured above, full of fiery charisma), the newsies' de facto leader, to show them the ropes. A cast of almost-thirty prompted a huge crowd on opening night; the audience was so enthusiastic, you could have mistaken the Troubadour for Wembley Arena next door.
Ahomka-Lindsay is Black, which adds poignancy to Jack's desire to escape New York for Santa Fe, where he believes he'll find a better life. Aside from him and Medda (Moya Angela, fondly exasperated), a theatre-owner who occasionally employs Jack as a backdrop painter, Newsies is a bit short on diversity. But "newsie" in any case is a gender-neutral term, and our expectations as to who exactly constitutes a newsie are bombastically overturned in the second act.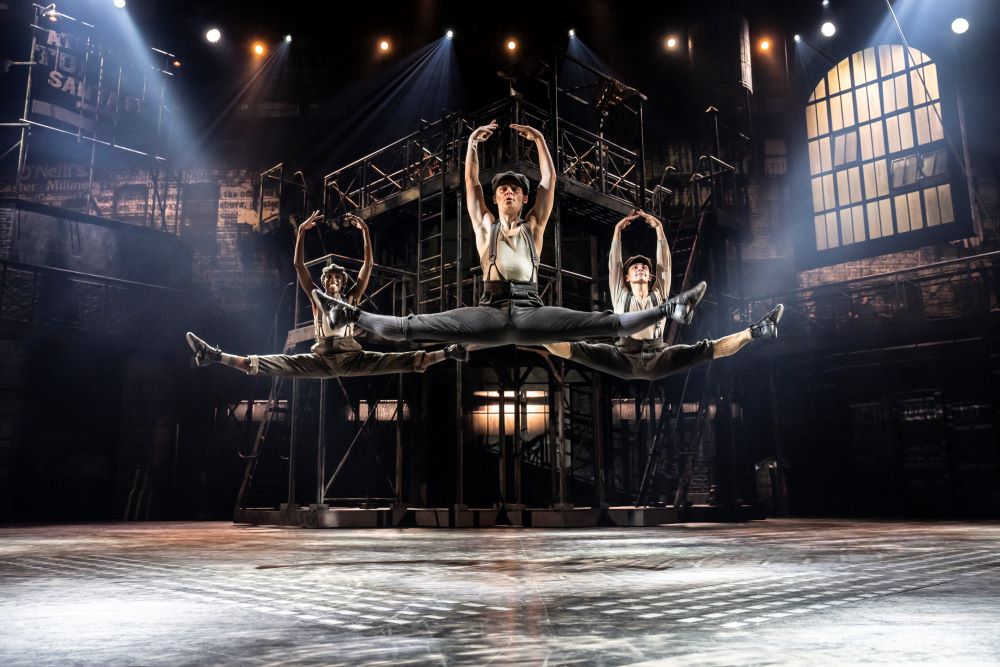 Every nook and cranny of the Troubadour's cavernous space is used, walkways and gantries fused seamlessly into Morgan Large's set. The beginning is chaotic in a bad way, too many things happening for any to be of merit, but the newsies soon settle and get into the swing of things. Quite literally: they bound, pirouette, and chuck each other across the stage, swing from giant lamp-heads and enter stage-right via a slide. You're exhausted just watching them.
It's a shame Alan Menken's songs are so predictable, relics from a pre-Hamilton era of musicals. Katherine (Bronté Barbé, pictured below, just as delightful as her name), a sparky reporter from a rival paper to Pulitzer's, writes the newsies' story; her front page flutters down from the rafters onto our heads, which is a lovely touch. But her love song with Jack would have been much more enjoyable as playful banter, not the strangely anodyne ballad Menken and lyricist Jack Feldman have devised. It's as if, to gain each other, Katherine and Jack had to lose their personalities.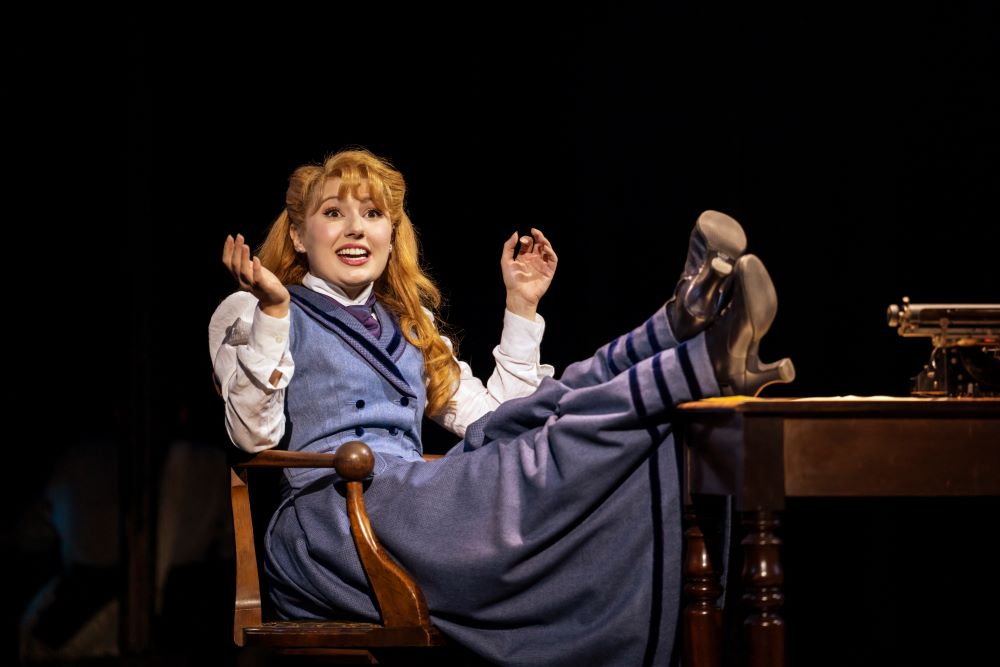 There are more strange writerly decisions. Jack's best friend Crutchie (Matthew Duckett), a stalwart of Act 1, is so absent after the interval it's like the second half was written to give the actor playing him time to go and be in a one-hour play somewhere else. The newsies are in dire straits, with Jack thrown in a dingy cellar by Pulitzer's goons, Katherine blacklisted by every paper in town, and scabs undermining the strike. But everything turns out alright in the end, with some unlikely help from then-Governor of New York Theodore Roosevelt. This Teddy ex machina might be too convenient to be believed. But much like their papes, the newsies sell it with a wink and a winning smile.
You're exhausted just watching the newsies bound, pirouette, and cartwheel across the stage
rating
Explore topics
Share this article